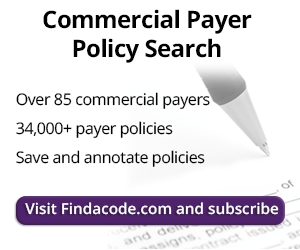 Medicare - Articles
2020 Medicare Part D Coverage Gap (AKA donut hole)
March 26th, 2020 - Chris Woolstenhulme, QCC, CMCS, CPC, CMRS
Not every Medicare drug plan has complete coverage for prescription drugs - most have some sort of coverage gap, known as the "Donut Hole". The coverage gap is a temporary limit on coverage under the drug plan. This coverage gap will not affect everyone and begins after you have used ...
Medicare Begins Covering Acupuncture Services
February 19th, 2020 - Wyn Staheli, Director of Research
Medicare is changing their policy regarding coverage of acupuncture, but in order to provide these services, you must follow their rules.
Denials due to MUE Usage - This May be Why!
January 7th, 2020 - Chris Woolstenhulme, QCC, CMCS, CPC, CMRS
CMS assigns Medically Unlikely Edits (MUE's) for HCPCS/CPT codes, although not every code has an MUE. MUE edits are used to limit tests and treatments provided to a Medicare patient for a single date of service or for a single line item on a claim form. It is important to understand MUE's are ...
CMS Report on QPP Shows Increasing Involvement
January 6th, 2020 - Wyn Staheli, Director of Research
MIPS 2018 participation increased according to the final report issued by CMS on January 6, 2020.
Prior years: (click bar to view articles)
Article categories