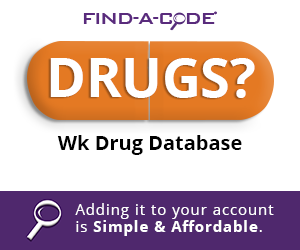 NEW Mandatory ABN Form to Take Effect June 21, 2017
August 17th, 2017 - Mario Fucinari DC, CCSP, CPCO, MCS-P, MCS-I
0 Votes -

Sign in

to vote or comment.
---
The Centers for Medicare and Medicaid Services (CMS) has revised the Advanced Beneficiary Notice of Non-coverage (ABN) Form. The revised Advanced Beneficiary Notice of Non-coverage (ABN), Form CMS-R-131, is issued to the patient or client by providers, physicians, practitioners, and suppliers in situations where Medicare payment is expected to be denied. The revised ABN replaces the ABN Form that was last released in November 2011.
When a physician or supplier has a "genuine doubt" that a service will be covered, they are required to notify the patient of this fact. The ABN form is required to be used for a service that is covered. In the Medicare program, chiropractic coverage is limited to coverage for spinal manipulation by means of the hands or hand-held device. For all non-covered services, a standard letter informing the patient of the non-coverage or the ABN may be used.
The newly revised ABN form may be used at this time; however its use becomes mandatory on June 21, 2017.
The newest version of the ABN and the instructions for use can be accessed at https://www.cms.gov/medicare/medicare-general-information/bni/abn.html
The primary difference found in the newest version of the ABN form is the statement of
While there are no changes to the form itself, providers should be able to discern between the old version and the new version by the expiration date. The new expiration date on the ABN form is 03/2020. Significantly, a new alteration in wording has been made to the ABN. In accordance with Section 504 of the Rehabilitation Act of 1973 (Section 504), the form has been revised to include language informing beneficiaries of their rights to CMS nondiscrimination practices and how to request the ABN in an alternative format if needed.
The new ABN form informs the reader that, "CMS does not discriminate in its programs and activities. To request this publication in an alternative format, please call: 1-800-MEDICARE or email: AltFormatRequest@cms.hhs.gov."
In view of the population diversity in the United States, the government is attempting to make the ABN understandable to all of the population. It is important for the provider to inform the patient that, in the provider's opinion, the services listed on the form are not expected to be covered by Medicare. Since the services are not expected to be covered by Medicare, the liability for payment is now shifted to the patient. Keep in mind that the form must be completely filled out, the reasoning for the expected denial listed on the ABN, and the cost listed. Once the form is filled out, the patient must personally sign and date the form. A copy of the completed form is then given to the patient.
The ABN form is actually a method for the provider to inform the patient of their liability for payment. It is only to be issued when there is genuine doubt that the service will be covered by Medicare. In chiropractic, since the only service covered is spinal manipulation, the ABN form is mandatory only for spinal manipulation. One ANB form may cover a series of spinal manipulations that are not covered, but the form is not to exceed one year in length.
Again, keep in mind that the instructions for the use of the ABN form have not changed, but the wording has changed to reflect that the form is now available in several languages. For a complete instruction manual on the ABN form, it is advised that you read the publication available at https://www.cms.gov/Medicare/Medicare-General-Information/BNI/Downloads/ABN-Form-Instructions.pdf
Dr. Mario Fucinari is a member of the Carrier Advisory Committee for Medicare. He is a frequent speaker available through NCMIC, Foot Levelers and several state associations. Dr. Fucinari is the author of several books, and training DVDs available at www.Askmario.com You may contact Dr. Fucinari at Doc@Askmario.com
###
Questions, comments?
If you have questions or comments about this article please contact us. Comments that provide additional related information may be added here by our Editors.
Latest articles: (any category)
2023 ICD-10-CM Code Changes
October 6th, 2022 - Christine Woolstenhulme, CPC, CMRS, QCC, QMCS
In 2022 there were 159 new codes; the 2023 ICD-10-CM code update includes 1,176 new, 28 revised, and 287 deleted codes, a substantial change from last year. The 2023 ICD-10-CM codes are to be used for discharges from October 1, 2022 through September 30, 2023, and for patient encounters from ...
Emergency Department - APC Reimbursement Method
September 15th, 2022 - Christine Woolstenhulme, CPC, CMRS, QCC, QMCS
CMS pays emergency department visits through a payment method using Ambulatory Payment Classifications (APCs). Most payers also use the APC reimbursement system; however, there may be some differences in payer policies (always review your specific payer policy). APCs are the primary type of payment made under the OPPS, comprising groupings ...
Why Medical Coding and Billing Software Desperately Needs AI
September 7th, 2022 - Find-A-Code
It has been said that the healthcare industry is notoriously slow in terms of technology adoption. One need only look at how convoluted medical coding and billing are to know that it needs a technology injection. Specifically, medical coding and billing software desperately needs artificial intelligence (AI).
CMS says Less Paperwork for DME Suppliers after Jan 2023!
August 18th, 2022 - Christine Woolstenhulme, QCC, QMCS, CPC, CMRS
Attention providers, suppliers, billers, and vendors who bill Durable Medical Equipment (DME) to Medicare!  Currently, a supplier receives a signed Certificate of Medical Necessity (CMN) from the treating physician or creates and signs a DME Information Form (DIFs); these are required to be sent with the claim. However, this is about ...
Things to Consider Before Upgrading Medical Billing Software
August 11th, 2022 - Find-A-Code
Your practice has utilized the same medical billing software for years. The medical billing staff says it is time for a change. You don't necessarily disagree, but you also don't know where to begin your search for new software. There are so many vendors offering so many products that making sense of it all can be challenging.
Calendar Year 2023 Medicare Advantage and Part C & D Payment Policies
August 9th, 2022 - Aimee L. Wilcox, CPMA, CCS-P, CST, MA, MT
Each year CMS publishes an Advance Notice of the upcoming years Medicare Advantage (MA) Capitation Rates and Part C and Part D Payment Policies and asks for comments related to it. Each of the comments are carefully reviewed and responded to and often are impactful to changes seen between the Advance Notice and final publication referred to as the Rate Announcement. With health equity as a primary focus for 2023, CMS announced some policy changes that may impact your organization.
How CMS Determines Which Telehealth Services are Risk Adjustable
August 9th, 2022 - Aimee L. Wilcox, CPMA, CCS-P, CST, MA, MT
Medicare Advantage Organizations (MAOs) have gone back and forth on whether or not to use data collected from telehealth, virtual Care, and telephone (audio-only) encounters with Medicare beneficiaries for risk adjustment reporting, but the following published documents from CMS cleared that up once and for all by providing an answer to a question specifically related to this question.