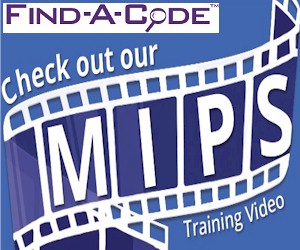 | | |
| --- | --- |
| | is BACK! |
Codapedia is now a division of Find-A-Code and will continue its mission to provide in-depth documentation, coding and billing information to ensure medical professionals are fairly paid and reimbursed for services.
Available now:

Articles: votes and comments
Forum posts: votes

ICD-10-CM training videos (must be signed in to view)
Article/forum tool: favorites list (by votes - on Account page)
Show new articles/posts since last sign in

Coming soon:
See what's new since your last visit.
Latest articles
Escharotomy Procedural Cross-Walking CPT to ICD-10-PCS
November 10th, 2017 - Brandon Dee Leavitt CPC, QCC
An Escharotomy is used for "local treatment of burned surface" per the AMA Guidelines, when incisions are performed on the burn site. Notice, when cross-walking 16035 or 16036 to inpatient codes, Find-A-Code crosswalks lead to Body System H, Operation 8 - Division of the skin, and Operation N -...
Four Final Rules Affecting CMS Payments for 2018
November 7th, 2017 - Wyn Staheli
It's a season for changes. CMS just finalized four rules which directly impact the following payment systems: Physician Fee Schedule Final Policy, Payment, and Quality Provisions for CY 2018 Hospital OPPS and ASC Payment System and Quality Reporting Programs Changes for 2018 HHAs: Payment Changes for 2018 Quality Payment Program Rule for Year 2 This ...
CMS Proposes to Revise Evaluation & Management Guidelines
October 26th, 2017 - BC Advantage
According to the recently released 2018 Physician Fee Schedule Proposed Rule, published in the Federal Register, dated July 21, 2017, the Centers for Medicare & Medicaid Services (CMS) acknowledges that the current Evaluation and Management (E/M) documentation guidelines create an administrative burden and increased audit risk for providers. In response, ...
Summary of OIG Reports for Chiropractic
October 23rd, 2017 - Evan M. Gwilliam DC MBA BS CPC CCPC QCC CPC-I MCS-P CPMA CMHP
The Office of the Inspector General was created to protect the integrity of the U.S. Department of Health and Human Services. They investigate fraud, waste, and abuse in HHS programs and make recommendations to various enforcement agencies. Every few years they investigate chiropractic services. Here is a summary of the reports the ...
Physicians Reciprocal Billing Arrangements
October 18th, 2017 - Chris Woolstenhulme, CPC, CMRS
A reciprocal billing arrangement is when there is an agreement between physicians to cover each others practice. A physician or his practice may set up reciprocal billing arrangements with one or more physicians to cover another practice or their own practice. There is certain criteria that must...
Editors choice articles
Health Care Fraud - Don't Do It!
July 31st, 2017 - Chris Woolstenhulme, CPC, CMRS
If you wonder if what you are doing is fraud, DON'T DO IT! The government takes this extremely serious. I don't need to tell you this.  I have often been apprehensive about making a mistake and I wonder, will it be fraud? Will I spend time in jail for accidentally sending in a duplicate ...
Pre-op visits: True or False?
December 29th, 2015 - Codapedia Editor
Are the following statements true or false? • The PCP cannot be paid to do a pre-op assessment of a Medicare patient prior to surgery because of the new consult rules. • The surgeon can never be paid to do a pre-op visit if s/he is going to take the patient to surgery. • The...
Billing Incident to Services-Whose Number Should Be Used?
December 29th, 2015 - Seth Canterbury, CPC, ACS-EM
Should You Bill Incident to Services for a Medicare Patient Under The Number of the "Supervising Physician" or the "Ordering Physician"? This issue was first clarified in the preamble of the 11/1/01 Federal Register (available here on p. 23 of the file, p. 55267 of the...
Cloned E/M notes
December 29th, 2015 - Codapedia Editor
Have you ever read a physician office note and thought it was strangely familiar? Or, not just familiar but identical to another note? Well, Medicare contractors have noticed the same thing, and the Office of Inspector General has included this on their 2011 Work Plan. Medicare contractors have...
Cardiology Coding Unmasked - Part 2 Therapeutic Cardiology Procedures, CPT Codes (92980-92982; 92984; 92995-92996), Medical Necessity Issues (ICD-9-CM)
December 29th, 2015 - Nancy Maguire
92980 Transcatheter placement of an intracoronary stent(s), percutaneous, with or without other therapeutic intervention, any method; single vessel 92981 Transcatheter placement of an intracoronary stent(s), percutaneous, with or without other therapeutic intervention, any method; each additional...
Leaderboard
New Codapediasts
Dec 14th, 2017: sghant01
Dec 13th, 2017: SRosa
Dec 13th, 2017: Maha
Dec 11th, 2017: MelissaP
Dec 10th, 2017: kkdawnette

New Profiles
Nov 22nd, 2017: Sumitp
Oct 17th, 2017: rdinaso 11
Sep 17th, 2017: sesagarra 2
Sep 14th, 2017: LilRed0301
Sep 14th, 2017: SUBBIAH

Forum Posts (past year)
42: ChrisW 42 1
3: LBAROGIANIS 250
3: sandeep.katta 3
2: tconte 2
1: dsteed 141

Forum Posts (all time)
rphelps 614
jschmutz 323
youngblood 278
LBAROGIANIS 250
petunia 195

Article Comments (past year)
1: ChrisW 42 1





Article Comments (all time)
ChrisW 42 1





The Leaderboard is updated every 10 minutes.
Sponsored by: