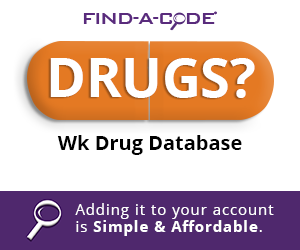 Coding Lesions and Soft Tissue Excisions
April 29th, 2021 - Christine Woolstenhulme, QCC, QMCS, CPC, CMRS
---
There are several considerations to be aware of before assigning a code for lesions and soft tissue excisions.
The code selection will be determined upon the following:
Check the pathology reports, if any, to confirm

Morphology (

whether the neoplasm is benign, in-situ, malignant, or uncertain)
Technique

Topography (a

natomic location)
The size
Tissue Level
Type of closure required
Layers and thickness of the skin
1-Epidermis - Split-thickness between the epidermis and dermis
2-Dermis - Full-thickness of the epidermis and the entire dermis
3-Subcutaneous - Below the dermis, meaning fat and connective tissues
Global Days
If, for some reason, a re-excision is required, keep an eye on the global days for the procedure that was done. For example, the shaving of an epidermal or dermal lesion is considered an "endoscopic minor procedure" and has 000 global days. An excision, however, is considered a minor procedure and carries a 10-day global period. A 10-day global means the 10 days start the day of the procedure, and any postoperative procedures are included in the procedure and generally are not payable for 10 days.
Coding Lesions of the Integumentary System
To determine code selection, measure the lesion and the surrounding tissue or most narrow margin of normal tissue required for complete excision.
Each lesion is reported separately.
If adjacent tissue transfer is required, only report the tissue transfer 14000-14302. The excision of the lesion is not reported.

According to AMA, excision is defined as full-thickness.
Shaving of Epidermal or Dermal Lesions Procedures 11300‑11313
11300 -11303 trunk, arms, or legs
11305 -11308 scalp, neck, hands, feet, genitalia
11310 -11313 face, ears, eyelids, nose, lips, mucous membrane
Removal of

epidermal and dermal lesions without a full-thickness dermal excision

Does not require suture closure

Includes Local anesthesia
Excision-Benign Lesions Procedures on the Skin 11400-11446
11400 -11406 trunk, arms or legs
11420 -11426 scalp, neck, hands, feet, genitalia
11440 -11446 face, ears, eyelids, nose, lips, mucous membrane
Includes

simple closure (non-layered). However, if

intermediate (12031

-

12057

),

complex (13100

-

13153

),

or reconstructive closure (15002

-

15261

,

15570

-

15770) is required, report the appropriate codes separately
Includes local anesthesia
Excision-Malignant Lesions Procedures on the Skin 11600 ‑11646

11600 -11606 trunk, arms or legs
11620 -11626 scalp, neck, hands, feet, genitalia
11640 -11646 face, ears, eyelids, nose, lips, mucous membrane
Includes simple closure (non-layered). However, if intermediate (12031-12057), complex (13100-13153), or reconstructive closure (15002-15261, 15570-15770) is required, report the appropriate codes separately
If pathology shows the excision margins were not adequate, and additional excision is done during the post-op period, append modifier 58 to the re-excision procedure
Includes local anesthesia
Destruction Procedures on Benign or Premalignant Lesions 17000-17250
17000-17003 premalignant lesions (e.g., actinic keratoses)
17004 premalignant 15/>
17106-17108 cutaneous vascular proliferative lesions (e.g., laser technique)
17250 Chemical
Generally does not require closing
Destruction

means ablation by any method, including electrosurgery, cryosurgery, laser, and chemical treatment

Includes local anesthesia
Specific anatomic sites will be found through the CPT manual as well for coding other types of lesions. Notice a prompt on certain chapters and sections where you may see a note (Unless listed elsewhere) stating there may be a code with a more specific anatomic location.

If there is a more specific code, always use the description that best describes the procedure or is the most specific such as the codes listed below:
Mohs micrographic surgery includes two separate and distinct capacities; surgeon and pathologist. If one of these responsibilities is not done these codes should not be reported.
17311 ‑17312 head, neck, hands, feet, genitalia, or any location with surgery directly involving muscle, cartilage, bone, tendon, major nerves, or vessels
17313 ‑ 17314 (eg, hematoxylin and eosin, toluidine blue), of the trunk, arms, or legs
Trunk/Arm/Leg each additional block any stage
Skin Tags
Removal of Skin tags is coded using 11200 and 11201. CPT 11200 reports up to and including 15 lesions, 11201 is the add-on code used to report each additional 10 lesions, 11201 is listed in addition to the primary procedure 11200.
Soft Tissue Excision using site-specific codes
Spread through the CPT manual. You will notice site-specific codes used for Soft Tissue Excision Codes such as benign tumors or lipomas confined to the subcutaneous tissue below the skin but above the deep fascia.

Code selection is based on the tumor's size and location and by measuring the tumor's greatest diameter plus the margin required for complete excision of the tumor. In general, there are two codes for each area, one for smaller excisions and one for larger excisions.
| | | | |
| --- | --- | --- | --- |
| abdominal wall | | leg or ankle | |
| back or flank | | external auditory canal | |
| upper arm or elbow | | face or scalp | |
| hand or finger | | foot or toe | |
| forearm or wrist | | hip or pelvis | |
| thigh or knee | | neck or anterior thorax | |
| shoulder | | | |
Coding
Lesions are billed as separate units of service if samples are taken from different lesions and separate sites.
If a large lesion is sampled at several separate locations or sites using a single biopsy code, only one code is reported.
Use 11400-11646 for complete lesion excision; don't forget to include margins when using these codes, for example, 11400 (excised diameter 0.5 cm or less), 11401 (excised diameter 0.6 to 1.0 cm).
Repair by intermediate or complex closure is reported separately.
Append modifier 58 to re-excision procedures done during the post-op period.
Append Modifier 59 for excision in the same general location but distinct or independent for the second and subsequent codes.
Append Modifier 51 for Multiple procedures (some payers such as Medicare may not require Modifier 51).
###
Questions, comments?
If you have questions or comments about this article please contact us. Comments that provide additional related information may be added here by our Editors.
Latest articles: (any category)
COVID Vaccine Coding Changes as of November 1, 2023
October 26th, 2023 - Wyn Staheli
COVID vaccine changes due to the end of the PHE as of November 1, 2023 are addressed in this article.
Medicare Guidance Changes for E/M Services
October 11th, 2023 - Wyn Staheli
2023 brought quite a few changes to Evaluation and management (E/M) services. The significant revisions as noted in the CPT codebook were welcome changes to bring other E/M services more in line with the changes that took place with Office or Other Outpatient Services a few years ago. As part of CMS' Medicare Learning Network, the "Evaluation and Management Services Guide" publication was finally updated as of August 2023 to include the changes that took place in 2023. If you take a look at the new publication (see references below),....
Can We Score Interpretation of an EKG Towards E/M Medical Decision Making?
October 10th, 2023 - Aimee Wilcox
When EKGs are performed in the facility setting or even in the physician's office, what are the requirements for reporting the service and who gets credit for scoring data points for Evaluation and Management (E/M) medical decision making (MDM)? Let's take a look at a few coding scenarios related to EKG services to get a better understanding of why this can be problematic.
Accurately Reporting Signs and Symptoms with ICD-10-CM Codes
October 5th, 2023 - Aimee Wilcox
Coders often find themselves unsure of when to report a sign or symptom code documented in the medical record. Some coders find their organization has an EHR that requires a working diagnosis, which is usually a sign or symptom, be entered to order a test or diagnostic study or image. Understanding the guidelines surrounding when signs and symptoms should be reported is the first step in correct coding so let's take a look at some scenarios.
The 2024 ICD-10-CM Updates Include New Codes for Reporting Metabolic Disorders and Insulin Resistance
September 19th, 2023 - Aimee Wilcox
Diabetes is a chronic disease that just seems to consistently be increasing instead of improving resulting in a constant endeavor by medical researchers to identify causal effects and possible treatments. One underlying or precipitating condition that scientists have identified as a precipitating factor in the development of diabetes is insulin resistance, which is a known metabolic disorder. As data becomes available through claims reporting, additional code options become possible with ICD-10-CM.
Documenting and Reporting Postoperative Visits
September 12th, 2023 - Aimee Wilcox
Sometimes we receive questions regarding documentation requirements for specific codes or coding requirements and we respond with information and resources to support our answers. The following question was recently submitted: Are providers required to report postoperative services on claims using 99024, especially if there is no payment for that service? What documentation is required if you are reporting an unrelated Evaluation and Management (E/M) service by the same physician during the postoperative period? 
Understanding Gastroesophageal Reflux Disease and ICD-10-CM Coding
August 22nd, 2023 - Aimee Wilcox
Gastroesophageal reflux disease or GERD for short, is a disease that impacts millions of Americans on a weekly basis. Symptoms are uncomfortable, as are some of the tests used to diagnose it, but understanding the disease, tests, and treatments helps us better understand how to code the disease using ICD-10-CM codes.