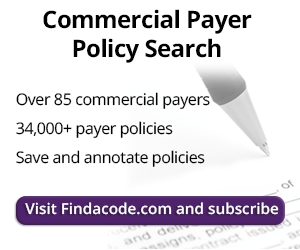 Browse articles
Choose an article category listed below, search by keyword using the box in the page menu bar, or view the latest additions below:
Latest articles:
How to Code Ophthalmologic Services Accurately
June 6th, 2019 - Aimee Wilcox, CPMA, CCS-P, CST, MA, MT, Director of Content
Have you ever tried to quickly recall the elements required to support a comprehensive ophthalmologic exam versus an intermediate one? Make coding decisions quickly by creating a cheat sheet containing vital information that allows you to quickly select the right code. According to Article A19881 which was published in 2004 and ...
Auditing Hospitalist Services
May 31st, 2019 - Namas
Auditing Hospitalist Services The inpatient side of coding and auditing can be enormously complex, with many more moving parts than are typically found in the outpatient setting. In this audit tip, we will discuss a few of the challenges that come with auditing one of the most important players in the ...
Noting "Noncontributory" for Past Medical, Family, Social History - Is It Acceptable?
May 29th, 2019 - Aimee Wilcox, CPMA, CCS-P, CST, MA, MT, Director of Content
Is "noncontributory" really an unacceptable word to describe a patient whose family history doesn't have any bearing on the condition being evaluated and treated today?
Q/A: For Physical Therapy Claims, What is the Correct Modifier Order?
May 27th, 2019 - Wyn Staheli, Director of Research
Question Page 116 of the 2019 ChiroCode Deskbook shows examples for Medicare modifiers. Is this the specific order for the modifiers to be entered? Our practice management software system is advising the GP or GY should be used as Modifier 1 and not as Mod 2 or Mod 3. Also, it shows the ...
Your New Patient Exam Code Could Determine How Many Visits You Get
May 27th, 2019 - Evan M. Gwilliam DC MBA BS CPC CCPC QCC CPC-I MCS-P CPMA CMHP
The initial exam is where the provider gathers the information to determine the need for all the care that follows. It is billed most often as an office or outpatient evaluation and management (E/M) code from the 4th edition of the AMA's Current Procedural Terminology book. There are actually five ...
RT and LT Modifier Usage Change (effective 2019-03-01)
May 21st, 2019 - Chris Woolstenhulme, QCC, CMCS, CPC, CMRS
According to Noridian Medicare, there are new changes required when reporting the RT and LT modifier(s). In the past, it was appropriate to bill the RT and LT modifier on the same line when it was required for certain HCPCS codes. Noridian released a publication stating claims reported with RT/LT on the same ...
Do You Understand Medicare
May 21st, 2019 - Christine Taxin
Even though we may think we truly understand what it means to be a participating provider, Medicare doesn't quite work the way that other insurance plans do. Far too many providers do not understand the difference and get into hot water. To further complicate matters, the rules are different for ...