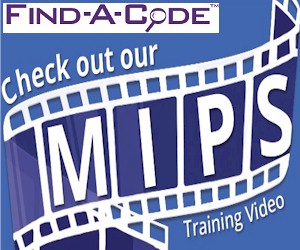 Browse articles
Choose an article category listed below, search by keyword using the box in the page menu bar, or view the latest additions below:
Latest articles:
Behavioral Health Provider Types
October 3rd, 2017 - Raquel
In the behavioral health profession there are a several different types of providers with varying degrees and credentials. Third party payer coverage, billing requirements, and reimbursement vary depending on the practitioner's professional type or specialty. Also, it is important to be aware...
Annual Wellness Visit & Health Risk Assessment
September 30th, 2017 - Find-A-Code
Coding tips regarding Annual Wellness Visit and Health Risk Assessments
How to Properly Report Prolonged Evaluation and Management Services
September 13th, 2017 - Aimee Wilcox
Have you ever had a patient take more time with the provider than they were scheduled for? Do you understand which codes to report and the rules that govern them to allow for better reimbursement? Prolonged Service codes were created just for that reason but you must carefully follow the documentation ...
Auditing Prolonged Evaluation and Management Services
September 12th, 2017 - Aimee Wilcox
At times, there are patients who require prolonged face-to-face time with the provider to discuss or be counseled about their condition, plan of care, risks, complications, alternative therapies, or other medical issues. When E/M services go wild, taking significantly longer than the typical time associated with it, that direct face-to-face ...
Medicare Improper Payment Report (2016)
September 1st, 2017 - Wyn Staheli
The Medicare Improper Payment Report for 2016 has been released by the OIG. Please note that the improper payment rate does not measure fraud. Rather, it estimates the payments that did not meet Medicare coverage, coding, and billing rules. The estimated Medicare FFS payment accuracy rate (claims...
Quality Measures for Chiropractic - 2017
August 29th, 2017 - Wyn Staheli
Performance Measurement Codes for Chiropractic: Although there are hundreds of Performance Measurement (PM) services and events, only two may be reported for chiropractors for the 2017 reporting year. Pain Assessment and Follow-Up 131 ENCOUNTER: 90791, 90792, 92002, 92004, 92012, 92014, 92507, 92508, 92526, 96116, 96118, 96150, 96151, 97161, 97162, 97163, 97164, 97165, 97166, 97167, ...
VA Patient-Centered Community Care and Veterans Choice Program: Worth it for Providers?
August 23rd, 2017 - Jared Staheli
As the opportunities for providers outside the VA system expand in order to meet demand, you may be interested in offering services to veterans and the VA, if you are not already. With overwhelming bipartisan support, the opportunities are not likely to abate, but are those opportunities worth it for ...