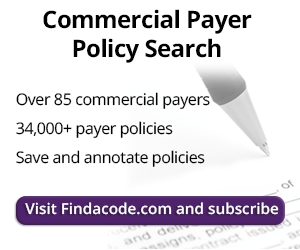 Correct Place of Service Codes are Not that Big of a Deal!
August 2nd, 2022 - Chris Woolstenhulme
---
Have you heard the saying, "I am getting paid, so I must be doing something right!" Claims get processed and paid incorrectly all the time; the fact is you may be doing something wrong even if you are getting paid! If you don't understand how the physician fee schedule works, you may be unknowingly committing a crime called fraud and abuse. Just because you are not paying attention does not mean your claims will not be investigated.

Place of service matters! Don't be fooled. There are rules and guidelines to be followed like any other code set. The place of service (POS) code may seem unimportant, but it is essential in coding for compliance and affects reimbursement.

Let's take a look at what can happen if the Place of Service (POS) is billed as an office procedure using Office -11, when a physician sees a patient in another setting. We will also discover the difference between reimbursement in the facility and non-facility settings. I came across an audit performed by the Office of Inspector General (OIG) reporting findings of millions of dollars in overpayments. The OIG's audit reported physicians performing services in facility locations but incorrectly coding the services as performed in non-facility locations.

OIG Findings

For CY 2002-2007, the OIG published findings on incorrect POS coding. Providers and suppliers were billing Improper POS codes when services were furnished in outpatient hospitals and in Ambulatory Surgical Centers (ASCs), and again in 2015. As you can see, this is an ongoing problem.

According to the OIG's audit done on 05/06/2015, "Physicians did not always correctly code non-facility places of service on Part B claims submitted to, and paid by, Medicare contractors nationwide. We determined that Medicare contractors potentially overpaid physicians approximately $33.4 million for incorrectly coded services provided from January 2010 through September 2012. Physicians performed these services in facility locations, but physicians incorrectly coded the services as performed in non-facility locations. We attribute the overpayments to internal control weaknesses at the physician billing level and to insufficient post-payment reviews at the Medicare contractor level to identify potential place-of-service billing errors."

They got paid; does this mean they get to keep the money?

Ummm NO! Here are the OIG Recommendations and what they had to say about it; "We recommend that CMS direct its Medicare contractors to (1) initiate, in accordance with CMS policies, the immediate recovery of $7.3 million in potential overpayments from physicians who incorrectly coded physician services performed in ambulatory surgical centers; (2) monitor the recoveries from the 87 physicians who expressed their intent to refund approximately $7.1 million in potential overpayments for incorrectly coded physician services performed in hospital outpatient locations; (3) recover, in accordance with CMS policies, the additional $19 million in potential overpayments related to the services that may have been performed in hospital outpatient locations that we identified through our computer match..."

Guidelines/Rules

Place of service codes also have authorization and referral requirements, some indicating the settings where the procedure may be performed. For example, CPT code 49000 is considered a Major surgery with a 90-day global period. It would not be appropriate to bill this code in an outpatient setting. How do we know that? Good question; CMS and other payers attach what is called Medicare Physician Fee Schedule Indicators (MPFS) to every CPT code, and these give us insight as to how the code will be processed and how we should be reporting it. For example, CPT code 49000 has a "C" status indicator telling us this cannot be done in an outpatient setting and is not paid under OPPS (Outpatient Prospective Payment System).

C - Inpatient Procedures, not paid under OPPS
Item/Code/Service: Inpatient Procedures
OPPS Payment Status: Not paid under OPPS.
Admit patient. Bill as an inpatient
Most services furnished by a physician or supplier are generally face-to-face; however, there are a few exceptions. For example, in the case where there is a diagnostic test or interpretation from another site, in this case, the POS is the setting in which the patient received the Technical Component (TC). In other words, if a patient has an MRI at an outpatient hospital, the hospital bills for the TC portion. If the physician furnishes the interpretation (modifier 26) in their office, POS 22 is reported on the physician's claim, indicating the physician's interpretation.

If the patient is registered as an Inpatient or an outpatient, the care received at the hospital will be reported under POS 21. If the care is in an outpatient hospital setting, POS 22 is used.

Facility vs. Non-Facility

Facility; when billing for services provided in a facility, the physician fee schedule is generally lower. This is due to the resources used and the cost to the provider. The facility will cover the overhead costs when a procedure is done in a facility, such as a hospital, ambulatory surgical center, or skilled nursing facility, lowering the practice expense.

Non-Facility; non-facility includes office, outpatient clinics, urgent care, and home services, to name a few. You will generally see a higher reimbursement for non-facility due to the overhead and cost to the physician. This will stem from a higher relative value assigned to the procedure and place of service.

Reimbursement
Reimbursement depends on the setting where the patient was seen. When a POS code is assigned, payers reimburse according to the setting. In other words, the POS will trigger your payment.

The following lists of POS codes will trigger either Facility or Non-Facility payments.
The list of settings where a physician's services are paid at the facility rate includes:
21 - Inpatient Hospital
22 - Outpatient Hospital
23 - Emergency Room-Hospital
24 - Medicare-participating Ambulatory Surgical Center (ASC for a Healthcare Common Procedure Coding System (HCPCS code included on the ASC approved list of procedures
24 - Medicare-participating ASC for a procedure not on the ASC list of approved procedures with dates of service on or after January 1, 2008.
26 - Military Treatment Facility
31 - Skilled Nursing Facility (SNF for a Part A resident
34 - Hospice – for inpatient care
41 - Ambulance – Land
42 - Ambulance – Air or Water
51 - Inpatient Psychiatric Facility
52 - Psychiatric Facility -- Partial Hospitalization
53 - Community Mental Health Center
56 - Psychiatric Residential Treatment Center
61 - Comprehensive Inpatient Rehabilitation Facility

Examples of Physicians' services paid at non-facility rates furnished in the following settings: (not all-inclusive)

1 - Pharmacy
3 - School
4 - Homeless Shelter
9 - Prison/Correctional Facility
11 - Office
12 - Home or Private Residence of Patient
13 - Assisted Living Facility
14 - Group Home
15 - Mobile Unit
Other Resources

MLN- Revised and Clarified Place of Service (POS) Coding Instructions
Find-A-Code So How Do I Get Paid for This? APC, OPPS, IPPS, DRG?
Codapedia- Facility versus non-facility in the Physician Fee Schedule
CMS - Place of Service Codes
###
Questions, comments?
If you have questions or comments about this article please contact us. Comments that provide additional related information may be added here by our Editors.
Latest articles: (any category)
COVID Vaccine Coding Changes as of November 1, 2023
October 26th, 2023 - Wyn Staheli
COVID vaccine changes due to the end of the PHE as of November 1, 2023 are addressed in this article.
Medicare Guidance Changes for E/M Services
October 11th, 2023 - Wyn Staheli
2023 brought quite a few changes to Evaluation and management (E/M) services. The significant revisions as noted in the CPT codebook were welcome changes to bring other E/M services more in line with the changes that took place with Office or Other Outpatient Services a few years ago. As part of CMS' Medicare Learning Network, the "Evaluation and Management Services Guide" publication was finally updated as of August 2023 to include the changes that took place in 2023. If you take a look at the new publication (see references below),....
Can We Score Interpretation of an EKG Towards E/M Medical Decision Making?
October 10th, 2023 - Aimee Wilcox
When EKGs are performed in the facility setting or even in the physician's office, what are the requirements for reporting the service and who gets credit for scoring data points for Evaluation and Management (E/M) medical decision making (MDM)? Let's take a look at a few coding scenarios related to EKG services to get a better understanding of why this can be problematic.
Accurately Reporting Signs and Symptoms with ICD-10-CM Codes
October 5th, 2023 - Aimee Wilcox
Coders often find themselves unsure of when to report a sign or symptom code documented in the medical record. Some coders find their organization has an EHR that requires a working diagnosis, which is usually a sign or symptom, be entered to order a test or diagnostic study or image. Understanding the guidelines surrounding when signs and symptoms should be reported is the first step in correct coding so let's take a look at some scenarios.
The 2024 ICD-10-CM Updates Include New Codes for Reporting Metabolic Disorders and Insulin Resistance
September 19th, 2023 - Aimee Wilcox
Diabetes is a chronic disease that just seems to consistently be increasing instead of improving resulting in a constant endeavor by medical researchers to identify causal effects and possible treatments. One underlying or precipitating condition that scientists have identified as a precipitating factor in the development of diabetes is insulin resistance, which is a known metabolic disorder. As data becomes available through claims reporting, additional code options become possible with ICD-10-CM.
Documenting and Reporting Postoperative Visits
September 12th, 2023 - Aimee Wilcox
Sometimes we receive questions regarding documentation requirements for specific codes or coding requirements and we respond with information and resources to support our answers. The following question was recently submitted: Are providers required to report postoperative services on claims using 99024, especially if there is no payment for that service? What documentation is required if you are reporting an unrelated Evaluation and Management (E/M) service by the same physician during the postoperative period? 
Understanding Gastroesophageal Reflux Disease and ICD-10-CM Coding
August 22nd, 2023 - Aimee Wilcox
Gastroesophageal reflux disease or GERD for short, is a disease that impacts millions of Americans on a weekly basis. Symptoms are uncomfortable, as are some of the tests used to diagnose it, but understanding the disease, tests, and treatments helps us better understand how to code the disease using ICD-10-CM codes.