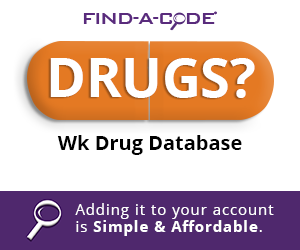 COVID-19 Vaccines
March 10th, 2021 - Christine Woolstenhulme, QCC, QMCS, CPC, CMRS
---
To accommodate the new COVID-19 immunizations the CPT editorial panel has approved 11 Category I codes. Watch for new and revised guidelines and parenthetical notes with these codes. For example; which administration codes should be used with the vaccine codes and the NCD codes applicable to the dose being administered. These codes will be effective through the duration of the Public Health Emergency. These codes were granted approval from the FDA on 12/11/20 and first appeared in the CPT codeset on 01/01/2021.
4 New Vaccine Codes:
7 New Administration codes to be used with the Vaccine codes:
0001A, 0002A, 0011A, 0012A, 0021A, 0022A, 0031A
Vaccine Code

Description

Admin Code

MFG
NDC 10/NDC 11 Prod ID (vial)
Dosing
91300

SARS-CoV-2

30 mcg/0.3mL dosage

Dose #1 0001A

Dose #2 0002A

Pfizer, Inc

Dose #1 59267-1000-1

Dose #2 59267-1000-01

21 Days
91301

SARS-CoV-2

100 mcg/0.5mL dosage

Dose #1 0011A

Dose #2 0012A

Moderna, Inc

Dose #1 80777-273-10

Dose #2 80777-0273-10

28 Days
91302

SARS-CoV-2

5x1010 viral particles/0.5mL dosage

Dose #1 0021A

Dose #2 0022A

AstraZeneca, Plc

Dose #1 0310-1222-10

Dose #2 00310-1222-10

28 Days
91303

SARS-CoV-2

5x1010. viral particles/0.5mL dosage

1 Dose 0031A
Janssen
59676-580-05 59676-0580-05
N/A
The crosswalks are intended to help entities and providers who bill for drugs understand which drug products that are identified by NDCs are assigned to which HCPCS billing codes. The crosswalks are not intended to be a comprehensive list of all drugs/NDCs available in the United States, but are current to the best of our knowledge as of the writing of the article.
###
Questions, comments?
If you have questions or comments about this article please contact us. Comments that provide additional related information may be added here by our Editors.
Latest articles: (any category)
Code Sequencing Chapter 15 OB Visits
February 13th, 2023 - Chris Woolstenhulme
Sometimes payer guidelines differ from the official guidelines, this can be confusing, let's look at a sequencing priority for example in Chapter 15: Pregnancy, childbirth, and the Puerperium (o00-o9A). the guidelines tell us how to code based on the provider's documentation, in addition, it is important to know Chapter 15 codes are never to be used on newborn records, only on the maternal record. Find-A-Code will sequence codes according to the ICD-10-CM guidelines first.
Is the End Really Near?
February 7th, 2023 - Chris Woolstenhulme
What happens once the COVID-19 emergency declarations have ended?
Will 2023 Be the Year of Outsourced Medical Billing?
February 3rd, 2023 - Find-A-Code
Many healthcare providers have chosen to keep medical coding and billing in-house. From HIPAA compliance to the complexity of ICD-10 codes, it has just been easier to keep track of things by not outsourcing medical billing or coding. But things are changing. So much so that 2023 could be the year that outsourced services finally take over.
Three Things To Know When Reporting Prolonged Services in 2023
January 31st, 2023 - Aimee Wilcox
The Evaluation and Management (E/M) changes made in 2021 and again in 2023 brought about new CPT codes and guidelines for reporting prolonged services. Just as Medicare disagreed with CPT in the manner in which prolonged service times should be calculated, they did so again with the new 2023 changes. Here are three things you should know when reporting prolonged services for all E/M services.
The Curious Relationship Between CPT Codes and Actual Treatments
January 30th, 2023 - Find-A-Code
Common sense seems to dictate that medical billing codes, like CPT codes for example, are only considered after medical treatment has been provided. After all, the codes are simply a representation of diagnosed conditions and treatment services provided – for billing purposes. But there is a curious relationship between these codes and actual treatments.
Why Medical Billing Codes Are Critical To Healthcare Delivery
January 30th, 2023 - Find-A-Code
Medical coders play a critical role in determining how healthcare delivery is reported for record keeping and billing purposes. Likewise, the codes they know so well are equally critical. They have been around for decades. They were originally developed and implemented to make reporting and billing easier in a healthcare system that was becoming incredibly more complex. The system is even more complex today.
Why Knowing Medical Terminology Makes Coding Easier
January 27th, 2023 - Find-A-Code
You are excited about beginning your training as a professional medical coder. You're expecting to pass the exam and earn your certification. The future is looking bright until, as you are perusing the educational material, you suddenly realize you're going to have to learn medical terminology.