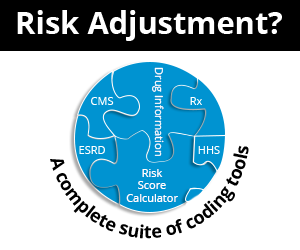 Wellness visits for Medicare patients
November 18th, 2013 - Codapedia Editor
---
Dec 20, 2010 Added Medicare's MLN Matters article as a resource.
Hold the champagne--it's true that Health Care Reform added an annual "wellness"visit for every beneficiary, but it's not what you or your doctors think of as an annual exam. In fact, it's has more in common with the Welcome to Medicare visit than an annual. The CPT® codes for preventive medicine (99381--99397) remain non-covered, routine services. Bill them to Medicare and they will be denied as patient due. The Annual Wellness Visit (AWV) will be billed to Medicare with new HCPCS codes developed for this purpose.
First, during the first year a patient is enrolled in Medicare, the beneficiary will be eligible only for the Welcome to Medicare visit. (See the Codapedia article on this topic.) The Welcome to Medicare visit, or Initial Preventive Physical Exam, IPPE, is a once in a lifetime benefit, billed with HCPCS code G0402. It includes a screening for depression, safety at home, ability to perform activities of daily living and a written checklist given to the patient with a recommendation to obtain Medicare covered preventive services.
The Annual Wellness Visits are defined as initial and subsequent. These visits do not have new and established patient designations, so a clinician can perform an initial visit on an established patient to the practice. The initial AWV may be performed on patients who have been enrolled in Medicare for more than a year, or one year after the patient had the Welcome to Medicare visit. A patient is eligible for the subsequent wellness visit one year after the initial wellness visit. An example might help.
Bob is 70 and has been enrolled in Medicare since he was 65. Starting January 1, 2011, Bob is eligible for an Initial Annual Wellness Visit. Let's say he receives that on April 29, 2011. He is eligible for a subsequent wellness visit one year later, April 30, 2012.
Jock, however, became eligible for Medicare on July 1, 2010. He is eligible for the Welcome to Medicare visit until June 30, 2011. Let's say he receives it on May 7, 2011. He is eligible for his initial Annual Wellness Visit starting May 8, 2012, an for a subsequent wellness visit May 9, 2013.
What about patients who receive part of their care in the sunny south during the winter (lucky ones) and part of their care in the north during the summer. Can they receive the visits twice, once in the summer and once in the winter, since they are cared for by two different physicians? No, these are per beneficiary, not per physician.
What it required during the initial Annual Wellness Visit?
Establish/update the patient's past medical, family and social history
List patient's current medical providers, suppliers and all medications, including supplements
Record height, weight, calculate BMI, BP and "other routine measurements"
Review potential for depression using an appropriate screening tool
Review individual's functional level of safety and ability to perform activities of daily living, fall risk and home safety
Voluntary advance care planning in the case that the patient is unable to make decisions in the future due to illness or injury--This was removed by CMS in early Jan. 2011
Detect cognitive impairment, via direct observation, discussion, review of medical records or discussion with family
Establish a personalized, written preventive plan for the next 5-10 years with services recommended by the US Preventive Task Force
Furnish personalized health advice that includes listing of patient's conditions. risk factors, treatment recommendations, and methods to decrease risk factors such as smoking, obesity, etc.
The subsequent annual wellness visit may not be billed in 2011, because in order to be eligible to receive that service, the patient must have received the initial Annual Wellness Visit, which does not become effective until 1-1-11.
There are two new HCPCS codes to describe these services:
G0438: Annual Wellness Visit (AWV) including personalized prevention plan services; first visit
Total RVUs of 4.74
G0439: Annual Wellness Visit (AWV) including personalized prevention plan services; subsequent visits
Watch for the CMS transmittals and MedLearn Matters article to be released at the end of 2010.
###
Questions, comments?
If you have questions or comments about this article please contact us. Comments that provide additional related information may be added here by our Editors.
Latest articles: (any category)
Reporting Drug Wastage with Modifier JW and NEW Modifier JZ
August 15th, 2023 - Aimee Wilcox
Modifier JW has been around since 2003 with changes in Medicare policies to ensure standard utilization in 2017; however, because of a continued lack of reporting consistency, Medicare has created and implemented policy related to reporting a new modifier, JZ. How does this impact Medicare reimbursement and why is this modifier so important?
Finding Patterns of Complexity in the Medical Decision Making (MDM) Table
August 8th, 2023 - Aimee Wilcox
Changes to the Medical Decision Making (MDM) Table in 2023 reflect the work performed in the facility setting in addition to the work involved in Evaluation and Management (E/M) scoring in other places of service. Taking the time to really look closely at the MDM Table and identify patterns in wording and scoring helps coders to understand scoring in an easier way.
Seven Reasons to Standardize Medical Records
July 18th, 2023 - Aimee Wilcox
The standardization of medical records offers numerous benefits for healthcare systems, providers, and patients. By ensuring interoperability, improved workflows, better patient safety, supporting research endeavors, and optimizing resource allocation, standardized records contribute to improved efficiency, quality of care and especially patient outcomes. Here are seven reasons to standardize medical records.
Advancements in Coding Hospital Observation Care Services in 2023
July 4th, 2023 - Aimee Wilcox
Hospitals are increasingly adopting innovative solutions to improve patient care and optimize processes and many of these solutions follow immediately the recent CPT and Medicare coding changes.  In 2023 coding of hospital observation care services underwent significant changes enabling healthcare providers to accurately document and bill for the sick or injured patient that requires a higher level of medical services between the emergency room care and hospital admission. This article explores the key changes in coding hospital observation care services and their impact on healthcare delivery.
Be Aware — Emergency Department Visits Under OIG Scrutiny
June 20th, 2023 - Wyn Staheli
Every year the Department of Health & Human Services Office of Inspector General (OIG) creates an official work plan giving everyone a heads up as to what they are going to be reviewing. The 2022 Work Plan stated that they would be reviewing claims for Evaluation & Management services provided in an emergency department (ED) setting.
OIG Audit Reveals Diagnosis Reporting Problems Affecting Risk Adjustment Scoring
June 15th, 2023 - Wyn Staheli
The Office of the Inspector General (OIG) recently published their Spring 2023 Semiannual Report to Congress. This report contained some diagnoses reporting issues that all providers need to be aware of. They focused on several groups of diagnoses that they considered "High-Risk" for being miscoded. Several states were included in the report and the types of errors for all can be generally grouped into several categories.
Documenting for Suture and Staple Removal E/M Add-On Codes
May 30th, 2023 - Aimee Wilcox
Historically, the 10-day and 90-day global periods would include the patient's follow-up Evaluation and Management (E/M) services and any dressing changes or staple/suture removal related to the surgery; however, following a closer analysis of these and other surgery codes, the decision was made to make significant revisions to these codes to ensure proper reporting.