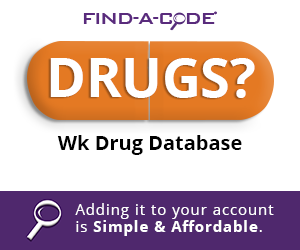 Prolonged services for office and outpatient visits
July 31st, 2009 - Codapedia Editor
0 Votes -

Sign in

to vote or comment.
---
This is an article describing using prolonged services codes in an office setting. There is a separate article in Codapedia about using prolonged services codes in an inpatient setting. There is an article describing using non-face-to-face codes, as well.
Prolonged services codes are add-on codes. They are used in addition to another CPT® code. The outpatient prolonged services for face-to-face services are 99354 and 99355. See the CPT® book for the complete descriptions of these codes. These codes may be used with:
99201--99215: New or established patient visits
99241--99245: Outpatient consults
99324--99337: Domiciliary services
99341--99350: Home services
90809 and 90815: Two psychiatric services, with typical times of 75-80 minutes
The prolonged services codes may not be used in conjunction with any other CPT® codes.
In order to use these codes, the physician or Non-Physician Practitioner must spend thirty minutes more time with the patient than the typical time for the service being performed. That is, if the service would be coded as a 99213 based on the three key components, (typical time=15 minutes) and the physician or NPP spent 45 minutes with the patient, the provider could bill 99213 and 99354. This makes it difficult for providers: the typical time for each visit is different, and thus the threshold time to use the prolonged services codes is different. The chart in the CPT® book is confusing, but there is a pdf file attached thatt shows the typical times and the threshold times for prolonged services. Also, the CMS Claims Processing Manual has an easy chart to use.
Select the base code based on the level of history, exam and MDM. Then, if the threshold time for prolonged care is met, add on the prolonged services code.
Document time in the medical record. Although CPT® is not this specific, the Medicare Manual says this:
The start and end times of the visit shall be documented in the medical record along with the date of service.
Remember, only the provider time counts, not staff time. See the article in Codapedia entitled, "I had a wheezer in the office, can I bill a 99215." The time the patient is in the office does not determine prolonged services, only the time of the billing provider.
E/M services in which the entire visit is spent in counseling
If the entire visit was spent in counseling (and not in history and exam, but all discussion of the patient's medical problems, alternatives for treatment, importance of compliance, etc.) then first select the code based on the total time. That is, do not use a low level code and add prolonged services to it for a visit that is totally discussion. In that case, use time to select the appropriate CPT® code, until the highest level of code is reached in that category. Then, use a prolonged services code ony if the threshold time for the highest visit plus thirty minutes is met.
Here's an example. A patient presents to an Oncologist's office for a follow up to a recent hospitalization. During the hospitalization, the patient's cancer was diagnosed, and all of the work up was performed. The physician now has those results and the physician and patient has an appointment to discuss the treatment options. It is an established patient visit. The physician spends 60 minutes with the patient in this discussion, all face-to-face time. The physician should bill 99215, which as a typical time of 40 minutes, not 99213 and 99354 (typical time 15 plus 30), not 99214 (typical time 24 plus 30). Why? Because for visits that are only counseling, the Medicare Manual states this:
In those evaluation and management services in which the code level is selected based on time, prolonged services may only be reported with the highest code level in that family of codes as the companion code.
If in our example above the physician had spent 75 minutes with the patient, the physician could have billed 99215 adn 99354.
Key points:
Document start and stop times when adding prolonged services codes
These are add-on codes, not meant to be used alone
They may only be added to specific codes
Only provider, face-to-face time may be used with the prolonged services codes
###
Questions, comments?
If you have questions or comments about this article please contact us. Comments that provide additional related information may be added here by our Editors.
Latest articles: (any category)
To Our Codapedia Friends!
July 30th, 2020 - Christine Woolstenhulme, QCC, QMCS, CPC, CMRS
Codapedia friends, come and join us at Find-A-Code - a core product of innoviHealth! The information found on Codapedia comes from our sister company, Find-A-Code. If you do not already have a subscription with the greatest online coding encyclopedia, call us and get signed up today. We are offering a ...
OIG Report Highlights Need to Understand Guidelines
July 28th, 2020 - Wyn Staheli, Director of Research
A new OIG report once again highlights the necessity for organizations to fully understand requirements for reporting services and having proper documentation. The types of problems addressed in this report are ongoing issues for multiple types of services and specialties and for many different payers.
Office of Inspector General Says Medicare Advantage Organizations are Denying Services Inappropriately
July 21st, 2020 - Aimee Wilcox
We attended the recent virtual RISE National Conference and had the opportunity to listen to presenters share their knowledge about risk adjustment and HCC reporting and data validation. Among the presenters were representatives from the Office of Inspector General (OIG), who presented findings from encounter data from 2012-2016. They began ...
Use the Correct Diagnosis Codes and Revenue Codes to Get Paid for PAD Rehab
July 15th, 2020 - Christine Woolstenhulme, QCC, QMCS, CPC, CMRS
The initial treatment in rehabilitation for patients suffering from Intermittent Claudication (IC) is Supervised Exercise Therapy (SET) for Symptomatic Peripheral Artery Disease (PAD).  Rehabilitation using SET involves the use of intermittent walking exercise, which alternates periods of walking to moderate-to-maximum claudication, with rest.   When reporting 93668 for peripheral arterial disease rehabilitation the following ...
New Name Same Great Product! "HCC Plus"
July 14th, 2020 - Find-A-Code
Hello HCC Customers! We have made a change in name only to our HCC subscription. The new subscription is now called "HCC Plus". Keep in mind there have been no changes to the product. Using your subscription along with the risk adjustment calculator will ensure you stay current with...
Are NCCI Edits Just for Medicare?
July 14th, 2020 - Christine Woolstenhulme, QCC, QMCS, CPC, CMRS
The National Correct Coding Initiative (NCCI) edits were developed by CMS to help promote proper coding and control improper coding that leads to incorrect payments with part B claims. It is important to understand that NCCI edits do not include every possible code combination or every type of un-bundling combination. With that ...
Payment Adjustment Rules for Multiple Procedures and CCI Edits
July 9th, 2020 - Christine Woolstenhulme, QCC, QMCS, CPC, CMRS
Surgical and medical services often include work that is required to be done prior to a procedure and post-procedure. When there are multiple procedures done by the same physician, group, or another qualified healthcare professional on the same day, the pre and post work is only required once. Therefore, CMS ...