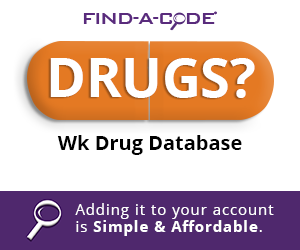 Medicare Wellness Visits--update
April 24th, 2013 - Codapedia Editor
0 Votes -

Sign in

to vote or comment.
---
Physician practices know that fee-for-service Medicare doesn't cover "annual" exams as defined by CPT® codes in the 99381—99397 series. These preventive services are the typical annual exams that physicians use for well child visits and adult annual physical exams. However, in 2011Medicare added the Annual Wellness Visits (initial and subsequent) to their list of covered services. Medicare patients think of these as annual exams, and expect to receive the service. Although practices resisted offering the service, and are not required by law to do so, many groups have changed their minds and are now offering them to their patients. The patient receives the service and the practice adds a revenue source.
There are three steps to accomplish this: 1) Know when the patient is eligible for which covered services 2) Perform the requirements for the visit and 3) Schedule the patient for the correct type of visit in the appointment schedule.
Welcome to Medicare: Medicare fee-for-service patients are eligible for the Welcome to Medicare visit(also known as the Initial Preventive Physical Exam, IPPE) during the first twelve months of enrollment. For most patients, this means from ages 65-66. But, patients who are eligible for Medicare due to disability could be eligible at any age: the date of enrollment determines eligibility. This is a once-in-a-lifetime benefit. The patient may only receive one Welcome to Medicare visit in their life. (Code G0402)
Perform and document these components of the Welcome to Medicare visit:
· Past medical, family and social history including medications and use of supplements
· Review of patient's potential for depression using a screening tool recognized by national standards
· Review of patient's functional ability and level of safety using screening tool recognized by national standards
· Physical exam that includes height, weight, BP, calculation of BMI and screening for visual acuity and other exam components deemed appropriate
· Performance and interpretation of an EKG became optional, starting Jan 1, 2009. If performed, use G0403, not 93000 to report
· Education, counseling and referral, as appropriate, based on the above
· With the patient's permission, discussion of end of life planning.
· A written plan (which may be in the form of a checklist) given to the patient at the visit which refers them to Medicare covered preventive medicine services.
Initial Annual Wellness Visit (AWV): A patient may receive their initial AWV if they have not received their Welcome to Medicare visit in the past 12 months, and have been on Medicare for over twelve months. The initial visit is also a once-in-a-lifetime benefit. Patients who have been on Medicare for longer than a year can have this service. (Code G0438)
Requirements of the Initial AWV:
Establish/update the patient's past medical, family and social history

List patient's current medical providers, suppliers and all medications, including supplements

Starting January 1, 2012, give the patient a Health Risk Assessment to complete as part of the evaluation

Record height, weight, calculate BMI, BP and "other routine measurements"

Review potential for depression using an appropriate screening tool

Review individual's functional level of safety and ability to perform activities of daily living, fall risk and home safety

Detect cognitive impairment, via direct observation, interview, review of medical records or discussion with family

Establish a personalized, written preventive plan for the next 5-10 years with services recommended by the US Preventive Task Force

Furnish personalized health advice that includes listing of patient's conditions. risk factors, treatment recommendations, and methods to decrease risk factors such as smoking, obesity, etc.
Subsequent Annual Wellness Visit: This is an annual benefit for Medicare patients, for which they are eligible one year after receiving the initial AWV. (Code G0439)
Requirements:
· Update all of the components of the AWV.
No specific diagnosis codes are required for any of the above visits.
Medicare covers other screening and preventive services with specific frequency and diagnosis code requirements. CMS publishes a Preventive Services Guide, which practices can download. This guide is due to be revised in early 2012, so be sure to check back to the CMS website to download an updated copy. Scroll down the page to download "Medicare Preventive Services Quick Reference Chart" from https://www.cms.gov/PrevntionGenInfo/
Practices can find templates that meet the requirements for these visits at the websites of the American Academy of Family Physicians or the American College of Physicians. Practices using an electronic health record can build the templates into their records. For all of these services, staff members should complete the historical and screening data before the billing clinician enters the exam room. The visits need to be scheduled as Welcome to Medicare or Annual Wellness visits, so that the medical assistant who is rooming the patient selects the correct form or template for the visit. Many practices have the patient complete the history and screening sections before the visit. A clinician may bill a problem oriented visit on the same day as one of these wellness visits, but cannot use any part of the wellness visit documentation to select the level of service for the problem oriented visit. Other covered preventive services (such as the clinical pelvic and breast exam) may be performed and billed on the same day as a wellness visit.
Although many groups were reluctant to offer these services initially, some providers are now actively recommending them to their patients. At the end of a problem-oriented visit, the provider asks the patient to schedule their wellness visit. This ensures that the visit type will be correct in the schedule, the staff will open the correct template/use the correct forms and the provider can perform all of the required elements at the scheduled visit.
###
Questions, comments?
If you have questions or comments about this article please contact us. Comments that provide additional related information may be added here by our Editors.
Latest articles: (any category)
HIPAA Penalty Changes
January 11th, 2021 - Wyn Staheli, Director of Research
On January 5, 2021, H.R. 7898 was signed into law by President Trump. This new law modifies the HITECH Act such that when an organization experiences a breach, fines and/or penalties may be reduced if (for at least a year) they have instituted "recognized security practices" as defined within the law.
CDT and CPT - The Same but Different!
December 8th, 2020 - Christine Woolstenhulme, QCC, QMCS, CPC, CMRS
Reporting a CPT code for an evaluation of a patient is based on time and if the patient is a new or established patient. Evaluation and Management codes are different than other codes, it is important to understand how they are used, prior to 2021 they were based on a ...
How to Search Find-A-Code for Medicare Policies and Guidelines — LCDs, NCDs and Articles —
November 18th, 2020 - Raquel Shumway
Help for Searching Find-A-Code when searching for Medicare Policies and Guidelines — LCDs, NCDs and/or Articles.
Cross-A-Code Instructions in Find-A-Code
November 18th, 2020 - Raquel Shumway
Cross-A-Codeis a toll found in Find-A-Code which helps you to locate codes in other code sets that help you when submitting a claim.
COVID Vaccine Codes Announced
November 11th, 2020 - Wyn Staheli, Director of Research
On November 10, 2020, the American Medical Association (AMA) announced the addition of two new codes which will be used for the new COVID-19 vaccines along with 4 new administration codes to be used when reporting the administration of these vaccines.
Are You Aware of the 2021 Star Rating System Updates?
November 5th, 2020 - Aimee Wilcox, CPMA, CCS-P, CST, MA, MT, Director of Content
Each year the Centers for Medicare & Medicaid Services (CMS) publishes the Star Ratings System Updates for Medicare Advantage (Part C) and Medicare Prescription (Part D). This rating system was developed to help beneficiaries identify and select the health plans that best meet their needs, specifically addressing main issues:  Quality of ...
Special Needs Plans Help Beneficiaries and Risk Adjustment Reporting
October 22nd, 2020 - Aimee Wilcox, CPMA, CCS-P, CST, MA, MT, Director of Content
It is no secret that Medicare and Medicaid are steadily moving towards their goal of value-based health care. Medicare Part C (Medicare Advantage) identifies and rewards payers, and subsequently their providers, for increasing the efficiency and quality of care they provide to Medicare...