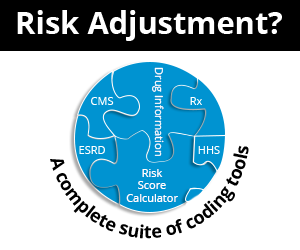 Denials due to MUE Usage - This May be Why!
January 7th, 2020 - Chris Woolstenhulme, QCC, CMCS, CPC, CMRS
---
CMS assigns Medically Unlikely Edits (MUE's) for HCPCS/CPT codes, although not every code has an MUE. MUE edits are used to limit tests and treatments provided to a Medicare patient for a single date of service or for a single line item on a claim form. It is important to understand MUE's are not to be used as utilization guidelines. CMS states; "CMS is concerned that providers will incorrectly interpret MUE values as utilization guidelines. MUE values do NOT represent units of service that may be reported without concern about medical review. Providers should continue to only report services that are medically reasonable and necessary."
What are the MAI indicators?
Each MUE is assigned a Medicare Adjudication Indicator (MAI), further specifying how MACS look at MUE's. MUE's and MAI's are used by providers, suppliers, and MACS in all settings. these are the most common and published MAI's. There are MUE's with a value of less than 1 and a value of 4 or more that are not published due to concerns from CMS about fraud and abuse.
MAI 1 - adjudicated as a claim line edit
MAI 2 - per day edits based on policy (Impossible to bill excess MUE's)
MAI 3 - per day edits based on clinical benchmarks (UOS in excess of the MUE value were actually provided, were correctly coded, and were medically necessary)
MUEs are automatically denied or deemed an "auto-deny edit"
Because they are an auto-deny edit, it is important to be aware of the MAI's assigned to each MUE. These types of denials should all be appealed and sent back for reconsideration if denied incorrectly. ASC Providers (specialty Code 49) cannot use modifier 50 (Bilateral procedure), therefore the MUE with an MAI of 1 is automatically doubled by the MAC.
Incorrect usage of MUE's will be denied as a coding denial, not a clinical or medically necessary denial.
Claim Remark Codes
On your EOB or remittance advice, to identify claims that fail the MUE edit claim, remark codes N362 and MA01 will be used.
Questions
Inquiries about the MUE program, including those related to NCCI (PTP, MUE, and Add-On) edits, should be sent to NCCIPTPMUE@cms.hhs.gov. Inquiries about a specific claim should be addressed to the appropriate MAC.
Appeals and Reconsideration
If a national healthcare organization, provider, or other party wants to submit a request for reconsideration of an MUE value, the procedure described in the Frequently Asked Questions (FAQs) should be followed. See the weblink below. Such requests should be addressed to:
National Correct Coding Initiative
Email: NCCIPTPMUE@cms.hhs.gov
P.O. Box 368
Pittsboro, IN 46167
Fax #: 317-571-1745
https://www.cms.gov/Outreach-and-Education/Medicare-Learning-Network-MLN/MLNMattersArticles/Downloads/MM8853.pdf
###
Questions, comments?
If you have questions or comments about this article please contact us. Comments that provide additional related information may be added here by our Editors.
Latest articles: (any category)
Reporting Modifiers 76 and 77 with Confidence
April 18th, 2023 - Aimee Wilcox
Modifiers are used to indicate that a procedure has been altered by a specific circumstance, so you can imagine how often modifiers are reported when billing medical services. There are modifiers that should only be applied to Evaluation and Management (E/M) service codes and modifiers used only with procedure codes. Modifiers 76 and 77 are used to identify times when either the same provider or a different provider repeated the same service on the same day and misapplication of these modifiers can result in claim denials.
Five Documentation Habits Providers Can Use Implement to Improve Evaluation & Management (E/M) Scoring
April 11th, 2023 - Aimee Wilcox
Provider education on E/M coding updates is vital to the success of any organization, but how do you whittle down the massive information into bite-sized pieces the providers can learn in just a few minutes? Check out the five steps we have identified to teach providers in just a few minutes that can significantly impact and improve coding outcomes.
Second Quarter 2023 Updates are Different This Year
April 6th, 2023 - Wyn Staheli
The second quarter of 2023 is NOT business as usual so it is important to pay attention to ensure that organizational processes and training take place to avoid mistakes. Not only have ICD-10-CM coding updates been added to the usual code set updates (e.g., CPT, HCPCS, ICD-10-PCS), but the end of the COVID-19 Public Health Emergency will bring about changes that will also take place during the quarter (but not on April 1, 2023.
7 Measures Developed by the HHS Office of Inspector General (OIG) to Identify Potential Telehealth Fraud
March 28th, 2023 - Aimee Wilcox
A recent review of telehealth services reported in Medicare claims data during the pandemic where these seven measures for identifying suspected fraud, waste, and abuse were applied, revealed more than a thousand Medicare providers potentially committed fraud during this period. What are the measures the OIG applied during their review, and how will that impact future telehealth guidelines moving forward?
MUEs and Bilateral Indicators
March 23rd, 2023 - Chris Woolstenhulme
MUEs are used by Medicare to help reduce improper payments for Part B claims. This article will address the use of the National Correct Coding Initiative (NCCI) and Medically Unlikely Edits (MUEs) and how they are used by CMS.
It is True the COVID-19 PHE is Expiring
March 16th, 2023 - Raquel Shumway
The COVID-19 PHE is Expiring, according to HHS. What is changing and what is staying the same? Make sure you understand how it will affect your practice and your patients.
Billing Process Flowchart
March 2nd, 2023 -
The Billing Process Flowchart (see Figure 1.1) helps outline the decision process for maintaining an effective billing process. This is only a suggested work plan and is used for demonstration purposes to illustrate areas which may need more attention in your practice's policies and...