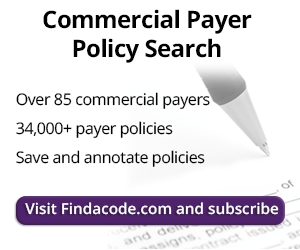 Audits/Auditing - Articles
A 2020 Radiology Coding Change You Need To Know
February 10th, 2020 - Aimee Wilcox, CPMA, CCS-P, CST, MA, MT, Director of Content
The radiology section of the 2020 CPT© has 1 new, 18 revised, and 14 deleted codes. Interestingly, six of the 14 deleted codes were specific to reporting single-photon computerized tomographic (SPECT) imaging services of the brain, heart, liver, bladder, and others. If your organization reports radiology services, it is...
CPT 10-Year Historical Content - Now Available!
January 22nd, 2020 - Find-A-Code
Did You Know? We now offer Historical CPT Content in 2-year, 5-year, or 10-year options! Utilize access to specific CPT historical data for previous years using rules effective at that specific time. If you've added UCR fees to your account, you can use Historical CPT Content to view UCR fees from ...
Denials due to MUE Usage - This May be Why!
January 7th, 2020 - Chris Woolstenhulme, QCC, CMCS, CPC, CMRS
CMS assigns Medically Unlikely Edits (MUE's) for HCPCS/CPT codes, although not every code has an MUE. MUE edits are used to limit tests and treatments provided to a Medicare patient for a single date of service or for a single line item on a claim form. It is important to understand MUE's are ...
Prior years: (click bar to view articles)
Article categories