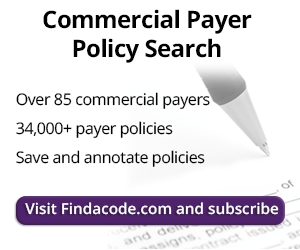 A 2020 Radiology Coding Change You Need To Know
February 10th, 2020 - Aimee Wilcox, CPMA, CCS-P, CST, MA, MT, Director of Content
0 Votes -

Sign in

to vote or comment.
---
A 2020 Radiology Coding Change You Need To Ex"SPECT"
The radiology section of the 2020 CPT© has 1 new, 18 revised, and 14 deleted codes. Interestingly, six of the 14 deleted codes were specific to reporting single-photon computerized tomographic (SPECT) imaging services of the brain, heart, liver, bladder, and others. If your organization reports radiology services, it is time to get acquainted with the newest changes to the Radiology codes now.
In tomographic (SPECT) imaging, special gamma cameras are used in combination with radiopharmaceuticals (radioactive agents) to produce true 3D images of a structure or organ system being analyzed. A radiopharmaceutical agent is administered to the patient, often intravenously, prior to the procedure and once it has reached the targeted structure or organ system, imaging can begin. A special gamma camera scans the body, picking up the radioactive energy produced from the radiopharmaceutical and converts it into 3D images for review and interpretation. Because the radiopharmaceutical agent will absorb differently into damaged, diseased, or abnormal tissues than it will into healthy tissues, the images will specifically highlight details of these areas within the organ system or structure.
With the 2020 radiology code updates, code 78803 was revised to take the place of the tomographic (SPECT) imaging which was reported with codes 78205, 78206, 78320, 78607, 78647, and 78710 for the liver, heart, brain, joints, and other areas. Code 78803 should be reported when the imaging is done on a single area on a single day. When imaging two (2) areas (or more) on a single day or a single area over two or more days, see code 78831.
Correct and detailed documentation is important to support the claims so be sure the name of the radiopharmaceutical, dosing, and route of administration are included in the report. Also, regardless of where the service takes place, there must be a written report that describes the study performed and an interpretation of the findings.
If your organization performs these services frequently, be sure to review the updated guidelines and associated NCCI edits to ensure proper reporting. Checking NCCI edits is easy with the CCI Validation tool on Find-A-Code. Simply enter the codes from your claim, click the "validate" button and any bundling issues will appear with information identifying those that may qualify for unbundling under appropriate circumstances. What are the appropriate circumstances for unbundling? Your subscription allows you to search the NCCI Policy Manual by year and chapter to identify the rules and guidelines describing when it is appropriate to override an NCCI code pair.
Need a subscription to access the wonderful tools on Find-A-Code? We have the best prices for the tools you need. Sign up for a FREE demo or check out our subscriptions and speak to a Customer Success Manager today via LIVE CHAT, email support@findacode.com, or phone (801) 770-4203 (9-5 Mountain).
###
Questions, comments?
If you have questions or comments about this article please contact us. Comments that provide additional related information may be added here by our Editors.
Latest articles: (any category)
COVID-19 Chiropractic Resources
March 31st, 2020 - Wyn Staheli, Director of Research
COVID-19 Chiropractic Resources contains current, updated information regarding COVID-19. Included are lists of webinars, articles, websites and links pertaining to the ongoing changes.
CMS-Coverage for Therapeutic Shoes for Individuals with Diabetes
March 31st, 2020 - Chris Woolstenhulme, QCC, CMCS, CPC, CMRS
Therapeutic shoes and inserts can play a vital role in a diabetic patient's health. Medicare may cover one pair every year and three pairs of custom inserts each calendar year if the patient qualifies and everything is handled correctly.  Medicare Benefit Policy Manual explains what is needed for a person with diabetes to ...
Providing Telehealth Services During COVID-19 Crisis
March 30th, 2020 - Wyn Staheli, Director of Research
The rules for providing telehealth services during this pandemic have changed and some requirements have been waived. Please keep in mind that "waiving requirements" does not mean that anything goes. Another important consideration is that Medicare and private payers may likely have different rules so you need to make sure that you know individual payer requirements during this time.
Spotlight: UCR Fees are Available on DRGs- Check it Out!
March 30th, 2020 - Brittney Murdock, QCC, CMCS, CPC
Check out the information page on any DRG! Look up DRGs by going to the list of DRG codes found under the Codes tab at the top of the page, or simply type in the desired DRG by using the search bar on the homepage. When using the search bar, be sure you have the ...
Interprofessional Consult Services
March 27th, 2020 - Namas
The recent coronavirus crisis has brought non-face-to-face services to the forefront of coding and billing conversations. With the entire healthcare industry focused on caring for patients during an unprecedented and fast-moving pandemic, the goal of increasing patient access while reducing the risk of spreading infection has become paramount. In this climate, ...
2020 Medicare Part D Coverage Gap (AKA donut hole)
March 26th, 2020 - Chris Woolstenhulme, QCC, CMCS, CPC, CMRS
Not every Medicare drug plan has complete coverage for prescription drugs - most have some sort of coverage gap, known as the "Donut Hole". The coverage gap is a temporary limit on coverage under the drug plan. This coverage gap will not affect everyone and begins after you have used ...
LATEST COVID-19 INFORMATION FOR BILLING NON-FACE-TO-FACE SERVICES
March 26th, 2020 - Namas
Healthcare providers and the population at large are concerned about safe access to care considering the COVID-19 pandemic. As a result, we have received many inquiries this week about how to bill for "telehealth" services. Let's first address that true telehealth services have some pretty stringent requirements from CMS, including that ...