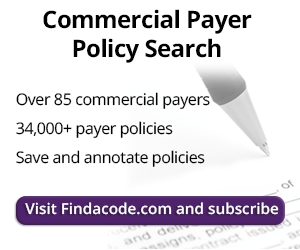 How Does the Definition of "Problem Assessed" Change in the 2023 E/M Guideline Updates?
November 1st, 2022 - Aimee Wilcox
---
As part of the 2023 AMA Evaluation and Management (E/M) services updates, several changes and and a few additions were made to the guidelines and diagnosis complexity definitions listed in the medical decision making (MDM) element, "Number and Complexity of Problems Addressed at the Encounter." Just as they did in 2021, the AMA published the guidelines for the healthcare community to review in advance of implementation, which can be accessed by clicking HERE. In 2021, the AMA defined certain terms to facilitate better understanding and scoring for MDM. For the purposes of this article, we will focus more specifically on what is meant by "problems addressed" and what that means when scoring E/M services in the hospital inpatient and observation setting.
Number and Complexity of "Problems Addressed" at the Encounter
The initial paragraph explains what the number and complexity of "problems addressed" at the encounter actually means. The following is is a bulleted summary to help break down what the information for reporting purposes:
New or established conditions can be addressed during the same encounter.
While a specific condition may explain certain symptoms, it does not mean that every symptom should be reported or counted as an individual condition.

For example, a patient who presents with abdominal pain, gas, diarrhea, and a fever, and the provider confirms the patient has the flu, these symptoms are no longer considered individual conditions but are explained, instead by the confirmed diagnosis of the flu. According to the ICD-10-CM Official Guidelines, symptoms are not reported individually when they are explained by a confirmed diagnosis.

Co-morbidities (other chronic conditions the patient has) or underlying diseases (a disease that causes another problem or illness) are not counted in the scoring process, unless they are specifically addressed by the provider and they increase the risk to the patient's treatment or the amount & complexity of data that has to be ordered or reviewed in order to determine a treatment plan.
Patients who present with a possible complex or high risk condition that turns out, after additional evaluation, testing, and examination to be less complex than originally thought, does influence the level of overall complexity.
Providers who document how multiple problems interact to create a higher, overall complexity helps to support the level of service reported.
This additional detail is appreciated in that many times a patient presents with symptoms that could indicate an illness, injury, or condition that presents as high risk or very severe; however, after additional testing, and possibly prophylactic treatment while the tests are being processed, the final diagnosis turns out to be something much less severe than originally anticipated.
While the entire first paragraph on page 14 has green text between two arrows facing each other. The arrows indicate that the text between them is either new or revised. Although this paragraph is rather long, in reality, only the final three sentences contain new text and the remainder is the same as it was in the 2021 updates. These new three sentences read:
"Therefore, presenting symptoms that are likely to represent a highly morbid condition may "drive" MDM even when the ultimate diagnosis is not highly morbid. The evaluation and/or treatment should be consistent with the likely nature of the condition."
An example of this could include a patient presenting to the Emergency Department with signs and/or symptoms concerning for conditions like sepsis, subdural hematoma, a traumatic brain injury, or a possible stroke. The patient's symptoms appear to be very severe and indicative of one of these high risk conditions and the provider may begin treatment protocols while they pursue diagnostic testing to identify the seriousness of the illness, injury, or condition.
If additional testing reveals a diagnosis of a lesser severity and risk, this added explanation to the guideline instructs that the patient's presenting symptoms that drove the providers decision making, should be taken into consideration in the final code selection. That said, documentation details always drive medical necessity and providers who understand this concept, and document the details that describe the intensity of decision making at the onset of the patient evaluation, will have an easier time supporting a higher level of service than those that fail to document these important details.
Always educate and encourage providers to provide the details that would explain the intensity of the services and testing ordered, especially when done to rule out a more severe condition, which the provider may have had to consider was a risk to the patient's life or bodily function.
Example
ASSESSMENT/PLAN:
This pleasant 78-year old female initially presented with symptoms consistent with sepsis including hypertension 150/98, temperature of 101, confusion, slow speech, and inability to stand or walk on her own. She has a significant medical history of past sepsis due to frequently infected leg wounds from pyoderma gangrenosum. CBC and wound cultures were obtained and an initial dose of IV Vancomycin was administered along with IV hydration. Patient doesn't remember her last drink of water, last trip to the bathroom, and feels very weak. Patient was placed under observation until the results returned, which were negative for sepsis but positive for bacterial infection in her leg wound. The patient remained in observation until IV hydration were completed and she was more alert and could walk on her own. She was discharged on an oral antibiotic and will follow-up with her primary care provider in the next two days.
Problem Addressed
Another change occurring to these guidelines in 2023 is specific to the definition of "problem addressed". While the definition of "Problem" will not change in 2023, two additional sentences were added to the definition of "Problem Addressed" to clarify the meaning as it applies to inpatient/observation care services, as follows (italics and underline added for emphasis):
"For hospital inpatient and observation care services, the problem addressed is the problem status on the date of the encounter, which may be significantly different than on admission. It is the problem being managed or co-managed by the reporting physician or other qualified health care professional and may not be the cause of admission or continued stay."
An example of this would be the decline in intensity of services provided to a patient who was admitted for attempted suicide, who gradually, over the next few days with medication and intense counseling , decided they wanted to live, instead. While the intensity on admission was severe, each subsequent encounter should accurately reflect the current status of the problem addressed, which in this case may have been the patient changing their mind about harming himself. Hospital encounters may begin with high complexity and gradually decrease to a level of stability that allows for discharge or intensify after admission with some days being better than others until discharge or possible death of the patient. In this particular example related to a patient's admission due to an attempted suicide, you may see this documentation sequence:
Day One: There is great intensity surrounding efforts to stabilize the patient and prevent further attempts through admission and intense treatment. RISK LEVEL: High.
Day Two: The intensity surrounding efforts to stabilize the patient may continue to be high and you may see documentation that indicates medication is being administered, the patient is in isolation with access to a therapist they may or may not be interested in talking to yet, but they are safe. RISK LEVEL: High.
Day Three: The documentation may show the patient's medication is beginning to help, they slept, their vigilance is lessened, they are willing to talk to a therapist, but they still are unsure about their intent to harm themselves. RISK LEVEL: Moderate - High.
Day Four: Medication is working, the patient is participating in therapy sessions and voices they are regretting their decision to harm themselves and acknowledges the need for help. Emotions are still high, but coming down. The documentation indicates improvement, even if only slight improvement. RISK LEVEL: Moderate
Day Five: The patient is participating in group and individual therapy sessions, talking about future goals, changes they need and want to make to avoid similar situations in the future. Maybe they are having moderated family communications and visitors and they are doing better on medications with discussion surrounding outpatient therapy and upcoming discharge. RISK LEVEL: Moderate to Low
This example shows a patient whose severity gradually lessens to the point of discharge and each day should be assessed based on the status of the problem on the day of the encounter.
It is true that sometimes a patient is admitted as high risk for death and actually expires or worsens before they finally improve. Just remember that we are looking for the patient status on the day of the encounter to determine the level of service for that encounter. Understanding the changes to this section of the guidelines for 2023 will help you educate providers on the details they will need to add to their documentation to support more complex services they provide as well as assist coders in more easily identifying those levels of service.
---
Disclaimer:
The above article is the opinion of the author(s) and should not be interpreted by providers/payers as official guidance. For any questions about the content of this article, please contact the author(s).
About the Author: Aimee Wilcox is a medical coding, billing, and auditing consultant, author, and educator with more than 30 years of clinical and administrative experience in healthcare, coding, billing, and auditing. Medicine, including coding and billing, is a constantly changing field full of challenges and learning and she loves both. She believes there are talented medical professionals who, with proper training and excellent information, can continue to practice the art of healing while feeling secure in their billing and reimbursement for such care.
###
Questions, comments?
If you have questions or comments about this article please contact us. Comments that provide additional related information may be added here by our Editors.
Latest articles: (any category)
Compliance Billing: Power Mobility Devices
December 27th, 2022 - Chris Woolstenhulme
In May of 2022, the OIG conducted a nationwide audit of Power Mobility Device (PMD) repairs for Medicare beneficiaries. The findings were not favorable; the audit revealed CMS paid 20% of durable medical suppliers incorrectly during the audit period of October 01, 2018- September 30, 2019. This was a total of $8 million in device repairs out of $40 million paid by CMS. We gathered information in this article to assist providers and suppliers in keeping the payments received, protecting beneficiaries, and assisting you in ensuring compliance.
Leveraging Hierarchical Condition Category (HCC) Coding to Improve Overall Healthcare
December 27th, 2022 - Kem Tolliver
Diagnosis code usage is a major component of optimizing HCCs to improve overall healthcare. Readers will gain insight into how accurate diagnosis code usage and selection impacts reimbursement and overall healthcare.
Accurately Reporting Diabetic Medication Use in 2023
December 20th, 2022 - Aimee Wilcox
Along with the ICD-10-CM coding updates, effective as of October 1st, the guidelines were also updated to provide additional information on reporting diabetic medications in both the general diabetic population and pregnant diabetics. Accurate reporting is vital to ensure not only maximum funding for risk adjusted health plans, but also to ensure medical necessity for the services provided to this patient population.
REMINDER: CMS Discontinuing the use of CMNs and DIFs- Eff Jan 2023 Claims will be DENIED!
December 19th, 2022 - Chris Woolstenhulme
Updated Article - REMINDER! This is important news for durable medical suppliers! Effective January 1, 2023, CMS is discontinuing the use of Certificates of Medical Necessity (CMNs) and DME information forms (DIFs). We knew this was coming as the MLN sent out an article on May 23, 2022, but it is time to make sure your staff knows about these changes.
How Automation Could Impact the Future of Medical Coding
December 15th, 2022 - Find-A-Code
Automation is a fact of life in the modern world. As digital systems expand and mature, the creators of those systems are bringing more automation to more industries. Medical coding isn't the exception.
CPT Codes and Medicare's Relative Value Unit
December 13th, 2022 - Find-A-Code
A recently published study looking to explain income differences between male and female plastic surgeons suggests that billing and coding practices may be part of the equation. The study focused primarily on Medicare's relative value units (RVU) as applied to surgeon pay. But what exactly is an RVU?
Identifying the MEAT to Support Reporting Chronic Conditions in the Computer-Assisted-Coding (CAC) World
December 13th, 2022 - Aimee Wilcox
The benefits of computer-assisted-coding (CAC) are great and understanding how to engage with the engine to ensure maximum coding efficiency is vital to the program's success for your organization. But how do you know when to accept an autosuggested code and when to ignore it, especially when it has to do with historical patient data?