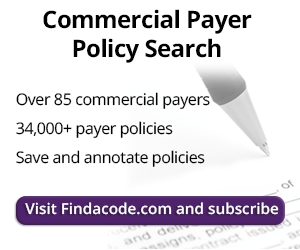 Understanding NCCI Edits
February 20th, 2019 - Aimee Wilcox, CPMA, CCS-P, CMHP, CST, MA, MT
0 Votes -

Sign in

to vote or comment.
---
Medicare creates and maintains the National Correct Coding Initiative (NCCI) edits and NCCI Policy Manual, which identify code pair edits. When performed on the same patient, on the same day, and by the same provider, the secondary code is considered an integral part of the primary code, and payment for the secondary code is bundled into the primary code payment, like a two-for-one special. NCCI edit code pair additions and updates are published quarterly.
For easy identification of code pairs, the NCCI edits display them in a table with two columns. The primary, reimbursable code will be displayed in Column 1 and the secondary (bundled) code in Column 2. If a provider submits both codes of an edit pair to the payer, the Column 1 code will be paid, while the code in Column 2 will be denied. Unbundling refers to circumstances in which it would be appropriate to override the edit and be paid for both procedures. Special indicators are linked to Column 2 codes to identify whether or not they can be unbundled:
0- Not eligible for unbundling under any circumstance
1- Allowed when circumstances are appropriate and there is documentation to support it
9- NCCI edit does not apply (it was deleted retroactively)
When indicator 1 is present, the edit may be overridden but only if the circumstances permit and the documentation supports it and an unbundling modifier is added to the Column 2 code.
Appropriate Circumstances:
The NCCI Editorial Panel creates an NCCI Policy Manual containing information about the NCCI code pairs vital to coders and auditors. When a code pair edit is initiated, it is added to a table and the policy manual along with any specific instructions, guidelines, or circumstances for overriding the edit. When auditing, we often discover inappropriate unbundling of the Column 2 code and documentation that fails to support it. CMS states,
"Modifiers may be appended to HCPCS/CPT codes only if the clinical circumstances justify the use of the modifier. A modifier should not be appended to a HCPCS/CPT code solely to bypass an NCCI edit if the clinical circumstances do not justify its use. If the Medicare Program imposes restrictions on the use of a modifier, the modifier may only be used to bypass an NCCI edit if the Medicare restrictions are fulfilled"- MLN "How to Use the National Correct Coding Initiative (NCCI) Tools"
So how do we identify if the "clinical circumstances" or "Medicare restrictions" have been met for overriding an NCCI edit? The National Correct Coding Initiative (NCCI) Policy Manual for Medicare Services is published and updated annually in October. Medicare receives input and feedback from payers, physician groups, medical associations, and societies for the creation of code pair edits as well as the circumstances under which they may be appropriately overridden, and applicable information is included in the policy manual as guidance.
Two examples of how NCCI edits and the policy manual are helpful in preventing audit failures:
Example 1: A bariatric surgeon performed a laparoscopic (nonendoscopic) sleeve gastrectomy and when done, performed an esophagogastroduodenoscopy (endoscopic) procedure to make sure the suture line had no leaks and was done correctly. The codes to report these services include 43775 and 43235, for which there isn't an NCCI edit. There were two separate reports, one for each procedure, with the EGD performed by the assistant surgeon to the primary procedure. Do these qualify for an unbundling modifier? In the NCCI Policy Manual for Medicare Services, 2018, C. Endoscopy Services, #6., it reads,
"6. (paragraph 2): "If an endoscopic procedure is performed at the same patient encounter as a non-endoscopic procedure to ensure no intraoperative injury occurred or verify the procedure was performed correctly, the endoscopic procedure is not separately reportable with the non-endoscopic procedure."
Although no official NCCI edit exists between these two codes, there are still guidelines that exist that may prohibit reporting them together and receiving individual payment for each. Being unfamiliar with these guidelines could result in a not-so-great audit outcome. Modifier 59 wouldn't be required, as officially there isn't an NCCI edit here; however, provider documentation should be clear in identifying the purpose of the EGD so that when the documentation is requested in an audit or review, the reason the EGD is clearly supported (which in this case it is not).
Example 2: Often during a gastric restrictive procedure, the surgeon will find a paraesophageal hernia that needs to be repaired. An edit exists between the gastric restrictive procedure (e.g. 43775) and repair of a paraesophageal hernia (e.g., 43281, 43282). Why? To learn why go to the Medicare NCCI Policy Manual, Chapter VI Surgery: Digestive System CPT Codes 40000-49999, F. Laparoscopy, #9, which reads:
"9. CPT codes 43281 and 43282 describe laparoscopic paraesophageal hernia repair with fundoplasty, if performed, without or with mesh implantation respectively. These codes should not be reported for a figure-of-eight suture often performed during gastric restrictive procedures."
With this rule in mind, the documentation would need to support a hernia repair that was more work intensive and didn't just need a simple stitch to close it up. The documentation might identify extensive adhesions, dissecting the hernia sac, and multiple sutures to hold it all in place; however, if the operative report identifies only a figure-of-eight simple stitch, the NCCI edit goes into effect and the code pair cannot be unbundled.
Another important issue to make note of is when an indicator 1 is present but the NCCI Policy Manual (or private payer policy) doesn't identify the circumstances where an edit override is appropriate. It doesn't mean you can just slap a modifier on it to get it paid. Do your due diligence and investigate. Remember the proverb, "An ounce of prevention is worth a pound of cure"? Well, start looking for information that will support the edit override appropriately and make sure it is included in the documentation for clarity. In Example 2, the code pair edit was added by Medicare, but a group of bariatric surgeons and bariatric societies provided feedback identifying circumstances in which an override should be supported. This feedback resulted in the rule above being added to the policy manual.
It is important to remember that the NCCI edits may not be perfect in every way, and they may not make sense all the time to the provider; however, if they are part of your payer contract, they are binding. Take the time to review them and compare them with the codes for the services your practice performs the most.
###
Questions, comments?
If you have questions or comments about this article please contact us. Comments that provide additional related information may be added here by our Editors.
Latest articles: (any category)
HIPAA Penalty Changes
January 11th, 2021 - Wyn Staheli, Director of Research
On January 5, 2021, H.R. 7898 was signed into law by President Trump. This new law modifies the HITECH Act such that when an organization experiences a breach, fines and/or penalties may be reduced if (for at least a year) they have instituted "recognized security practices" as defined within the law.
CDT and CPT - The Same but Different!
December 8th, 2020 - Christine Woolstenhulme, QCC, QMCS, CPC, CMRS
Reporting a CPT code for an evaluation of a patient is based on time and if the patient is a new or established patient. Evaluation and Management codes are different than other codes, it is important to understand how they are used, prior to 2021 they were based on a ...
How to Search Find-A-Code for Medicare Policies and Guidelines — LCDs, NCDs and Articles —
November 18th, 2020 - Raquel Shumway
Help for Searching Find-A-Code when searching for Medicare Policies and Guidelines — LCDs, NCDs and/or Articles.
Cross-A-Code Instructions in Find-A-Code
November 18th, 2020 - Raquel Shumway
Cross-A-Codeis a toll found in Find-A-Code which helps you to locate codes in other code sets that help you when submitting a claim.
COVID Vaccine Codes Announced
November 11th, 2020 - Wyn Staheli, Director of Research
On November 10, 2020, the American Medical Association (AMA) announced the addition of two new codes which will be used for the new COVID-19 vaccines along with 4 new administration codes to be used when reporting the administration of these vaccines.
Are You Aware of the 2021 Star Rating System Updates?
November 5th, 2020 - Aimee Wilcox, CPMA, CCS-P, CST, MA, MT, Director of Content
Each year the Centers for Medicare & Medicaid Services (CMS) publishes the Star Ratings System Updates for Medicare Advantage (Part C) and Medicare Prescription (Part D). This rating system was developed to help beneficiaries identify and select the health plans that best meet their needs, specifically addressing main issues:  Quality of ...
Special Needs Plans Help Beneficiaries and Risk Adjustment Reporting
October 22nd, 2020 - Aimee Wilcox, CPMA, CCS-P, CST, MA, MT, Director of Content
It is no secret that Medicare and Medicaid are steadily moving towards their goal of value-based health care. Medicare Part C (Medicare Advantage) identifies and rewards payers, and subsequently their providers, for increasing the efficiency and quality of care they provide to Medicare...