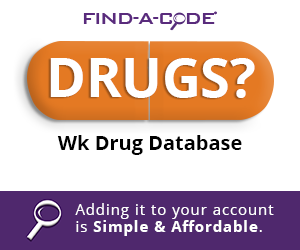 What Medical Necessity Tools Does Find-A-Code Offer?
June 13th, 2019 - Aimee Wilcox, CPMA, CCS-P, CST, MA, MT, Director of Content
0 Votes -

Sign in

to vote or comment.
---
Find-A-Code is a great resource for individuals working in all aspects of healthcare, from providers and ancillary staff to the attorneys and payers who assess and critique the documentation supporting the services performed. When recently asked what tools Find-A-Code has to help support medical necessity, our response was, "We provide many resources on medical necessity."
Some of the Find-A-Code resources that help identify medical necessity include:
Medicare-specific resources:

National Coverage Determinations (NCDs) and Local Coverage Determinations (LCDs) identify medical necessity in the Coverage Guidance section and ICD-10-CM codes which support a particular CPT or HCPCS code are found in the Coding Information section.
Medicare Pub100 publications in the Info tab at the top of the screen facilitate access to Medicare policies and guidelines where medical necessity is often further defined.
Medicare's 1995 and 1997 Evaluation and Management Guidelines, including the Table of Risk, helps identify the severity of an illness, condition, injury, or symptom that may support the work required at a specific level of service.

Commercial payer resources:

Our Commercial Payer Policies add-on tool is a great resource for quickly accessing specific payer policies pertaining the ICD-10-CM, CPT, or HCPCS code. Quickly identify if a policy is in place for the service you are reviewing, along with any identifiably linked ICD-10-CM codes or documentation requirements.

Find-A-Code also provides access to specific code-set resources:

American Medical Association's (AMA) CPT code set and complete guidelines. These include general and chapter-specific guidelines, including those associated with identifying the proper level of E/M service based on Nature of Presenting Problems (NPP). The NPP explanations are very helpful when trying to decide if the level of service is warranted.
Common Language Descriptions (CLDs) for ICD-10-CM codes assist in defining the diagnosis and understanding the terminology in layman's terms. Additionally, access to both the General and Chapter-specific ICD-10-CM Coding Guidelines identify coding conventions for sequencing and multiple code reporting to ensure accuracy and support medical necessity.
Current Dental Terminology (CDT) facilitates access to dental-specific codes and their guidelines.

Newsletters and Articles that provide additional understanding of appropriate code reporting and medical necessity at the individual code level or in general:

CPT Assistant
Decision Health
American Hospital Association
Just Coding Newsletter
BC Advantage
Find-A-Code subject matter expert articles listed on the Topics page or at the bottom of the home page under "Articles."
As you can see, Find-A-Code is a comprehensive online tool that links vital resources directly to each code in any of the code sets, often removing the need for bookmarks or browser history searches. Find-A-Code saves your last 10 codes, searches, and pages visited so you can quickly find them in one location and you can even save specific codes and customized notes specific to them within the "My Codes" tool that can then be easily shared among others within your organization and subscription group.
If you've been searching for that "all-in-one" online resource but haven't had an opportunity to play around in Find-A-Code, register today for the 28-day Free Trial (no credit card required) and get a feel for how this time-(and revenue) saving product can increase productivity and reduce stress.
###
Questions, comments?
If you have questions or comments about this article please contact us. Comments that provide additional related information may be added here by our Editors.
Latest articles: (any category)
​​Polysomnography Services Under OIG Scrutiny
September 2nd, 2021 - Raquel Shumway
The OIG conducted a study dated June 2019 wherein they indicated that there were approximately $269 million in overpayments for polysomnography services for the period of 2014 through 2015. According to the OIG "These errors occurred because the CMS oversight of polysomnography services was insufficient to ensure that providers complied with Medicare requirements and to prevent payment of claims that didn't meet those requirements." So what are those requirements?
Medicare Advantage - The Fastest Growing Government-Funded Program Undergoing Multiple Fraud Investigations
August 16th, 2021 - Aimee Wilcox, CPMA, CCS-P, CST, MA, MT, Director of Content
Medicare Advantage is the fastest growing form of government-funded healthcare and the rate of fraud within this segment has come under increased scrutiny. Funding is determined by the health status of each beneficiary; therefore, accurate coding based on detailed documentation makes the medical record vital to the process because some ...
Billing Dental Implants under Medical Coverage
August 12th, 2021 - Christine Woolstenhulme, QCC, QMCS, CPC, CMRS
Implants can be costly to the patient and the provider, and it is crucial to understand how to bill a patient's medical insurance to ensure there is adequate coverage for the best treatment. Implants are commonly billed in a dental office under a patient's medical benefits.    Implants could be considered ...
New Codes for COVID Booster Vaccine & Monoclonal Antibody Products
August 10th, 2021 - Wyn Staheli, Director of Research
New codes have been announced for the COVID-19 booster vaccine, Novavax vaccine, and monoclonal antibody treatment.
Medicare's ABN Booklet Revised
July 29th, 2021 - Wyn Staheli, Director of Research
The "Medicare Advance Written Notices of Non-coverage" booklet, published by CMS's Medicare Learning Network, was updated. This article discusses the changes to this booklet regarding the use of the ABN.
Chronic Pain Coding Today & in the Future
July 19th, 2021 - Wyn Staheli, Director of Research
Properly documenting and coding chronic pain can be challenging. As is commonly the case with many conditions, over the years, there has been a shift in the identification of different types of pain, including chronic pain. Understanding where we are now and where we are going will help your organization prepare for the future by changing documentation patterns now.
How Does Global and Professional Direct Contracting (GPDC) Affect Risk Adjustment?
July 15th, 2021 - Aimee Wilcox, CPMA, CCS-P, CST, MA, MT, Director of Content
CMS recently announced the 53 Direct Contracting Entities (DCEs) that will be participating in the April 1, 2021 through December 31, 2021 Global and Professional Direct Contracting (GPDC) Model. Among those participating is Clover Health Partners, who runs an in-home primary care program that has the potential to help Medicare ...