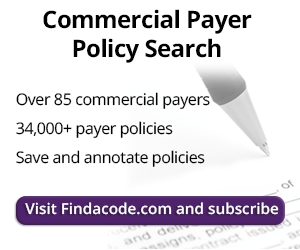 Are NCCI Edits Just for Medicare?
July 14th, 2020 - Christine Woolstenhulme, QCC, QMCS, CPC, CMRS
---
The National Correct Coding Initiative (NCCI) edits were developed by CMS to help promote proper coding and control improper coding that leads to incorrect payments with part B claims. It is important to understand that NCCI edits do not include every possible code combination or every type of un-bundling combination. With that being said, providers are still required to code correctly, regardless if there is a CCI edit or not.
Incorrect coding can lead to incorrect payments and the government is clear on how to handle incorrect payments and payment adjustments. These guidelines and rules are required to maintain compliance and help providers avoid denials. Using a CCI editor will let you know when one code is a component of another code and should not be billed together for the same beneficiary on the same day.
CMS Owns the NCCI Program
According to CMS; "The Centers for Medicare & Medicaid Services (CMS) owns the NCCI program and is responsible for all decisions regarding its contents. CMS developed the CCI edits based on coding conventions defined in the American Medical Association's CPT Manual, national and local policies and edits, coding guidelines developed by national societies, analysis of standard medical and surgical practices, and a review of current coding practices."
That being said, payers are not required to follow CMS' edits, however, these edits are the common coding guidelines that focus on codes that should not be reported together. As stated, the rules are a combination of the CPT manual and coding guidelines as well as the other resources mentioned above. Many coding experts use the same coding across the board, and using CMS edits is generally what is followed. If there is a question of un-bundling then it is suggested to address specific questions with the payer, national association, or society.
CCI Uses Two Types of Edits
CMS has built-in two types of edits to the NCCI editor;
# 1 Procedure-to-Procedure (PTP) - Pairs of HCPCS/CPT codes that should NOT be reported together; in other words, a procedure pertaining to an organ that cannot be removed by two different methods such as:
Vaginal hysterectomy (e.g. 58293 - Vaginal hysterectomy)
Abdominal hysterectomy (e.g. 58200 - Total abdominal hysterectomy)
# 2 Medically Unlikely Edits (MUEs) - Units of service. For example, it would be medically unlikely to bill 4 units of service for cataract extraction (66988), as there are only 2 eyes.
Place and Type
Now that we understand why the edits are there, let's take a look at the place and type of services where they are used. CMS has two different types of code pair edits used by Find-A-Code, Non-Facility, and Facility.
#1 Non-Facility - NCCI Edits-Physicians
These code pair edits are applied to claims submitted by physicians, non-physician practitioners, and Ambulatory Surgery Centers (ASCs) (provided that the code is listed as one of the Medicare-approved ASC procedures).
#2 Facility- NCCI Edits-Hospital Outpatient Prospective Payment System (PPS)
This set of code pair edits is applied to the Outpatient Code Editor (OCE). This is used by Hospitals, Skilled Nursing Facilities (SNFs), Home Health Agencies (HHAs), Part B, Outpatient Physical Therapy and Speech-Language Pathology Providers (OPTs), and Comprehensive Outpatient Rehabilitation Facilities (CORFs).
Column Edits with Numbers 0, 1 and 9
While the CCI edits may represent two codes that cannot reasonably be performed at the same site or encounter, there are times when a modifier is appropriate, allowing a bypass of the edit.
The following are other numbers next to a code indicating another purpose such as a modifier bypass:
0 means no modifiers are allowed
1 means modifiers may be used when appropriate
9 means the edit was deleted retroactively
Therefore, if a column 2 code is a component of a more comprehensive column 1 code, it may be noted as an exception and marked with a 1. For example, 95044 (Patch or application test) is a column 2 code. Because it is a component in the procedure 95130 (Professional services for allergen immunotherapy), it is marked with a 1.
Are Third-Party Payers using NCCI Edits?
There are several payers that have adopted CMS National Correct Coding Initiative (NCCI) edits and have implemented them into their claim scrubbers, such as Blue Cross and UnitedHealthcare. Due to the fact that NCCI edits are based on AMA CPT coding conventions and standard medical and surgical practices, if there are no other specific rules with your payer, these coding concepts will likely apply with most other payers. That being said, it is important that you understand each payer's coding rules and guidelines that are to be followed in order to receive correct and timely reimbursement.
NOTE: The information in this article is subject to each individual payer's rules and guidelines, and not meant to be all-inclusive to all payers.
###
Questions, comments?
If you have questions or comments about this article please contact us. Comments that provide additional related information may be added here by our Editors.
Latest articles: (any category)
Reporting Modifiers 76 and 77 with Confidence
April 18th, 2023 - Aimee Wilcox
Modifiers are used to indicate that a procedure has been altered by a specific circumstance, so you can imagine how often modifiers are reported when billing medical services. There are modifiers that should only be applied to Evaluation and Management (E/M) service codes and modifiers used only with procedure codes. Modifiers 76 and 77 are used to identify times when either the same provider or a different provider repeated the same service on the same day and misapplication of these modifiers can result in claim denials.
Five Documentation Habits Providers Can Use Implement to Improve Evaluation & Management (E/M) Scoring
April 11th, 2023 - Aimee Wilcox
Provider education on E/M coding updates is vital to the success of any organization, but how do you whittle down the massive information into bite-sized pieces the providers can learn in just a few minutes? Check out the five steps we have identified to teach providers in just a few minutes that can significantly impact and improve coding outcomes.
Second Quarter 2023 Updates are Different This Year
April 6th, 2023 - Wyn Staheli
The second quarter of 2023 is NOT business as usual so it is important to pay attention to ensure that organizational processes and training take place to avoid mistakes. Not only have ICD-10-CM coding updates been added to the usual code set updates (e.g., CPT, HCPCS, ICD-10-PCS), but the end of the COVID-19 Public Health Emergency will bring about changes that will also take place during the quarter (but not on April 1, 2023.
7 Measures Developed by the HHS Office of Inspector General (OIG) to Identify Potential Telehealth Fraud
March 28th, 2023 - Aimee Wilcox
A recent review of telehealth services reported in Medicare claims data during the pandemic where these seven measures for identifying suspected fraud, waste, and abuse were applied, revealed more than a thousand Medicare providers potentially committed fraud during this period. What are the measures the OIG applied during their review, and how will that impact future telehealth guidelines moving forward?
MUEs and Bilateral Indicators
March 23rd, 2023 - Chris Woolstenhulme
MUEs are used by Medicare to help reduce improper payments for Part B claims. This article will address the use of the National Correct Coding Initiative (NCCI) and Medically Unlikely Edits (MUEs) and how they are used by CMS.
It is True the COVID-19 PHE is Expiring
March 16th, 2023 - Raquel Shumway
The COVID-19 PHE is Expiring, according to HHS. What is changing and what is staying the same? Make sure you understand how it will affect your practice and your patients.
Billing Process Flowchart
March 2nd, 2023 -
The Billing Process Flowchart (see Figure 1.1) helps outline the decision process for maintaining an effective billing process. This is only a suggested work plan and is used for demonstration purposes to illustrate areas which may need more attention in your practice's policies and...