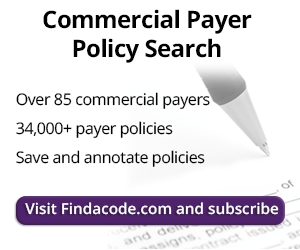 Physical Medicine|Physical Therapy - Articles
Federal Workers Compensation Information
October 1st, 2019 - Wyn Staheli, Director of Research
When federal employees sustain work-related injuries, it does not go through state workers compensation insurance. You must be an enrolled provider to provide services or supplies. The following are some recommended links for additional information about this program. Division of Federal Employees' Compensation (DFEC) website Division of Federal Employees' Compensation (DFEC) provider ...
New Codes for Dry Needling
September 30th, 2019 - Wyn Staheli, Director of Research
Find out what you need to know about the new codes for dry needling, also known as trigger point acupuncture.
List of Cranial Nerves
September 3rd, 2019 - Find-A-Code
Cranial nerves are involved with some of our senses such as vision, hearing and taste, others control certain muscles in the head and neck. There are twelve pairs of cranial nerves that lead from the brain to the head, neck and trunk. Below is a list of Cranial Nerves and ...
Medical ID Theft
August 16th, 2019 - Namas
Medical ID Theft "So, do you guys think you can do something with that?" John asked angrily at our first meeting with him in August 2017 as he slammed a stack of medical bills, EOBs and collection letters - three inches high - down in front of my partner and I. ...
The OIG Work Plan: What Is It and Why Should I Care?
August 9th, 2019 - Namas
The Department of Health and Human Services (HHS) founded its Office of Inspector General (OIG) in 1976 and tasked it with the responsibility to combat waste, fraud, and abuse within Medicare, Medicaid, and the other HHS programs. With approximately 1,600 employees, HHS OIG is the largest inspector general's office within ...
Act Now on CMS Proposal to Cover Acupuncture for Chronic Low Back Pain
July 17th, 2019 - Wyn Staheli, Director of Research
Now is the time to comment on a proposal to cover acupuncture for chronic low back pain. This comment period is the part of the HHS response to the opioid crisis. You only have until August 14th to officially comment.
Q/A: Do I Use 7th Character A for all Sprain/Strain Care Until MMI?
July 15th, 2019 - Wyn Staheli, Director of Research
Question: It is in regards to the Initial and Subsequent 7th digit (A and D) for sprains and strains. Recently, I have been told that I should continue with the A digit until the patient has reached Maximum Medical Improvement (MMI) and then switch over to the D place holder. Is ...
5 Ways to Minimize HIPAA Liabilities
July 12th, 2019 - BC Advantage
Last year was historic for HIPAA enforcement. The HHS Office of Civil Rights collected a record $23.5 million in settlements and judgments against providers guilty of HIPAA violations. To avoid becoming part of that unwanted statistic, it's important to pay extra close attention to five key areas of HIPAA vulnerability. Take ...
Will the New Low Level Laser Therapy Code Solve Your Billing Issues?
July 8th, 2019 - Wyn Staheli, Director of Research
Low level laser therapy (LLLT), also known as cold laser therapy, is a form of phototherapy which uses a device that produces laser beam wavelengths, typically between 600 and 1000 nm and watts from 5–500 milliwatts (mW). It is often used to treat the following: Inflammatory conditions (e.g., Rheumatoid Arthritis, Carpal ...
Q/A: For Physical Therapy Claims, What is the Correct Modifier Order?
May 27th, 2019 - Wyn Staheli, Director of Research
Question Page 116 of the 2019 ChiroCode Deskbook shows examples for Medicare modifiers. Is this the specific order for the modifiers to be entered? Our practice management software system is advising the GP or GY should be used as Modifier 1 and not as Mod 2 or Mod 3. Also, it shows the ...
RT and LT Modifier Usage Change (effective 2019-03-01)
May 21st, 2019 - Chris Woolstenhulme, QCC, CMCS, CPC, CMRS
According to Noridian Medicare, there are new changes required when reporting the RT and LT modifier(s). In the past, it was appropriate to bill the RT and LT modifier on the same line when it was required for certain HCPCS codes. Noridian released a publication stating claims reported with RT/LT on the same ...
Podiatrist Billing for Physical Therapy
March 7th, 2019 - Chris Woolstenhulme, QCC, CMCS, CPC, CMRS
It is not uncommon for a Podiatrist to offer Physical therapy as an ancillary service to help promote healing and convenience for their patients. If this is a part of your practice be sure you are aware of the rules and policies from your local MAC carrier and your payer policies on ...
Answers to Your Auditing & Compliance Questions
March 4th, 2019 - Namas
National Alliance of Medical Auditing Specialists (NAMAS) hosts a forum where auditing and compliance professionals can get answers to their questions, and exchange information with other professionals across the country. Recently, we've received the following question regarding fracture care that we'd like to share below. Q: I recently noticed CPT 26600, ...
Physical Therapy Caps Q/A
February 1st, 2019 - Wyn Staheli, Director of Research
Question: How do I code it so that PT services in a chiropractic office don't count against their PT visit max? Is there a way to code claims so that they are considered chiropractic only? But still get compensated enough? We have been running into some issues as of late ...
CPT Modifiers 96 & 97 for Habilitative and Rehabilitative Services (2018-01-01)
January 22nd, 2019 - Find-A-Code
Effective January 1, 2018, CPT modifiers 96 "habilitative services" and 97 "rehabilitative services" will be in effect. There have been questions on whether modifier 96 will be preferred over HCPCS modifier SZ, which describes the same types of habilitative (but not rehabilitative) services, but payers have not yet indicated which modifier ...
Prior years: (click bar to view articles)
Article categories