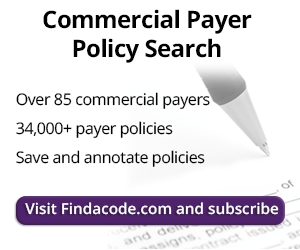 CMS-Coverage for Therapeutic Shoes for Individuals with Diabetes
March 31st, 2020 - Chris Woolstenhulme, QCC, CMCS, CPC, CMRS
0 Votes -

Sign in

to vote or comment.
---
Therapeutic shoes and inserts can play a vital role in a diabetic patient's health. Medicare may cover one pair every year and three pairs of custom inserts each calendar year if the patient qualifies and everything is handled correctly. Medicare Benefit Policy Manual explains what is needed for a person with diabetes to be considered for therapeutic shoes. There are a lot of rules and guidance offered for suppliers and providers regarding diabetic shoes. This article will cover the most common information needed. This is not a guarantee of payment or benefit, always be sure to verify the specific requirements with your carrier.
Getting a clear understanding of the definitions according to CMS:
1. Custom-Molded Shoes
Custom-molded shoes are shoes that:
Are constructed over a positive model of the patient's foot;
Are made from leather or other suitable material of equal quality;
Have removable inserts that can be altered or replaced as the patient's condition warrants; and
Have some form of shoe closure.
2. Depth Shoes
Depth shoes are shoes that:
Have a full length, heel-to-toe filler that, when removed, provides a minimum
of 3/16 inch of additional depth used to accommodate custom-molded or
customized inserts;
Are made from leather or other suitable material of equal quality;
Have some form of shoe closure; and
Are available in full and half sizes with a minimum of three widths so that the
sole is graded to the size and width of the upper portions of the shoes
according to the American standard last sizing schedule or its equivalent. (The
American standard last sizing schedule is the numerical shoe sizing system
used for shoes sold in the United States.)
3. Inserts
Inserts are total contact, multiple density, removable inlays that are directly molded to the patient's foot or a model of the patient's foot or directly carved from a patient-specific, rectified electronic model and that are made of a suitable material with regard to the patient's condition.
Coverage Limitations
Medicare limits coverage of footwear and inserts to one within one calendar year of one of the following.
No more than one pair of custom-molded shoes (including inserts provided with such shoes) and two additional pairs of inserts; or
No more than one pair of depth shoes and three pairs of inserts (not including the non-customized removable inserts provided with such shoes).
Diabetic Shoes and Brace
If an orthopedic shoe is an integral part of a leg brace, the shoes may be covered if the requirements are met. However, generally "Durable Medical Equipment, Surgical Dressings and Casts, Orthotics and Artificial Limbs, and Prosthetic Devices" are not covered. See Chapter 20 of the Medicare Benefit Policy Manual. If a beneficiary qualifies for diabetic shoes and a leg brace, they are covered separately.
Substituting Modifications for Inserts
There may be times when a beneficiary needs to substitute a modification of custom-molded or depth shoes if they do not need a pair(s) of inserts under the coverage limitations listed above. There are certain modifications available, we have listed some of the most common below. Keep in mind this is not a complete list; others may include flared heels, velcro closures, and inserts for missing toes. This information can be found on CMS' Coverage benefits manual Chapter 15.
Rigid Rocker Bottoms -These are exterior elevations with apex positions for 51 percent to 75 percent distance measured from the back end of the heel. The apex is a narrowed or pointed end of an anatomical structure. The apex must be positioned behind the metatarsal heads and tapered off sharply to the front tip of the sole. Apex height helps to eliminate pressure at the metatarsal heads. Rigidity is ensured by the steel in the shoe. The heel of the shoe tapers off in the back in order to cause the heel to strike in the middle of the heel;
Roller Bottoms (Sole or Bar)- These are the same as rocker bottoms, but the heel is tapered from the apex to the front tip of the sole;
Metatarsal Bars - An exterior bar is placed behind the metatarsal heads in order to remove pressure from the metatarsal heads. The bars are of various shapes, heights, and construction depending on the exact purpose;
Wedges (Posting) Wedges are either of hindfoot, forefoot or both and may be in the middle or to the side. The function is to shift or transfer weight bearing upon standing or during ambulation to the opposite side for added support, stabilization, equalized weight distribution, or balance; and
Offset Heels - This is a heel flanged at its base either in the middle, to the side, or a combination, that is then extended upward to the shoe in order to stabilize extreme positions of the hindfoot.
If the patient has footwear that is appropriate for the patient's condition, inserts may be covered and dispensed separately. In this situation, the supplies must verify in writing the footwear meets the definitions and requirements for depth shoes and custom-molded shoes.
Medical Necessity
For coverage to take place there must be a certification by the treating physician or doctor of osteopathy. In other words, shoes or inserts must be ordered under the provider that has diagnosed and is currently treating the patient's diabetic condition through a comprehensive plan of care.
The managing physician must:
Document in the patient's medical record that the patient has diabetes;
Certify that the patient is being treated under a comprehensive plan of care for
diabetes, and that the patient needs diabetic shoes; and
Document in the patient's record that the patient has one or more of the following
conditions:

Peripheral neuropathy with evidence of callus formation;
History of pre-ulcerative calluses;
History of previous ulceration;
Foot deformity;
Previous amputation of the foot or part of the foot; or
Poor circulation.
Prescription and Delivery
Once the patient's condition has been certified, a prescription is required. The patient is then seen by a physician for the furnishing and fitting of the footwear. Only a qualified pedorthist, an orthotist, or a prosthetist can furnish and fit the patient with footwear. If the certifying physician is the only qualified individual in the area, you must contact your MAC carrier as it is left to the discretion of each A/B MAC (B) to determine the meaning of "in the area."
Fitting
The time spent to fit and train an individual or caregiver can be coded in addition to the orthotic. There may need to be adjustments or modifications made on the initial delivery, this may also include teaching exercises and instruction. This can be coded with 97760.
97760 Orthotic(s) management and training (including assessment and fitting when not otherwise reported), upper extremity(ies), lower extremity(ies) and/or trunk, initial orthotic(s) encounter, each 15 minutes
Modifiers
RT and LT or 50
The right (RT) and/or left (LT) modifiers must be used when billing shoes, inserts, or modifications.
Suppliers must bill each item on two separate claim lines using the RT and LT modifiers and 1 UOS on each claim line. Effective for claims with dates of service (DOS) on or after 3/1/2019, do not use the combination RTLT modifier on the same claim line and bill with 2 units of service (UOS). Claim lines for HCPCS codes requiring the use of the RT and LT modifiers billed without the RT and/or LT modifiers or with the RTLT on a single claim line, will be rejected as incorrect coding.
If you are unsure and there are no rules from your payer, use the NCCI edits to determine if modifier 50 is required to be used on a single line item. This information comes from the Medicare Physician Fee Schedules. If modifier 50 should not be used it will have an indicator of -0-. This lets you know the bilateral adjustment is inappropriate for codes in this category.
(a) because of physiology or anatomy, or

(b) because the code description specifically states that it is a unilateral procedure and there is an existing code for the bilateral procedure.
###
Questions, comments?
If you have questions or comments about this article please contact us. Comments that provide additional related information may be added here by our Editors.
Latest articles: (any category)
Billing and Documenting for Therapeutic Exercises versus Therapeutic Activities
July 13th, 2022 - Dr. Evan M. Gwilliam, DC, MBA, QCC, CPC, CCPC, CPMA, CPCO, AAPC Fellow, Clinical Director
Chiropractors treat, among other things, issues with the musculoskeletal system. Active therapeutic procedures are accepted as effective ways to treat many common conditions and therefore can be billed and generate revenue for a clinic. Two common CPT codes that might be used in a chiropractic setting include:
Medicare Advantage (MA) Benchmarking Policies Are Headed for Change
July 12th, 2022 - Aimee L. Wilcox, CPMA, CCS-P, CST, MA, MT
More than 43% of Medicare beneficiaries are not enrolled in Medicare Advantage plans, which were established to control costs and improve quality. However, as noted in the March MedPac Report Executive Summary of 2021, these plans average an estimated 104% of Medicare Fee-For-Service (FFS) spending. How does CMS plan to manage Medicare Advantage plans now?
How Extensions to the COVID-19 Public Health Emergency Affect Healthcare Reimbursement
June 28th, 2022 - Aimee L. Wilcox, CPMA, CCS-P, CST, MA, MT
Providers need to begin preparations for how to handle a return to pre-COVID-19 public health emergency (PHE) policies. As the saying goes, "you can't put the rabbit back in the hat." Some COVID-19 PHE policies are so well liked it will be very difficult for the government to return to pre-COVID-19 policies. For now, we have at least the promise of a 60-day notice to all governors precipitating the end of the PHE.
Why You Should Be Using The Two-Midnight Rule
June 23rd, 2022 - David M. Glaser, Esq.
Are you using something other than two-midnight? Here's why you shouldn't be. Is there the possibility that your utilization management team and physician advisors are applying InterQual, MCG, or any other utilization tool other than the two-midnight rule to your Medicare admissions? Over the last few months, it has...
Q/A: Service Period for 99490
June 6th, 2022 - Chris Woolstenhulme
Question: If CCM hours/work is to be billed monthly, and CCM tasks are done daily throughout the month, should it be saved until the end of the month to bill, and should each date be billed as DOS in one claim? Answer: According to CMS, "The service period for CPT 99490 ...
Reporting CCM and TCM Codes with E/M Codes
June 1st, 2022 - Chris Woolstenhulme
When reporting CCM or TCM codes, you will only get reimbursed for what is allowed. The E/M office visits can be coded in addition but are not interchangeable with CCM codes. You can bill an E/M visit during the time a patient is under Care Management, however, you can't count time ...
Q/A: Billing Over the Allowed Amount
June 1st, 2022 - Chris Woolstenhulme
Question: Is there a financial penalty for billing over the allowed amount? Answer: Yes, if you are submitting claims to a contracted provider, you cannot bill over the contracted amount of your fee schedule. This is called balanced billing. There is also the no-surprise rule that protects insured and non-insured or ...