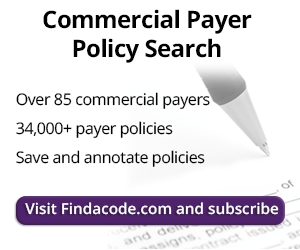 Answers to Your Auditing & Compliance Questions
March 4th, 2019 - Namas
---
National Alliance of Medical Auditing Specialists (NAMAS) hosts a forum where auditing and compliance professionals can get answers to their questions, and exchange information with other professionals across the country. Recently, we've received the following question regarding fracture care that we'd like to share below.

Q: I recently noticed CPT 26600, for closed treatment of metacarpal fracture without manipulation. I don't understand why you'd bill for this. If I see a metacarpal fracture in the clinic and bill 99204, then I splint the patient and bill 29125, it seems like double counting to then bill 26600 because if its 'without manipulation', then you are just treating the patient with a splint, which I've already billed for. However, 26600 bills 2.6 wRVUs, so I don't want to miss out an all of the metacarpal fractures that I treat if it applies.
I am not sure I am reading it correctly. Should the provider bill the office visit with a 25 modifier, the treatment of 26600 if he didn't manipulate and the 29125 for applying the splint?

A: There are several things to consider in this scenario. First, the initial splint application is included in the charge for the fracture, so not separately reportable. If he chooses to report the fracture care, the splinting can't be reported. Also, unless the patient has significant comorbidities that are documented as affecting the complexity of the decision about how to treat the fracture, a level four office visit would not be supported by the medical necessity for a metacarpal fracture. Finally, it is often difficult to support a significant, separately identifiable E&M service above and beyond the typical preoperative and postoperative work included in the reimbursement for the procedure, so it is very possible modifier -57 would not be supported. It all goes back to the documentation. (Modifier -25 is only for minor procedures with 0 or 10-day global periods. -57 is needed when reporting an E&M for 90-day global services.)
There are two schools of thought for billing closed treatment without manipulation of hand/foot fractures. The first is to bill the fracture care and any imaging and supplies used for treatment during the initial visit. This locks the provider into 90 global care, so the follow-up visits are not reportable. If the provider does not expect the patient to actually require follow-up visits then fracture care is really not supported. Reporting this way, the wRVU is 2.60.
The second is to bill in an itemized manner. The E&M and splint application are reported on the first visit, then any follow-up visits are reported separately. For the typical new patient, we would expect 99203 (1.42) and 29125 (0.50) for the initial encounter and 99213 (0.97 x the number of follow-ups necessary) for medically necessary follow-up visits. If only one follow-up visit was necessary, the total wRVUs would be 2.89. As you can see, this is usually the option that is most advantageous to the provider. (All levels of service in this example assume the documentation supports the key elements and medical necessity to report the level of service.)
Also, since most insurance policies apply the fracture care to the patient's deductible, billing the fracture care potentially creates an upset patient when they receive a perceived large bill for "just putting a splint on it." Many practices have made a policy to not bill for closed treatment without manipulation in the interest of customer service and patient satisfaction.
###
Questions, comments?
If you have questions or comments about this article please contact us. Comments that provide additional related information may be added here by our Editors.
Latest articles: (any category)
Reporting Modifiers 76 and 77 with Confidence
April 18th, 2023 - Aimee Wilcox
Modifiers are used to indicate that a procedure has been altered by a specific circumstance, so you can imagine how often modifiers are reported when billing medical services. There are modifiers that should only be applied to Evaluation and Management (E/M) service codes and modifiers used only with procedure codes. Modifiers 76 and 77 are used to identify times when either the same provider or a different provider repeated the same service on the same day and misapplication of these modifiers can result in claim denials.
Five Documentation Habits Providers Can Use Implement to Improve Evaluation & Management (E/M) Scoring
April 11th, 2023 - Aimee Wilcox
Provider education on E/M coding updates is vital to the success of any organization, but how do you whittle down the massive information into bite-sized pieces the providers can learn in just a few minutes? Check out the five steps we have identified to teach providers in just a few minutes that can significantly impact and improve coding outcomes.
Second Quarter 2023 Updates are Different This Year
April 6th, 2023 - Wyn Staheli
The second quarter of 2023 is NOT business as usual so it is important to pay attention to ensure that organizational processes and training take place to avoid mistakes. Not only have ICD-10-CM coding updates been added to the usual code set updates (e.g., CPT, HCPCS, ICD-10-PCS), but the end of the COVID-19 Public Health Emergency will bring about changes that will also take place during the quarter (but not on April 1, 2023.
7 Measures Developed by the HHS Office of Inspector General (OIG) to Identify Potential Telehealth Fraud
March 28th, 2023 - Aimee Wilcox
A recent review of telehealth services reported in Medicare claims data during the pandemic where these seven measures for identifying suspected fraud, waste, and abuse were applied, revealed more than a thousand Medicare providers potentially committed fraud during this period. What are the measures the OIG applied during their review, and how will that impact future telehealth guidelines moving forward?
MUEs and Bilateral Indicators
March 23rd, 2023 - Chris Woolstenhulme
MUEs are used by Medicare to help reduce improper payments for Part B claims. This article will address the use of the National Correct Coding Initiative (NCCI) and Medically Unlikely Edits (MUEs) and how they are used by CMS.
It is True the COVID-19 PHE is Expiring
March 16th, 2023 - Raquel Shumway
The COVID-19 PHE is Expiring, according to HHS. What is changing and what is staying the same? Make sure you understand how it will affect your practice and your patients.
Billing Process Flowchart
March 2nd, 2023 -
The Billing Process Flowchart (see Figure 1.1) helps outline the decision process for maintaining an effective billing process. This is only a suggested work plan and is used for demonstration purposes to illustrate areas which may need more attention in your practice's policies and...