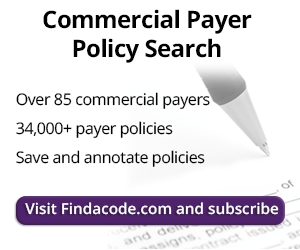 Strapping and Kinesio Taping Coding Differences
February 1st, 2018 - Wyn Staheli, Director of Research
0 Votes -

Sign in

to vote or comment.
---
There are differences between the purposes of strapping and taping and using the correct codes depends on the application - literally.
Strapping: This application is for the purpose of immobilizing an area. It is clinically indicated for the treatment of fractures, dislocations, sprains/strains, tendonitis, post-op reconstruction, contractures, or other deformities involving soft tissue.
Coding: See codes 29200-29280 (body/upper extremity) and 29520-29584 (lower extremity). Note that code 29220 (strapping of low back) was deleted in 2010 and the CPT book now states to use 29799 to report low back strapping.
Kinesio Taping: Typically, but not always, this application is for the purpose of providing assistance in movement. According to one payer's policy, "Kinesio Taping is designed to facilitate the body's natural healing process while allowing support and stability to muscles and joints without restricting the body's range of motion. It is used to treat a variety of orthopedic, neuromuscular, neurological and medical conditions. Blue Cross considers Kinesio Taping as an investigational service and therefore non-covered."
Coding: The codes to use depend on the payer and the purpose of the application. If the purpose is for immobilization, then a strapping code (29200-29280, 29520-29584) could be appropriate. When the purpose is for assistance, the code to use depends on the payer. The following are some possibilities:
BC says to use code 29799 (Unlisted procedure, casting or strapping) along with a description of the service since it's an unlisted code
Code 97139 (Unlisted therapeutic procedure (specify)) again, with a description of the service
It may also be appropriate to bill the tape separately with one of the following supply codes:
CPT Guidance
The following information in the March 2012 CPT Assistant provides further guidance:
Question: May applying Kinesio® tape to the shoulder be reported with the strapping codes?
Answer: Because Kinesio® tape is a supply, its application is included in the time spent in direct contact with a patient to provide either re-education of a muscle and movement or to stabilize one body area to enable improved strength or range of motion. The application of tape is usually performed in conjunction with educating the patient on various functional movement patterns. The tape is applied based on the patient's specific patterns of weakness or strength. The tape is left in place after instruction related to movements designed for improving strength, range, and coordination is provided and documented.
However, if the purpose of the taping is to immobilize the shoulder, then the strapping codes may be appropriate as those codes describe the use of a strap or other reinforced material applied postfracture or other injury to immobilize the joint. If the taping is performed to facilitate movement by providing support, and the tape is applied specifically to enable less painful use of the shoulder and greater function (ie, restricting in some movement, facilitating others), application of tape in this manner is typically part of neuromuscular re-education (97112) or therapeutic exercise (97110), depending on the intent and the outcome desired. This includes application of Kinesio® tape or McConnell taping techniques.
Note: The American Chiropractic Association's Policy on Kinesio Taping states (emphasis added): "As such, when applying Kinesiology Taping to a patient in conjunction with another therapy, the Kinesiology Taping service should not be separately reported. It is not appropriate to code 97110 or 97112, etc. if kinesiology taping is the only work performed. The only appropriate code to report, in addition to the therapy service rendered, would be the supply code for the tape itself."
###
Questions, comments?
If you have questions or comments about this article please contact us. Comments that provide additional related information may be added here by our Editors.
Latest articles: (any category)
Proposed Risk Adjustment Changes
June 4th, 2020 - Wyn Staheli, Director of Research
On June 2, 2020, HHS published two proposed changes to the Risk Adjustment Data Validation (RADV) protocols for HHS-Operated Risk Adjustment Programs.
Watch for Payer Telehealth Coverage Changes
June 3rd, 2020 - Wyn Staheli, Director of Research
As our country moves forward with a phased approach to reopening, be sure to pay close attention to individual payer policies regarding how long these changes will remain in effect. Keep in mind that private payer, federal programs (Medicare, Medicaid), and Medicare Advantage plans can all have different timelines as well as different coverage.
Changes in Medicare Advantage and Part D
June 2nd, 2020 - Christine Taxin
The Centers for Medicare & Medicaid Services finalized several changes in Medicare Advantage and Part D on Friday. The Trump administration has finalized several changes in Medicare Advantage (MA) and Part D in anticipation of bid submissions on June 1. The Centers for Medicare & Medicaid Services (CMS) released Friday that includes ...
Additional Practice Reopening Tips
June 1st, 2020 - Wyn Staheli, Director of Research
As practices begin reopening across the nation, there are several things that need to be considered. Policies and Procedures Manuals need to be updated, malpractice carriers need to be contacted and everyone needs to consider mental health screenings and support.
Where is the CCI Edit with Modifier 25 on E/M?
May 20th, 2020 - Christine Woolstenhulme, QCC, CMCS, CPC, CMRS
If you are not seeing a CCI edit when reporting an E/M code with a certain procedure, it may be that there is no edit. CMS does not have a CCI edit for every CPT code, however, there are still general coding rules that must be followed.  The use of Modifier 25 is one example ...
Packaging and Units for Billing Drugs
May 18th, 2020 - Christine Woolstenhulme, QCC, CMCS, CPC, CMRS
To determine the dosage, size, doses per package and how many billing units are in each package, refer to the NDC number. Take a look at the following J1071 - Injection, testosterone cypionate, 1mg For example; using NCD # 0009-0085-10 there are 10 doses of 100 mL (100 mg/mL = 1 mL and there are ...
Getting Your Practice Back on Track
May 12th, 2020 - Wyn Staheli, Director of Research
As we begin returning back to work, we will all face a new normal. The COVID-19 pandemic has changed the face of business. While it has certainly been a challenge to keep up with the ever-changing regulations (that's likely to continue for a little longer), exciting new opportunities have also been created, such as the expansion of telemedicine. There's also the maze of government funding that needs to be navigated and an increased awareness of OSHA standards to implement.