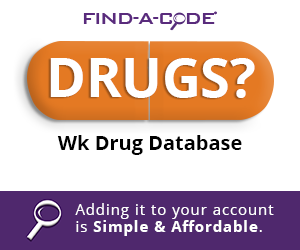 Managed Care Organizations Use CMS Tools to Identify Outliers
June 1st, 2021 - Aimee Wilcox, CPMA, CCS-P, CST, MA, MT, Director of Content
---
Managed Care Organizations (MCOs) are health plans that offer not only their own commercial health plans, but also risk-adjusted plans whose funding is based on the health status of their beneficiaries, determined primarily through provider documentation and reporting of ICD-10-CM diagnosis codes. Certain health conditions are considered higher risk and more expensive than others and linking those conditions to individual beneficiary's health profiles allows the health insurers to extrapolate their anticipated costs (as a dollar amount) that will be required in order to properly care for these patients each year.
MCOs receive a capitated dollar amount to pay for the healthcare services of the beneficiaries enrolled in that plan, making it vital for them to identify which beneficiaries are more vulnerable due to their overall health status than others. By identifying and following those beneficiaries with health conditions that require additional monitoring or specialty care services, MCOs can better prepare for the cost of those services through risk adjustments reporting. Monitoring through preventive services, annual examinations, and periodic assessments also helps with early disease/condition identification and intervention thus lowering overall costs.
In April this year, the Office of The Inspector General (OIG) outlined its 10 Key Compliance Priorities during a speech given at the Health Care Compliance Associations' 25th Annual Compliance Institute in April. They are:
Overseeing COVID-19 Relief and Response
Realizing the Potential of Telehealth
Ensuring Quality of Care and Patient Safety in Nursing Homes
Advancing Health Equities
Modernizing Program Integrity and Compliance Resources
Combating the Substance Use Disorder Epidemic
Prioritizing Cybersecurity
Information Blocking Enforcement
Implementing Value-Based Care
Strengthening Managed Care Program Integrity
"CMS and States have opportunities to improve MCO's efforts to protect Medicaid and ensure taxpayer dollars are being spent appropriately" -Office of Inspector General
MCOs funded by the federal government are required to investigate suspected cases of fraud, waste, and abuse (FWA) among contracted providers and report them to the States for further investigation. Recently, the OIG did their own investigation into how federally-funded MCOs approach these investigations and how they report FWA. This investigation resulted in seven (7) important OIG recommendations, which can be reviewed here.
CMS relies heavily on data analytics to help identify potential provider and payer outliers that they intend to investigate. The OIG strongly recommends that MCOs work with CMS to become more adept at using data analytics to identify suspected cases of FWA, provide training programs for in-network providers on documentation practices and proper reporting, and help identify those providers who the MCO either terminated or who quit the MCO entirely. Finally, the OIG felt impressed to have these MCOs identify and share their best practices regarding payment-retention policies and incentives that may help to increase recoveries of improper payments.
CMS has many resources at their disposal, including expert coders, auditors, and investigators. These professionals review and apply policies during audits and provide additional education and training to providers. The use of data analytics can help payers identify outliers for investigation and potential payment recovery. MCOs that team up with Medicare may discover improvements in their FWA investigations and thus benefit from better financial outcomes.
###
Questions, comments?
If you have questions or comments about this article please contact us. Comments that provide additional related information may be added here by our Editors.
Latest articles: (any category)
COVID Vaccine Coding Changes as of November 1, 2023
October 26th, 2023 - Wyn Staheli
COVID vaccine changes due to the end of the PHE as of November 1, 2023 are addressed in this article.
Medicare Guidance Changes for E/M Services
October 11th, 2023 - Wyn Staheli
2023 brought quite a few changes to Evaluation and management (E/M) services. The significant revisions as noted in the CPT codebook were welcome changes to bring other E/M services more in line with the changes that took place with Office or Other Outpatient Services a few years ago. As part of CMS' Medicare Learning Network, the "Evaluation and Management Services Guide" publication was finally updated as of August 2023 to include the changes that took place in 2023. If you take a look at the new publication (see references below),....
Can We Score Interpretation of an EKG Towards E/M Medical Decision Making?
October 10th, 2023 - Aimee Wilcox
When EKGs are performed in the facility setting or even in the physician's office, what are the requirements for reporting the service and who gets credit for scoring data points for Evaluation and Management (E/M) medical decision making (MDM)? Let's take a look at a few coding scenarios related to EKG services to get a better understanding of why this can be problematic.
Accurately Reporting Signs and Symptoms with ICD-10-CM Codes
October 5th, 2023 - Aimee Wilcox
Coders often find themselves unsure of when to report a sign or symptom code documented in the medical record. Some coders find their organization has an EHR that requires a working diagnosis, which is usually a sign or symptom, be entered to order a test or diagnostic study or image. Understanding the guidelines surrounding when signs and symptoms should be reported is the first step in correct coding so let's take a look at some scenarios.
The 2024 ICD-10-CM Updates Include New Codes for Reporting Metabolic Disorders and Insulin Resistance
September 19th, 2023 - Aimee Wilcox
Diabetes is a chronic disease that just seems to consistently be increasing instead of improving resulting in a constant endeavor by medical researchers to identify causal effects and possible treatments. One underlying or precipitating condition that scientists have identified as a precipitating factor in the development of diabetes is insulin resistance, which is a known metabolic disorder. As data becomes available through claims reporting, additional code options become possible with ICD-10-CM.
Documenting and Reporting Postoperative Visits
September 12th, 2023 - Aimee Wilcox
Sometimes we receive questions regarding documentation requirements for specific codes or coding requirements and we respond with information and resources to support our answers. The following question was recently submitted: Are providers required to report postoperative services on claims using 99024, especially if there is no payment for that service? What documentation is required if you are reporting an unrelated Evaluation and Management (E/M) service by the same physician during the postoperative period? 
Understanding Gastroesophageal Reflux Disease and ICD-10-CM Coding
August 22nd, 2023 - Aimee Wilcox
Gastroesophageal reflux disease or GERD for short, is a disease that impacts millions of Americans on a weekly basis. Symptoms are uncomfortable, as are some of the tests used to diagnose it, but understanding the disease, tests, and treatments helps us better understand how to code the disease using ICD-10-CM codes.