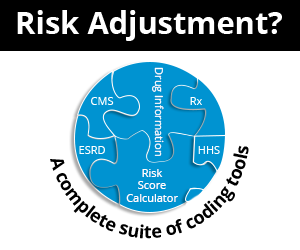 The Slippery Slope For CDI Specialists
August 2nd, 2019 - Namas
0 Votes -

Sign in

to vote or comment.
---
Who knew that when Jack & Jill when up the hill to fetch a pail of water, they would have to ensure that in order to keep the level of water the same on the way back down, they would need to both support the pail.
Many of you in this industry are also tasked with "supporting the level in the pail," or for that matter, multi-pails. We all know the challenges of being tasked daily with Clinical Documentation Improvement (CDI) audits and that a primary focus of these audits is ensuring that the coding and documentation
supports
the level of service.
Every November, the Department of Health and Human Services (HHS) makes public its annual Improper Payment Rates for the prior year. Contained within this is the Comprehensive Error Rate Testing (CERT) program. The list also contains the Annual CMS Fee-for-Service (FFS) Improper Payments Report. The CERT reports are designed to monitor claim payment accuracy of the CMS FFS program, in order to protect the integrity of the Medicare Trust Fund. The CERT report identifies types of errors and assesses error rates at both national and regional levels in all types of healthcare settings in the U.S. The CERT report drills down into the errors and can hone in on specific provider types or services and also allows CMS to evaluate the performance of Medicare Administrative Contractors (MACs), such as CGS, Noridian, FCSO, and others around the country.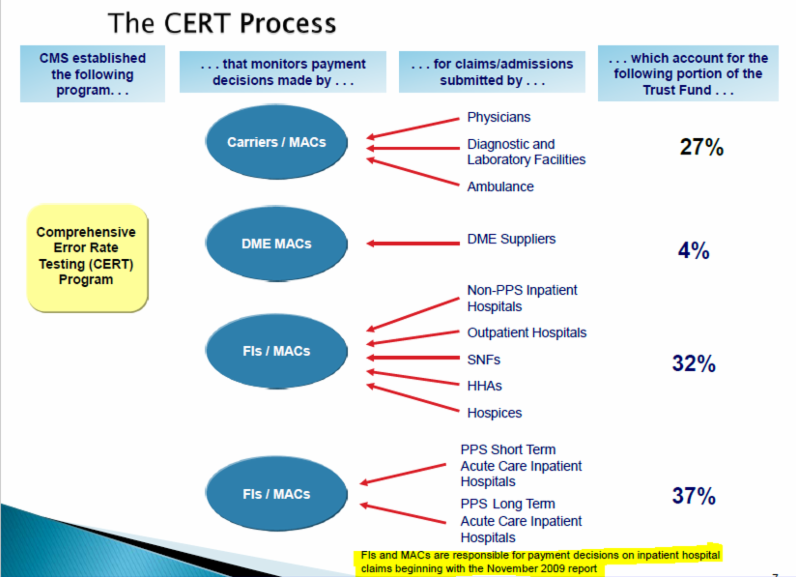 Where does the industry stand with respect to overall levels of care in the vast majority of services provided? How can we tell if our trips up and down the CDI hill are paying off? Well, CERT is one of several great tools that CMS publishes on their website (link below) that everyone can access. The CERT reports show us what CMS has found trending in overpayments to the healthcare industry, year to year and in what areas they are commonly occurring. This is a great forecast of future audit areas and can help you focus CDI efforts within your practice/entity.
###
Questions, comments?
If you have questions or comments about this article please contact us. Comments that provide additional related information may be added here by our Editors.
Latest articles: (any category)
Proposed Risk Adjustment Changes
June 4th, 2020 - Wyn Staheli, Director of Research
On June 2, 2020, HHS published two proposed changes to the Risk Adjustment Data Validation (RADV) protocols for HHS-Operated Risk Adjustment Programs.
Watch for Payer Telehealth Coverage Changes
June 3rd, 2020 - Wyn Staheli, Director of Research
As our country moves forward with a phased approach to reopening, be sure to pay close attention to individual payer policies regarding how long these changes will remain in effect. Keep in mind that private payer, federal programs (Medicare, Medicaid), and Medicare Advantage plans can all have different timelines as well as different coverage.
Changes in Medicare Advantage and Part D
June 2nd, 2020 - Christine Taxin
The Centers for Medicare & Medicaid Services finalized several changes in Medicare Advantage and Part D on Friday. The Trump administration has finalized several changes in Medicare Advantage (MA) and Part D in anticipation of bid submissions on June 1. The Centers for Medicare & Medicaid Services (CMS) released Friday that includes ...
Additional Practice Reopening Tips
June 1st, 2020 - Wyn Staheli, Director of Research
As practices begin reopening across the nation, there are several things that need to be considered. Policies and Procedures Manuals need to be updated, malpractice carriers need to be contacted and everyone needs to consider mental health screenings and support.
Where is the CCI Edit with Modifier 25 on E/M?
May 20th, 2020 - Christine Woolstenhulme, QCC, CMCS, CPC, CMRS
If you are not seeing a CCI edit when reporting an E/M code with a certain procedure, it may be that there is no edit. CMS does not have a CCI edit for every CPT code, however, there are still general coding rules that must be followed.  The use of Modifier 25 is one example ...
Packaging and Units for Billing Drugs
May 18th, 2020 - Christine Woolstenhulme, QCC, CMCS, CPC, CMRS
To determine the dosage, size, doses per package and how many billing units are in each package, refer to the NDC number. Take a look at the following J1071 - Injection, testosterone cypionate, 1mg For example; using NCD # 0009-0085-10 there are 10 doses of 100 mL (100 mg/mL = 1 mL and there are ...
Getting Your Practice Back on Track
May 12th, 2020 - Wyn Staheli, Director of Research
As we begin returning back to work, we will all face a new normal. The COVID-19 pandemic has changed the face of business. While it has certainly been a challenge to keep up with the ever-changing regulations (that's likely to continue for a little longer), exciting new opportunities have also been created, such as the expansion of telemedicine. There's also the maze of government funding that needs to be navigated and an increased awareness of OSHA standards to implement.