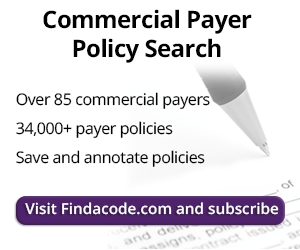 No More Consults? CMSs Proposal for 2010
January 30th, 2010 - Codapedia Editor
0 Votes -

Sign in

to vote or comment.
---
July, 2010
By now you've seen the headline! CMS proposes to eliminate payment for consults in 2010! Why? How will they pay for the services?
First, the AMA develops and owns CPT® codes, and only they can add, delete, or change the definition of CPT® codes. However, Medicare and private payers develop reimbursement policies, and each payer can and does set their own payment rules. Medicare, in particular, tends to take the lead and other payers adopt their policies, for better or worse.
CMS (the Center for Medicare and Medicaid Services) develops and proposes policies for physician payment each year in their Proposed Physician Fee Schedule Rule, released in the summer of each year, and in their Final Physician Fee Schedule Rule, released in the fall of each year. There is an article about the Physician Fee Schedule in the Codapedia encyclopedia.
In July of 2010, CMS's Proposed Rule contained a real bombshell. They proposed to stop paying for the consults, and increase the RVUs for new and established patient visits, and initial and subsequent hospital visits. Why? CMS believes that physicians have never understood properly the issue of transfer of care. The Proposed Rule starts with a historical look at the consult codes, including CMS and AMA changes and revisions, as well as discussion of the OIG's 2006 report, which indicated that Medicare allowed approximately $1.1 billion more in 2001 than it should have, for services billed as consults. The OIG report determined that approximately 75% of services paid as consults didn't meet all of program instructions. (level of care, didn't meet the definition of a consult, lack of documentation.)
In addition, CMS doesn't feel that the AMA has helped them in defining a transfer of care. Here are a few quotes, "However, there remained discrepancies with unclear and ambigous terms and instructions in the AMA CPT® consultation coding definition..." and "There is an absence of any guidance in the AMA CPT® consultation coding definition that distinguishes a transfer of care service..."
The CMS proposal is to stop paying for these codes. On an outpatient basis, primary care and specialty physicians would bill new or established patient visit codes, and the RVUs for these would increase 4-6%. This would clearly benefit physicians who now bill more office visits than consults, and would be a revenue decrease for those physicians who currently bill more consults than new or established patient visits.
For inpatient services, CMS would increase the RVUs for initial and subsequent hospital visits by about 2%. All physicians would use the initial hospital visit codes (which do not have the word admission in their CPT® description) for their first visit with the patient during an inpatient stay. The admitting physician would use a modifier to indicate that their visit was the admission. (This would work be a benefit for hospitalists, who currently cannot bill consults for their first visit when managing the medical problems of post op patients.)
This rule is in the comment period right now. That is, anyone can comment to CMS until the end of August about this proposal. CMS will finalize the rule for 2010 in the Fall.
One complication: the AMA does not have time to remove or change any codes for the 2010 book as of now, if they agreed with the policy, which seems unlikely.
CMS often proposes changes in the Proposed Rule, which do not become effective that year. They tend to reappear in the proposed rule the next year, and are then implemented.
###
Questions, comments?
If you have questions or comments about this article please contact us. Comments that provide additional related information may be added here by our Editors.
Latest articles: (any category)
​​Polysomnography Services Under OIG Scrutiny
September 2nd, 2021 - Raquel Shumway
The OIG conducted a study dated June 2019 wherein they indicated that there were approximately $269 million in overpayments for polysomnography services for the period of 2014 through 2015. According to the OIG "These errors occurred because the CMS oversight of polysomnography services was insufficient to ensure that providers complied with Medicare requirements and to prevent payment of claims that didn't meet those requirements." So what are those requirements?
Medicare Advantage - The Fastest Growing Government-Funded Program Undergoing Multiple Fraud Investigations
August 16th, 2021 - Aimee Wilcox, CPMA, CCS-P, CST, MA, MT, Director of Content
Medicare Advantage is the fastest growing form of government-funded healthcare and the rate of fraud within this segment has come under increased scrutiny. Funding is determined by the health status of each beneficiary; therefore, accurate coding based on detailed documentation makes the medical record vital to the process because some ...
Billing Dental Implants under Medical Coverage
August 12th, 2021 - Christine Woolstenhulme, QCC, QMCS, CPC, CMRS
Implants can be costly to the patient and the provider, and it is crucial to understand how to bill a patient's medical insurance to ensure there is adequate coverage for the best treatment. Implants are commonly billed in a dental office under a patient's medical benefits.    Implants could be considered ...
New Codes for COVID Booster Vaccine & Monoclonal Antibody Products
August 10th, 2021 - Wyn Staheli, Director of Research
New codes have been announced for the COVID-19 booster vaccine, Novavax vaccine, and monoclonal antibody treatment.
Medicare's ABN Booklet Revised
July 29th, 2021 - Wyn Staheli, Director of Research
The "Medicare Advance Written Notices of Non-coverage" booklet, published by CMS's Medicare Learning Network, was updated. This article discusses the changes to this booklet regarding the use of the ABN.
Chronic Pain Coding Today & in the Future
July 19th, 2021 - Wyn Staheli, Director of Research
Properly documenting and coding chronic pain can be challenging. As is commonly the case with many conditions, over the years, there has been a shift in the identification of different types of pain, including chronic pain. Understanding where we are now and where we are going will help your organization prepare for the future by changing documentation patterns now.
How Does Global and Professional Direct Contracting (GPDC) Affect Risk Adjustment?
July 15th, 2021 - Aimee Wilcox, CPMA, CCS-P, CST, MA, MT, Director of Content
CMS recently announced the 53 Direct Contracting Entities (DCEs) that will be participating in the April 1, 2021 through December 31, 2021 Global and Professional Direct Contracting (GPDC) Model. Among those participating is Clover Health Partners, who runs an in-home primary care program that has the potential to help Medicare ...