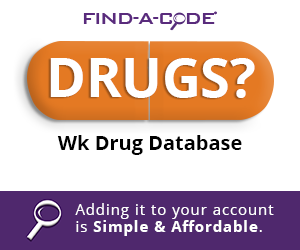 Cloned E/M notes
December 29th, 2015 - Codapedia Editor
---
Have you ever read a physician office note and thought it was strangely familiar? Or, not just familiar but identical to another note? Well, Medicare contractors have noticed the same thing, and the Office of Inspector General has included this on their 2011 Work Plan.
Medicare contractors have noted an increased frequency of medical records with identical documentation across services. We will also review multiple E&M services for the same providers and beneficiaries to identify electronic health records (EHR) documentation practices associated with potentially improper payments.
Electronic health records (EHRs) have made it possible to copy and paste documentation from a previous visit, performed by the same or different provider. It is easy to "bring forward" history, exam and assessments and plans documented at a previous note. Sometimes, the record will say, "Reviewed, no changes required," and sometimes, these sections are just dropped into the note, as if recorded on this day's visit. Clinicians must and should take advantage of the historical data stored in the medical record, and use shortcuts to save time. However, only certain types of data should be carried forward into a progress note and with limitations.
What's the problem with copy and paste? There are both clinical and compliance concerns with copy and paste. Clinically, copying the history of the present illness from a previous visit performed by the same or different provider is inaccurate. The history of the present illness should include the reason for today's visit and a description of the patient's symptoms since the last visit. The HPI elements include location, severity, duration, quality, timing, context, modifying factors and associated signs and symptoms. That is, how is the patient doing since last seen? Is the treatment helping? What does the patient say is the problem or reason for the visit? This section of the note is unique to the present visit, and may never be copied and pasted from a previous note performed by that provider or another provider.
The HPI and ROS contradict one another This is a problem when the clinician enters a description of the patient's problems, but the review of systems is either clicked as "normal" or copied from a previous visit when the patient did not have that complaint. This is a too common problem in progress notes documented using an EHR. It not only provides a confusing clinical picture for other physicians and providers who will treat the patient, it calls into question the validity of the entire history section.
It just doesn't make sense For some notes, when the history section is copied from a previous note, the description of the patient's symptoms and the timing just doesn't make sense. This is particularly true when copied from another clinician's note or if a long time period has elapsed.
But, can't a clinician use the past medical history? Yes, there is no reason that the past medical, social and family history cannot be carried forward from a previous note, as long as the provider reviews it with the patient. This is a good use of an electronic health record. Some specialties, such as oncology or cardiology, describe the course of the patient's treatment since diagnosis, and include this in the HPI section. Since the course of the treatment hasn't changed, they want to copy it from a previous note. Here's how that looks: "Patient diagnosed in 2008, with cell type XYZ, treated with radiation and three rounds of chemo. Then, in 2009…." This historical data doesn't change from visit to visit, and may be copied into any section the physician desires: the HPI or the past medical history. (Auditors will count it as past medical history.) However, in addition, the clinician should document the patient's symptoms (or lack of symptoms) since last seen. Are there side effects of treatment? How is the patient feeling? Those are the elements of the history of the present illness, which may not be copied and brought forward from a previous note.
Family history reviewed, unchanged Great, if the clinician has done so. But, if the section labeled family history is empty, what did the clinician review? It calls into question the validity of all of the copied note.
What about populating today's note with the information from the last visit, to save time, and just updating it? Dangerous. Of course it is time saving, but it is too easy to forget to update or change one part. I strongly urge clinicians not to populate today's note with the information from the last visit.
Guard against cloned notes in your practice. If some part of the history is used from a previous visit, the provider must review it with the patient, and indicate that it is unchanged. The Documentation Guidelines don't give credit for "clicking" on reviewed. The Guidelines state the history doesn't have to be re-documented, not that the work doesn't need to be done.
###
Questions, comments?
If you have questions or comments about this article please contact us. Comments that provide additional related information may be added here by our Editors.
Latest articles: (any category)
What's Going on with the COVID Vaccines Now?
May 4th, 2023 - Wyn Staheli
Keeping up with the changes to the COVID vaccines has certainly been a rollercoaster ride and we now have two new twists to this exciting ride. Buckle up and let's look at how this changes things.
Reporting Modifiers 76 and 77 with Confidence
April 18th, 2023 - Aimee Wilcox
Modifiers are used to indicate that a procedure has been altered by a specific circumstance, so you can imagine how often modifiers are reported when billing medical services. There are modifiers that should only be applied to Evaluation and Management (E/M) service codes and modifiers used only with procedure codes. Modifiers 76 and 77 are used to identify times when either the same provider or a different provider repeated the same service on the same day and misapplication of these modifiers can result in claim denials.
Five Documentation Habits Providers Can Use Implement to Improve Evaluation & Management (E/M) Scoring
April 11th, 2023 - Aimee Wilcox
Provider education on E/M coding updates is vital to the success of any organization, but how do you whittle down the massive information into bite-sized pieces the providers can learn in just a few minutes? Check out the five steps we have identified to teach providers in just a few minutes that can significantly impact and improve coding outcomes.
Second Quarter 2023 Updates are Different This Year
April 6th, 2023 - Wyn Staheli
The second quarter of 2023 is NOT business as usual so it is important to pay attention to ensure that organizational processes and training take place to avoid mistakes. Not only have ICD-10-CM coding updates been added to the usual code set updates (e.g., CPT, HCPCS, ICD-10-PCS), but the end of the COVID-19 Public Health Emergency will bring about changes that will also take place during the quarter (but not on April 1, 2023.
7 Measures Developed by the HHS Office of Inspector General (OIG) to Identify Potential Telehealth Fraud
March 28th, 2023 - Aimee Wilcox
A recent review of telehealth services reported in Medicare claims data during the pandemic where these seven measures for identifying suspected fraud, waste, and abuse were applied, revealed more than a thousand Medicare providers potentially committed fraud during this period. What are the measures the OIG applied during their review, and how will that impact future telehealth guidelines moving forward?
MUEs and Bilateral Indicators
March 23rd, 2023 - Chris Woolstenhulme
MUEs are used by Medicare to help reduce improper payments for Part B claims. This article will address the use of the National Correct Coding Initiative (NCCI) and Medically Unlikely Edits (MUEs) and how they are used by CMS.
It is True the COVID-19 PHE is Expiring
March 16th, 2023 - Raquel Shumway
The COVID-19 PHE is Expiring, according to HHS. What is changing and what is staying the same? Make sure you understand how it will affect your practice and your patients.