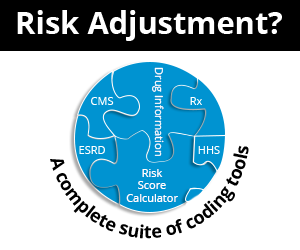 Home Oxygen Therapy -- CMN for Oxygen
June 14th, 2018 - Raquel Shumway
0 Votes -

Sign in

to vote or comment.
---
The Certificate of Medical Necessity (CMN) for Oxygen is a required form that helps to document the medical necessity for oxygen therapy. It also documents other coverage criteria for the oxygen use. For payment on a home oxygen claim, the information in the supplier's records or the patient's medical record must be substantiated with the information in the CMN.
Completing this form is considered a service to the patient and any associated fees are included in the fee for service. Therefore, no fee is to be charged for completing a CMN.
According to the MLN Home Oxygen Therapy Booklet, a CMN can be submitted electronically, if:
All privacy, security, and electronic signature rules and regulations published by CMS and the Department of Health and Human Services are followed.
All of the following are identical to what is printed on the back of the hard copy

Questions/wording
Same sequence
Same pagination
Identical instructions/definitions

Question sets are not combined and
Hard copy of document is maintained on file
Requirements for submitting a CMN for Oxygen can be found in the MLN Booklet. This includes the time frames for recertification, blood gas study testing requirements, and physician visit requirements. Criteria that you must meet to furnish oxygen items and equipment for home use is also included for the Initial 36 months, months 37-60 and month 61 and after. See the following page listing for this and other information.
Requirements for Initial submission (page 14)
Requirements for submitting Recertification (page 15)
Oxygen Items and Equipment:

Equipment table (page 19)
Oxygen Contents (page 24)
Maintenance of equipment (page 27)
Relocation and Travel (page 28)
Both the Treating Physician and the Supplier have responsibilities for filling out the CMN. The table below identifies those responsibilities.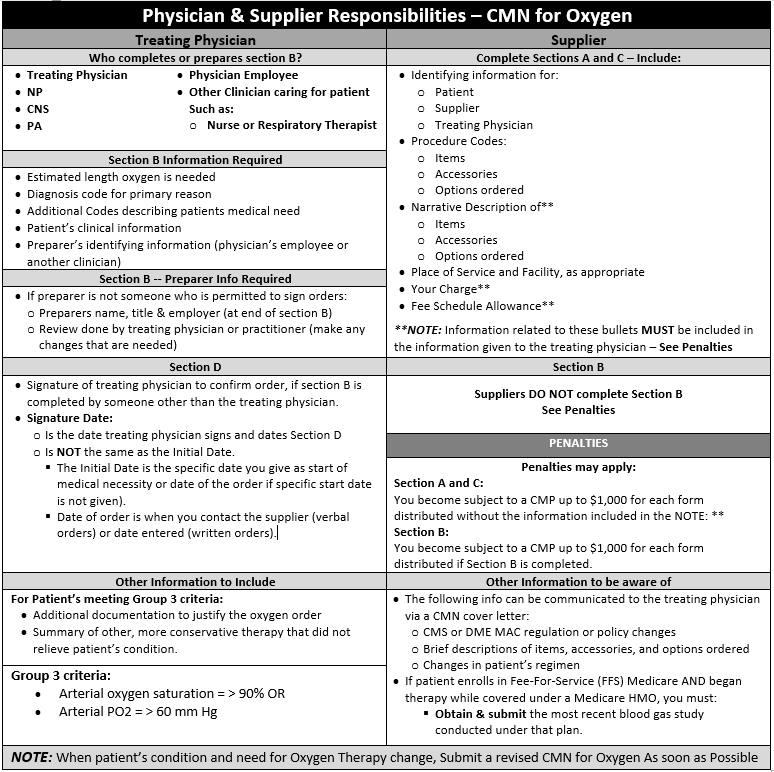 There are several forms and requirements necessary for home oxygen therapy. Please see our article Home Oxygen Therapy for more information and links to other requirements.
###
Questions, comments?
If you have questions or comments about this article please contact us. Comments that provide additional related information may be added here by our Editors.
Latest articles: (any category)
ICD-10-CM 2021 Coding Updates for Chiropractic
September 29th, 2020 - Wyn Staheli, Director of Research
October 1st is just around the corner and that means it's time for updates to the ICD-10-CM code set. This year there are some interesting changes such as a new headache type, new codes related to TMJ, several new codes for reporting accidents involving micro-mobility devices (e.g., hoverboard), and some other changes.
Important Podcast on Dental to Medical Billing
September 21st, 2020 - Christine Woolstenhulme, QCC, QMCS, CPC, CMRS
Be sure and check out this discussion with LaMont Leavitt (CEO of innoviHealth) and Christine Taxin (Adjunct professor at New York University, President of Dental Medical Billing, and Links2Success).  Some of the resources and tools they discuss will help you with your dental coding/billing and education. Do You Have All the Right ...
More COVID-19 Codes Added as of September 8, 2020
September 15th, 2020 - Wyn Staheli, Director of Research
The American Medical Association (AMA) recently announced the addition of two more CPT codes in relation to COVID and the Public Health Emergency (PHE). Codes 99702 and 86413 were posted to the AMA website on Tuesday, September 8, 2020 and new guidelines have been added as well.
Not Following the Rules Costs Chiropractor $5 Million
September 1st, 2020 - Wyn Staheli, Director of Research
Every healthcare office needs to know and understand the rules that apply to billing services and supplies. What lessons can we learn from the mistakes of others? What if we have made the same mistake?
New Value-Based Payment Models for Primary Care (Primary Care First and Direct Contracting)
August 28th, 2020 - Jared Staheli
This article summarizes the new Medicare value-based payment models: Primary Care First and Direct Contracting.
Podcast - Do you have all the right Dental resources needed to succeed in Dental Medical Billing and Coding?
August 27th, 2020 - Innoventrum
Discussion between innoviHealth CEO, LaMont Leavitt and Guest speaker, Christine Taxin who is an Adjunct professor at New York University, and President of Dental Medical Billing and Links2Success about making sure you have all the right Dental resources needed to succeed in Dental Medical Billing and Coding. ...
Is COVID-19 Causing Risk Adjustment "Gotcha's"?
August 27th, 2020 - Wyn Staheli, Director of Research
The COVID-19 public health emergency (PHE) has created some possible problems when it comes to risk adjustment. Be sure your organization has implemented policies and procedures to try and overcome these new hurdles.