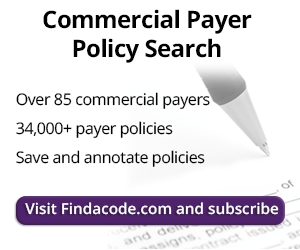 Post-operative Hospital Visits
October 15th, 2015 - Betsy Nicoletti, M.S., CPC
0 Votes -

Sign in

to vote or comment.
---
In 1992, CMS developed the concept of the Global Surgical Package, which pays for surgical services with a single payment. The full description of services that are included in this payment is described in the Medicare Claims Processing Manual, Chapter 12, Section 40 and in a CMS Fact Sheet.
CPT codes are valued in the Medicare Physician Fee Scheduled. In addition to RVUs, procedural CPT codes are broken down into the percentage of the fee that CMS considers pre-operative, intra-operative and post-operative. Services provided before or after the global period are reportable without modifiers. E/M services related to the surgery within the global period that meet certain conditions may also be reported. These E/M services must meet the requirements for certain modifiers. These are:
Modifier 25 (separate E/M service the day of a minor procedure or endoscopy)
Modifier 57 (E/M service the day of or the day before a major procedure, when it is the visit at which the decision for surgery was made) and
Modifier 24 (unrelated E/M service during the global period, by the surgeon who performed the surgery)
Both the CMS Manual and the Global Surgery Fact Sheet describe these post-operative services as being part of the payment for the procedure: (emphasis is mine)
All additional medical or surgical services required of the surgeon during the post-operative period of the surgery because of complications, which do not require additional trips to the operating room;
Follow-up visits during the post-operative period of the surgery that are related to recovery from the surgery;
Post-surgical pain management by the surgeon;
There are some services that are not included in the global surgical payment. These services may be billed and paid for separately:
Visits unrelated to the diagnosis for which the surgical procedure is performed, unless the visits occur due to complications of the surgery;
Treatment for the underlying condition or an added course of treatment which is not part of normal recovery from surgery;
The Global Surgery Fact Sheet states, "If the services of a physician other than the surgeon are required during a post-operative period for an underlying condition or medical complication, the other physician reports the appropriate E/M code. No modifier is necessary on the claim. An example is a cardiologist who manages underlying cardiovascular conditions of the patient."
When auditing hospital services during the post-op period, I consider these issues to be related to the surgery, and not separately reportable by any clinician:
Intake and output
Diet and bowel movements
Pain management
Wound care
Ambulation
Discharge planning
When a hospitalist or other primary care physician sees a patient during the post-op hospital stay, if the note addresses those issues, I do not consider it a separately reportable or payable service. The surgeon is being paid to address those issues in the global payment.
If a patient has underlying medical conditions that require the care of a hospitalist, primary care clinician or other specialists for conditions that are unrelated to the surgery, those visits are separately reportable. For example, a patient with coronary artery disease and chronic kidney disease may need to be assessed and followed by a non-surgeon. An elderly and frail patient admitted with a small bowel obstruction will likely need both medical and surgical follow up for all days in the hospital. It would not be within general medical guidelines to expect an Orthopedist to write insulin orders. All services must be medically necessary and I apply the filter of medical necessity to post-op visits by medicine physicians.
In some cases, a medicine physician may see and evaluate the patient, and not need to round on the patient for the entire admission. A patient with high blood pressure, a high BMI and hypothyroidism admitted for a surgical procedure may need an initial evaluation by a medicine doctor with orders written but may not need daily medicine visits. The hospitalist or primary care physician can sign off the case at that point.
When the medicine physician documents the subsequent hospital visit, the subjective portion of the note should discuss the patient's medical conditions that necessitate the visit. Describe the status of the patient's chronic problems. The objective portion of the note should mention lab work related to the medical conditions. The assessment and plan should list the medical conditions, status and treatment. If there is nothing much to say: no symptoms, no lab work, no changes in the plan, a completely medically stable patient, consider signing off at that point in the admission. Contrast this with the patient admitted for a non-elective surgical procedure who has cardiac problems, COPD, and chronic kidney disease. In that case, the HPI would address how the patient was feeling, breathing, voiding, eating (if allowed). There would be diagnostic results to review related to the patient's conditions. The assessment and plan would address these medical conditions.
Whether an auditor judges a medical note to be related or unrelated to the surgery depends entirely on the documentation the physician notes for that day.
###
Questions, comments?
If you have questions or comments about this article please contact us. Comments that provide additional related information may be added here by our Editors.
Latest articles: (any category)
New ABN Form is Here
July 7th, 2020 - Wyn Staheli, Director of Research
The anticipated changes to the Advanced Beneficiary Notice of Non-coverage (ABN) Form (CMS-R-131) have arrived. This important form is issued to the patient or client by providers, physicians, practitioners, and suppliers in situations where Medicare payment is expected to be denied. You can begin using the new ABN immediately if you so wish. However, it becomes mandatory on August 31, 2020.
Understanding UCR Inpatient Fees used on DRG's
July 1st, 2020 - Christine Woolstenhulme, QCC, QMCS, CPC, CMRS
Find-A-Code uses Usual, Customary, and Reasonable (UCR) fees to help determine the amount paid for a medical service based on a certain geographic area. This article will address the information and pricing for Hospital and Inpatient fees based on Diagnosis Related Groups (DRGs). The UCR fees and...
Additional COVID-19 Testing Codes Announced
June 29th, 2020 - Wyn Staheli, Director of Research
New coronavirus antigen testing codes announced. These are effective immediately.
HCPCS Codes Were NOT all Created for the Same Purpose
June 29th, 2020 - Christine Woolstenhulme, QCC, QMCS, CPC, CMRS
Have you ever wondered why you were unable to find a particular product/code with our DMEPOS search? When looking for HCPCS Level II codes, there are several kinds of codes and not all HCPCS codes were created for the same purpose. If you are searching for a certain HCPCS product ...
Should I Bill Dental or Medical?
June 16th, 2020 - Christine Taxin
While you likely find yourself focusing on fewer patients and more on emergency care, it's a good time to understand how medical billing can allow patients with active infection in the oral cavity to seek the treatment they need. Forms need to be filled out correctly, and you must carefully follow ...
Newest Launch - We Now Have Outpatient Facility Pricing!
June 15th, 2020 - Christine Woolstenhulme, QCC, CMCS, CPC, CMRS
Our newest feature launch offers UCR pricing for Outpatient Facility. We recently released pricing information based on databases of insurance claims from private-sector health care providers.Usual, customary, and reasonable charges (UCR) are medical fees used when there are no contractual pricing agreements and are used by certain healthcare plans and third-party payers to generate ...
Medical Necessity using Soap can prevent a future audit!
June 15th, 2020 - Christine Taxin
Medical Necessity using Soap can prevent a future audit! How Do I Correctly Document all my notes on every patient regardless of the insurance I am billing? Medically necessary care is the reasonable and essential diagnostic, preventive, and treatment services (including supplies, appliances, and devices) and follow-up care as determined by qualified ...