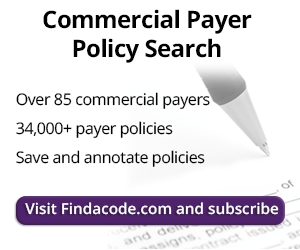 Post-operative Hospital Visits
October 15th, 2015 - Betsy Nicoletti, M.S., CPC
0 Votes -

Sign in

to vote or comment.
---
In 1992, CMS developed the concept of the Global Surgical Package, which pays for surgical services with a single payment. The full description of services that are included in this payment is described in the Medicare Claims Processing Manual, Chapter 12, Section 40 and in a CMS Fact Sheet.
CPT codes are valued in the Medicare Physician Fee Scheduled. In addition to RVUs, procedural CPT codes are broken down into the percentage of the fee that CMS considers pre-operative, intra-operative and post-operative. Services provided before or after the global period are reportable without modifiers. E/M services related to the surgery within the global period that meet certain conditions may also be reported. These E/M services must meet the requirements for certain modifiers. These are:
Modifier 25 (separate E/M service the day of a minor procedure or endoscopy)
Modifier 57 (E/M service the day of or the day before a major procedure, when it is the visit at which the decision for surgery was made) and
Modifier 24 (unrelated E/M service during the global period, by the surgeon who performed the surgery)
Both the CMS Manual and the Global Surgery Fact Sheet describe these post-operative services as being part of the payment for the procedure: (emphasis is mine)
All additional medical or surgical services required of the surgeon during the post-operative period of the surgery because of complications, which do not require additional trips to the operating room;
Follow-up visits during the post-operative period of the surgery that are related to recovery from the surgery;
Post-surgical pain management by the surgeon;
There are some services that are not included in the global surgical payment. These services may be billed and paid for separately:
Visits unrelated to the diagnosis for which the surgical procedure is performed, unless the visits occur due to complications of the surgery;
Treatment for the underlying condition or an added course of treatment which is not part of normal recovery from surgery;
The Global Surgery Fact Sheet states, "If the services of a physician other than the surgeon are required during a post-operative period for an underlying condition or medical complication, the other physician reports the appropriate E/M code. No modifier is necessary on the claim. An example is a cardiologist who manages underlying cardiovascular conditions of the patient."
When auditing hospital services during the post-op period, I consider these issues to be related to the surgery, and not separately reportable by any clinician:
Intake and output
Diet and bowel movements
Pain management
Wound care
Ambulation
Discharge planning
When a hospitalist or other primary care physician sees a patient during the post-op hospital stay, if the note addresses those issues, I do not consider it a separately reportable or payable service. The surgeon is being paid to address those issues in the global payment.
If a patient has underlying medical conditions that require the care of a hospitalist, primary care clinician or other specialists for conditions that are unrelated to the surgery, those visits are separately reportable. For example, a patient with coronary artery disease and chronic kidney disease may need to be assessed and followed by a non-surgeon. An elderly and frail patient admitted with a small bowel obstruction will likely need both medical and surgical follow up for all days in the hospital. It would not be within general medical guidelines to expect an Orthopedist to write insulin orders. All services must be medically necessary and I apply the filter of medical necessity to post-op visits by medicine physicians.
In some cases, a medicine physician may see and evaluate the patient, and not need to round on the patient for the entire admission. A patient with high blood pressure, a high BMI and hypothyroidism admitted for a surgical procedure may need an initial evaluation by a medicine doctor with orders written but may not need daily medicine visits. The hospitalist or primary care physician can sign off the case at that point.
When the medicine physician documents the subsequent hospital visit, the subjective portion of the note should discuss the patient's medical conditions that necessitate the visit. Describe the status of the patient's chronic problems. The objective portion of the note should mention lab work related to the medical conditions. The assessment and plan should list the medical conditions, status and treatment. If there is nothing much to say: no symptoms, no lab work, no changes in the plan, a completely medically stable patient, consider signing off at that point in the admission. Contrast this with the patient admitted for a non-elective surgical procedure who has cardiac problems, COPD, and chronic kidney disease. In that case, the HPI would address how the patient was feeling, breathing, voiding, eating (if allowed). There would be diagnostic results to review related to the patient's conditions. The assessment and plan would address these medical conditions.
Whether an auditor judges a medical note to be related or unrelated to the surgery depends entirely on the documentation the physician notes for that day.
###
Questions, comments?
If you have questions or comments about this article please contact us. Comments that provide additional related information may be added here by our Editors.
Latest articles: (any category)
2023 ICD-10-CM Code Changes
October 6th, 2022 - Christine Woolstenhulme, CPC, CMRS, QCC, QMCS
In 2022 there were 159 new codes; the 2023 ICD-10-CM code update includes 1,176 new, 28 revised, and 287 deleted codes, a substantial change from last year. The 2023 ICD-10-CM codes are to be used for discharges from October 1, 2022 through September 30, 2023, and for patient encounters from ...
Emergency Department - APC Reimbursement Method
September 15th, 2022 - Christine Woolstenhulme, CPC, CMRS, QCC, QMCS
CMS pays emergency department visits through a payment method using Ambulatory Payment Classifications (APCs). Most payers also use the APC reimbursement system; however, there may be some differences in payer policies (always review your specific payer policy). APCs are the primary type of payment made under the OPPS, comprising groupings ...
Why Medical Coding and Billing Software Desperately Needs AI
September 7th, 2022 - Find-A-Code
It has been said that the healthcare industry is notoriously slow in terms of technology adoption. One need only look at how convoluted medical coding and billing are to know that it needs a technology injection. Specifically, medical coding and billing software desperately needs artificial intelligence (AI).
CMS says Less Paperwork for DME Suppliers after Jan 2023!
August 18th, 2022 - Christine Woolstenhulme, QCC, QMCS, CPC, CMRS
Attention providers, suppliers, billers, and vendors who bill Durable Medical Equipment (DME) to Medicare!  Currently, a supplier receives a signed Certificate of Medical Necessity (CMN) from the treating physician or creates and signs a DME Information Form (DIFs); these are required to be sent with the claim. However, this is about ...
Things to Consider Before Upgrading Medical Billing Software
August 11th, 2022 - Find-A-Code
Your practice has utilized the same medical billing software for years. The medical billing staff says it is time for a change. You don't necessarily disagree, but you also don't know where to begin your search for new software. There are so many vendors offering so many products that making sense of it all can be challenging.
Calendar Year 2023 Medicare Advantage and Part C & D Payment Policies
August 9th, 2022 - Aimee L. Wilcox, CPMA, CCS-P, CST, MA, MT
Each year CMS publishes an Advance Notice of the upcoming years Medicare Advantage (MA) Capitation Rates and Part C and Part D Payment Policies and asks for comments related to it. Each of the comments are carefully reviewed and responded to and often are impactful to changes seen between the Advance Notice and final publication referred to as the Rate Announcement. With health equity as a primary focus for 2023, CMS announced some policy changes that may impact your organization.
How CMS Determines Which Telehealth Services are Risk Adjustable
August 9th, 2022 - Aimee L. Wilcox, CPMA, CCS-P, CST, MA, MT
Medicare Advantage Organizations (MAOs) have gone back and forth on whether or not to use data collected from telehealth, virtual Care, and telephone (audio-only) encounters with Medicare beneficiaries for risk adjustment reporting, but the following published documents from CMS cleared that up once and for all by providing an answer to a question specifically related to this question.