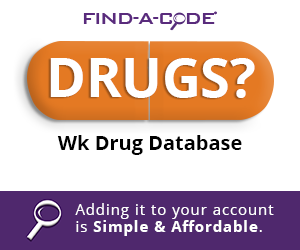 Using Modifer -59
March 31st, 2009 - Crystal Reeves
0 Votes -

Sign in

to vote or comment.
---
By Crystal Reeves, CPC, CMPE, Principal
Modifier -59 is probably one of the most misunderstood, misused, and most-feared of all CPT® modifiers. Some practices avoid using it all together because they don't want to be guilty of unbundling. Some practices do not use it because they are not at all sure when to use it. Other practices hesitantly apply it when they believe it is appropriate, and a few practices tack it on to all sorts of codes in the hopes it will result in a payment rather than a denial. This diversity in modifier usage is not surprising because Medicare's modifier -59 directives are definitely vague.

CPT® Guidelines indicate that the modifier is to be used to show that a procedure or service was distinct or independent from other services performed on the same day. This may represent a different session or patient encounter, a different procedure or surgery, a different site or organ system, or a separate incision/excision.

The trouble with this modifier -59 directive is that it is somewhat ambiguous, and as we work with different practices in improving their revenues and compliance, we have found that there is a wide variation in interpretation of directives. The definition refers to "different anatomic sites" and "separate patient encounters." From an NCCI perspective, the anatomic sites include different organs or different lesions in the same organ. It does not include treatment of contiguous structures of the same organ.

Medicare also advises that the use of modifier -59 to indicate different procedures/surgeries does not require a different diagnosis code for each procedure. And the use of different diagnoses on the procedures does not necessarily support the use of modifier -59.

Correct use of modifier -59 is important because that modifier has the ability to over ride NCCI edits. NCCI edits define when two CPT® codes can be reported together and still be paid separately. If the NCCI edits show that two codes reported together cannot be paid separately, one of the codes will be denied – and the practice will not be paid for that service. However, when modifier-59 is attached to one of the codes, then both codes are likely to be paid. And as we are all aware, if Medicare pays us when they should not have paid us, then at some point in time they will take that money back. No one wants to pay money back, especially if we believed that we were due the money in the first place.

For Medicare's examples of appropriate use of modifier -59, visit the Medicare link to:

http://www.cms.hhs.gov/NationalCorrectCodInitEd/Downloads/modifier59.pdf

.

For additional assistance in revenue cycle management, visit

www.cokergroup.com

or contact

Crystal Reeves

at

creeves@cokergroup.com

.
###
Questions, comments?
If you have questions or comments about this article please contact us. Comments that provide additional related information may be added here by our Editors.
Latest articles: (any category)
Not Following the Rules Costs Chiropractor $5 Million
September 1st, 2020 - Wyn Staheli, Director of Research
Every healthcare office needs to know and understand the rules that apply to billing services and supplies. What lessons can we learn from the mistakes of others? What if we have made the same mistake?
New Value-Based Payment Models for Primary Care (Primary Care First and Direct Contracting)
August 28th, 2020 - Jared Staheli
This article summarizes the new Medicare value-based payment models: Primary Care First and Direct Contracting.
Podcast - Do you have all the right Dental resources needed to succeed in Dental Medical Billing and Coding?
August 27th, 2020 - Innoventrum
Discussion between innoviHealth CEO, LaMont Leavitt and Guest speaker, Christine Taxin who is an Adjunct professor at New York University, and President of Dental Medical Billing and Links2Success about making sure you have all the right Dental resources needed to succeed in Dental Medical Billing and Coding. ...
Is COVID-19 Causing Risk Adjustment "Gotcha's"?
August 27th, 2020 - Wyn Staheli, Director of Research
The COVID-19 public health emergency (PHE) has created some possible problems when it comes to risk adjustment. Be sure your organization has implemented policies and procedures to try and overcome these new hurdles.
New and Exciting Changes in the Dental Industry
August 26th, 2020 - Christine Taxin - Links 2 Success
My colleagues and I are nerds for information on all things billable—or not billable—in the worlds of dental and medical insurance. One of the most puzzling challenges for me over the past 15 years of teaching has been to understand why we on the dental side are segregated out of ...
To do a complete exam - you must include the following:
August 26th, 2020 - Christine Woolstenhulme, QCC, QMCS, CPC, CMRS
Real time scanning of the kidneys Abdominal aorta Common iliac artery origins Inferior vena cava Alternaltively, if ultrasonography is being performed to evaluate the urinary tract, examination of the kidneys and urinary bladder constitutes a complete exam. Code 76775 is used when a limited retroperitoneal ultrasound examination is performed. ...
2021 Brings Another Risk Adjustment Calculation Change
August 24th, 2020 - Aimee Wilcox, CPMA, CCS-P, CST, MA, MT, Director of Content
In 2021, a big change in Risk Adjustment score calculations will take place, which will affect payments to Medicare Advantage (MA) plans for the coming year and take us closer to quality and value-based programs instead of fee-for-service (FFS) or risk-adjusted (RA). Currently, CMS pays a per-enrollee capitated...