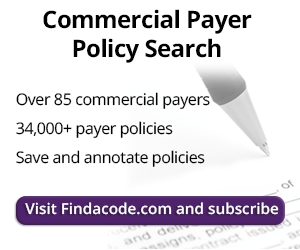 Are you Ready for CMS' 2019 Medicare Physician Fee Schedule Final Rule?
November 7th, 2018 - Wyn Staheli, Director of Research
0 Votes -

Sign in

to vote or comment.
---
The waiting is over, the Final Rule for CMS' 2019 Medicare Physician Fee Schedule (MPFS) is available - all 2,379 pages for those looking for a little light reading. As anticipated, there are some pretty significant changes. Most of us were carefully watching the proposed changes to the Evaluation and Management codes for office visits, but that's not all that was included in this 2,300+ page document. The following is a summary of some of the major provisions.
Evaluation & Management
CMS' stated goal was to reduce administrative burden when reporting these services. Some changes are happening right away and some will happen later. The following take effect January 2019:
Home visit: Eliminate the requirement to document the medical necessity of a home visit in lieu of an office visit
Office visit - established patient: When relevant information is already included in the medical record, instead of repeating it all again, documentation should focus on what changed since the last visit, or pertinent facts that did not change. It is still necessary to state that the information was reviewed.
Chief complaint and history: For both new and established patients, providers do not need to re-enter chief complaint and history information already entered by either staff or the beneficiary. Documentation must indicate however that the information was reviewed and verified by the provider.
Residents, medical team information: Teaching physicians do not need to re-document information entered in the medical record by residents or other members of the medical team. They must document that they have reviewed and verified the accuracy of that information along with any additional information needed.
Not all of the proposed changes relating to E/M services happened. The following office and outpatient visit changes were finalized, but they will not take place until 2021:
Payment: There will be a single rate for E/M visit levels 2 through 4 (established and new patients). Level 5 visits were not eliminated as proposed.
Medical Decision Making (MDM) or Time: Providers can document visit levels 2-5 using MDM, time, or keep using the current 1995 or 1997 E/M documentation guidelines.
Documentation Requirement for MDM or current guidelines: If using MDM or current standards, for level 2-4 visits, it is only necessary to meet the level 2 documentation requirements for the history, exam, and MDM.
Document by Time requirements: "When time is used to document, practitioners will document the medical necessity of the visit and that the billing practitioner personally spent the required amount of time face-to-face with the beneficiary"
Add-on codes: For level 2-4 visits there will be some new add-on codes which may also be coded with the E/M visit to describe special circumstances:

Additional Resources: may be used when the visit requires additional resources, such as those for primary care and certain non-procedural specialized medical care. The ruling stated that there are no additional documentation requirements to use these codes.
Extended Time: may be used when practitioners need to spend extended face-to-face time with the patient. This works like the prolonged services codes but with a shorter time frame (34-69 for an existing patient or 38-89 minutes for a new patient).
The following proposed changes were NOT finalized and thus will not be implemented:
Podiatry E/M codes: Podiatry will continue to use the standard E/M codes and guidelines and not the proposed new E/M codes.
Reduced fee with other procedures: They will not reduce payment for office visits when performed on the same day as another service.
Expand Technology & Telehealth Services
There are new codes to describe services rendered by healthcare providers using technology-based services. There are both telehealth codes as well as services that use technology services, but in and of themselves are not a telehealth service. Those services that are not telehealth but use technology to render the service are not subject to Medicare's requirements for telehealth services (e.g., originating site, patient located in a rural or health professional shortage area).
CMS is also expanding coverage for communication technology-based services and remote evaluation services furnished by Rural Health Clinics (RHCs) and Federally Qualified Health Centers (FQHCs) when there is not another associated billable visit. This will be billed with the new code G0071.
Medicare will cover the following new codes:
G0071 — Virtual Communication
G2012 — Brief communication technology-based service, e.g. virtual check-in, by a physician or other qualified health care professional
G2010 — Remote evaluation of recorded video and/or images submitted by an established patient
99453, 99454, 99457 — Remote physiologic monitoring
99451, 99452 — Interprofessional Telephone/Internet/Electronic Health Record Consultations
See the Fact Sheet by the Center for Connected Health Policy, located in the References, for more about these services.
Telehealth Expansion
Medicare will also be adding the following to their approved telehealth coverage:
End-stage renal disease: Originating site can be the patient's home, a renal dialysis facility, or a hospital-based or critical access hospital-based renal dialysis center
Mobile stroke unit: To diagnose, evaluate, or treat symptoms of an acute stroke
Substance Use Disorders Treatment
Bundled Episode of Care for Management and Counseling Treatment for Substance Use Disorders: There were no code(s) created for this, but there were numerous comments which CMS intends to use for future rulemaking.
Expanding Telehealth for Treatment: Under an interim final rule, there will be no originating site requirement when treating a substance use disorder or a co-occurring mental health disorder for services. This change will be effective July 1, 2019.
Opioid Treatment Program (OTP) Benefit: Beginning January 1, 2020, there will be a new Medicare benefit category for these services. Comments are requested to help guide future rulemaking.
Assistants
Radiology Assistant (RA): Effective January 2019, physician supervision requirements revised so that certain diagnostic tests performed by an RA "may be furnished under a direct level of physician supervision to the extent permitted by state law and state scope of practice regulations."
Physical Therapy Assistant (PTA), Occupational Therapy Assistant (OTA): Beginning in 2022, when a PTA or OTA provides more than 10% of a therapy service, new payment modifiers (CQ, CO) must be billed with the service. There will be a corresponding 85% pay reduction for the service.
Functional Reporting
Beginning in January 2019, functional reporting will no longer be required for reimbursement by Medicare. PTs, OTs, and SLPs will not be required to report HCPCS codes G8978-G8999 or G9158-G9186. Also, severity modifiers CH through CN will not be required. The codes are still going to be valid for a little while to allow providers and insurers time to update their billing systems and policies (and thus, avoid claim rejections due to inadvertent non-payable code submission).
If you want, you can continue to report the codes, they just aren't required for payment. It should be noted that even though they aren't required for payment, they may be used by MIPS-eligible PTs, OTs, and SLPs for MIPS quality reporting in 2019.
Low Volume Threshold & MIPS Participation
Low volume thresholds for MIPS participation were also revised. Beginning in 2019, if one of the following statements holds true for a MIPS-eligible clinician or group, they will not be required to participate in MIPS:
The provider or group did not charge more than $90,000 for covered professional services.
The provider or group treated 200 or fewer Part B-enrolled individuals.
The provider or group provided 200 or fewer professional services to Part B-enrolled individuals.
Even if you are not required to participate, you can choose to either opt-in to MIPS or voluntarily report. Clinicians and groups have the opportunity to opt in to MIPS if they only meet one or two of the three low-volume thresholds listed above. If you meet all three, then you may NOT opt in but you could still participate voluntarily and obtain feedback about your reporting. Those who voluntarily report quality data will experience no MIPS payment adjustments. Those who decide to opt in for 2019 will experience payment adjustments (positive, neutral or negative) in the 2021 payment year.
In order to opt in or voluntarily report, you MUST log into the Quality Payment Program portal and select the applicable option.
Other
Laboratory Definition: Added hospital laboratories that bill for their non-patient laboratory services on the CMS-1450 Claim Form (UB-04) with Type of Bill (TOB) 14X.
Ambulance Fee Schedule: Extended the three temporary add-on payments for ground ambulance services through December 31, 2022.
Medicare Shared Savings Program (Shared Savings Program) Accountable Care Organizations (ACOs) changes: See the "Official Final Rule" in References for more information.
###
Questions, comments?
If you have questions or comments about this article please contact us. Comments that provide additional related information may be added here by our Editors.
Latest articles: (any category)
Check out our New Topic Pages!
January 17th, 2019 - Kristy Richie
We have created subject-specific landing pages with tools and resources for your convenience.  We understand how important your time is so we added another layer of organization to our site.  Check out our State pages for information on Workers Comp, Medicare, Medicaid and more... TOPIC pages are accessible at the top of every page on the ...
Take the Stress out of Leveling Using our E/M Calculator
January 17th, 2019 - Chris Woolstenhulme, QCC, CMCS, CPC, CMRS
Our E/M Calculator takes the stress out of leveling Evaluation and Management codes. This tool can be used by auditors, as well as coders and students learning E/M coding. Calculate based on Time or Components. The exam portion lets you chose either 95, 97 Guidelines or both.  Included with our Professional and Facility Subscription!  ...
Scanning the Unscannable: Improving Patient Flow in MRI
January 14th, 2019 - BC Advantage
Stay Ahead of your CEUs in 2019Get the latest webinars and earn over 24 CEUs each year included with your BC Advantage Magazine subscription. Latest Webinar: Scanning the Unscannable: Improving Patient Flow in MRI Presenter: Wendy Stirnkorb, President & CEO Stirnkorb Consulting, LLC Time: 46 Minutes Cost: $0.00 to all BC Advantage Magazine Subscribers CEUs: 1.0 On-demand: Watch 24/7 from work or ...
What is Virtual Communication (G0071)?
January 14th, 2019 - NAMAS
Beginning January 1st, 2019 all of our RHC and FQHC organizations have a new CPT code to consider implementing for their Medicare populous (check per Advantage Plan Administration for coverage). In its current form, this code is not reportable by organizations not meeting the RHC/FQHC designation. The code isG0071 and is termed ...
AMA Issues new CMT Information
January 14th, 2019 - Wyn Staheli, Director of Research
As many of you may already be keenly aware, there have been ongoing problems with many payers (e.g., BCBS of Ohio) regarding the appropriateness of reporting an E/M visit on the same day as CMT (CLICK HERE to read article). The AMA recently released an FAQ which renders their opinion ...
Q/A: Is G8730 Still Required? Are G Codes Required at all?
January 14th, 2019 - Wyn Staheli, Director of Research
G8730, when is it required. Many G codes are still active and are required for non-quality reporting.
Nine New Codes for Fine Needle Aspirations (FNA)
January 4th, 2019 - Aimee Wilcox, CPMA, CCS-P, CMHP, CST, MA, MT
If your practice performs a lot of fine needle aspirations (FNA), you probably have the code options memorized (10021 without image guidance and 10022 with image guidance). However, the 2019 CPT codes now include nine (9) new FNA codes (10004-10012), one deleted FNA code (10022) and one revised FNA code ...