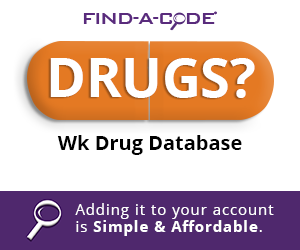 2021 Brings Another Risk Adjustment Calculation Change
August 24th, 2020 - Aimee Wilcox, CPMA, CCS-P, CST, MA, MT, Director of Content
---
In 2021, a big change in Risk Adjustment score calculations will take place, which will affect payments to Medicare Advantage (MA) plans for the coming year and take us closer to quality and value-based programs instead of fee-for-service (FFS) or risk-adjusted (RA).
An Overview of Risk Adjustment
Currently, CMS pays a per-enrollee capitated payment to each Medicare Advantage (MA) plan based on the assumption that every enrollee in the MA plan is an average health risk. In other words, until proven otherwise, CMS assumes all MA enrolled beneficiaries are equally healthy and the capitated payment will cover any healthcare services for the year. Obviously that isn't the case, as some beneficiaries have more healthcare problems than others which could drastically increase costs beyond the capitated amount set aside for a healthy beneficiary. To account for these differences, CMS will increase the capitated payment if the payer can prove the beneficiary has more health issues than the average Medicare beneficiary.
To accomplish this, the MA plan collects and reviews the medical records of each beneficiary during the year, identifying all diagnoses that may raise the patient's health risk score and reports those diagnoses to CMS. Each diagnosis is assigned an appropriate ICD-10-CM code, which is then crosswalked to the correlating Hierarchical Condition Categories (HCC) code based on a specific CMS HCC-model. Each HCC code has an assigned point value and all HCC codes assigned to a beneficiary are totaled (using those point values) and reported, along with the beneficiary demographic data, to CMS through the Risk Adjustment Processing System (RAPS). CMS then adjusts the capitated payment based on the severity of the patient's risk-adjusted score.
When is the Change Headed Our Way?
CMS has made no bones about wanting to change from an FFS model to one that offers quality and value so they instituted a Risk-Adjustment model. Along with collecting risk scores from MA plans for each beneficiary, CMS was also tracking encounter data. They began looking at certain diagnoses and how providers and healthcare organizations implemented treatments along with how successful and cost-effective those treatments were. They looked at outcomes, quality of services, and beneficiary reviews of those programs. CMS has a pretty clear idea of what they want to accomplish with value-based care and they have decided to determine an overall risk score for each beneficiary based in part on RAPS scoring and the encounter data collected.
Example:
A patient is diagnosed with diabetes mellitus type 2 with hypertension.
Assess the patient using both scoring options. The two scores might differ by just a couple of points.
Assess a RAPS score for a patient with this diagnosis
Assess score using the encounter data collected
A portion of the RAPS score and a portion of the encounter data score are then blended together to determine the overall risk score and capitated payment amount.
Calculations have been made this way since 2015 and changes in the ratio are planned through 2021 (as shown in the table below).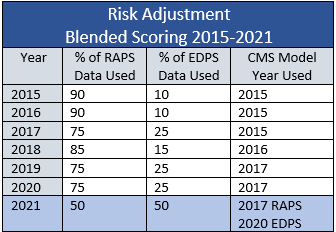 The table listed here identifies the percentage of RAPS vs Encounter Data from 2015 through 2021. At some point in time (not currently identified), the MA capitated payment will be determined 100% by the encounter data.
One additional change has been noted in these calculations; as of 2021 the RAPS score will be calculated using the 2017 CMS-HCC model and the encounter data score will be calculated using the CMS HCC-2020 model. The scores will be blended by using 50% of each to determine the overall risk adjustment score for each beneficiary.
Proper Resources Pave the Way to Better Reimbursement
Never before has clinical documentation improvement been so important. Accurate and clear documentation leads to the correct ICD-10-CM code assignment and HCC calculations. Team up with HCC Coder and the innoviHealth ICD-10-CM specialty codebooks and Provider Documentation Guides to ensure proper code assignment is taking place.
To review a list of the books available through innoviHealth, visit our innovihealth store.
Provider Documentation Guidebooks are available to assist with quick, effective provider/coder education and training on clinical documentation improvement issues for the ICD-10-CM codes most commonly reported for your organization.
Risk Adjustment HCC Edition for 2020, covers the ins and outs of Risk Adjustment coding including tips and guidelines vital to accurate code assignment — For example: when would you assign the appropriate Z code versus a code from Chapter 2: Neoplasms (C00-D49) for a patient with active cancer or cancer that is currently in remission? Common errors like these can have an astounding effect on reimbursement.
###
Questions, comments?
If you have questions or comments about this article please contact us. Comments that provide additional related information may be added here by our Editors.
Latest articles: (any category)
COVID Vaccine Coding Changes as of November 1, 2023
October 26th, 2023 - Wyn Staheli
COVID vaccine changes due to the end of the PHE as of November 1, 2023 are addressed in this article.
Medicare Guidance Changes for E/M Services
October 11th, 2023 - Wyn Staheli
2023 brought quite a few changes to Evaluation and management (E/M) services. The significant revisions as noted in the CPT codebook were welcome changes to bring other E/M services more in line with the changes that took place with Office or Other Outpatient Services a few years ago. As part of CMS' Medicare Learning Network, the "Evaluation and Management Services Guide" publication was finally updated as of August 2023 to include the changes that took place in 2023. If you take a look at the new publication (see references below),....
Can We Score Interpretation of an EKG Towards E/M Medical Decision Making?
October 10th, 2023 - Aimee Wilcox
When EKGs are performed in the facility setting or even in the physician's office, what are the requirements for reporting the service and who gets credit for scoring data points for Evaluation and Management (E/M) medical decision making (MDM)? Let's take a look at a few coding scenarios related to EKG services to get a better understanding of why this can be problematic.
Accurately Reporting Signs and Symptoms with ICD-10-CM Codes
October 5th, 2023 - Aimee Wilcox
Coders often find themselves unsure of when to report a sign or symptom code documented in the medical record. Some coders find their organization has an EHR that requires a working diagnosis, which is usually a sign or symptom, be entered to order a test or diagnostic study or image. Understanding the guidelines surrounding when signs and symptoms should be reported is the first step in correct coding so let's take a look at some scenarios.
The 2024 ICD-10-CM Updates Include New Codes for Reporting Metabolic Disorders and Insulin Resistance
September 19th, 2023 - Aimee Wilcox
Diabetes is a chronic disease that just seems to consistently be increasing instead of improving resulting in a constant endeavor by medical researchers to identify causal effects and possible treatments. One underlying or precipitating condition that scientists have identified as a precipitating factor in the development of diabetes is insulin resistance, which is a known metabolic disorder. As data becomes available through claims reporting, additional code options become possible with ICD-10-CM.
Documenting and Reporting Postoperative Visits
September 12th, 2023 - Aimee Wilcox
Sometimes we receive questions regarding documentation requirements for specific codes or coding requirements and we respond with information and resources to support our answers. The following question was recently submitted: Are providers required to report postoperative services on claims using 99024, especially if there is no payment for that service? What documentation is required if you are reporting an unrelated Evaluation and Management (E/M) service by the same physician during the postoperative period? 
Understanding Gastroesophageal Reflux Disease and ICD-10-CM Coding
August 22nd, 2023 - Aimee Wilcox
Gastroesophageal reflux disease or GERD for short, is a disease that impacts millions of Americans on a weekly basis. Symptoms are uncomfortable, as are some of the tests used to diagnose it, but understanding the disease, tests, and treatments helps us better understand how to code the disease using ICD-10-CM codes.