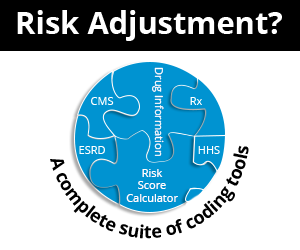 Medicare Advantage (MA) Benchmarking Policies Are Headed for Change
July 12th, 2022 - Aimee L. Wilcox, CPMA, CCS-P, CST, MA, MT
0 Votes -

Sign in

to vote or comment.
---
Considering approximately 43% of all Medicare beneficiaries are currently enrolled in a Medicare Advantage (MA) plan, and those plans average an estimated 104% of Medicare Fee-For-Service (FFS) spending, the need to lower the ever-increasing costs of Medicare is becoming vital to the overall viability of the Medicare program. For some time now Medicare has been considering an alternative MA benchmark policy that could improve equity and efficiency within the program, especially as growth is on an upward trajectory.
Differences Between Medicare Advantage and Medicare Fee-For-Service (FFS)
MA plans were considered the best way to manage access to quality healthcare services with a lowered cost outcome. This was possible by using private healthcare structure coupled with extra health benefits and Medicare policies to promote healthier lifestyles and thus reduce healthcare costs overall.
In traditional Medicare, also referred to as FFS Medicare, providers are paid a dollar amount pre-determined through the Medicare Physician Fee Schedule (MPFS) for each service individually performed and reported. MA plans are paid differently in that they receive a base payment for each Medicare beneficiary who enrolls in their plan, and additional money based on each individual beneficiary's health risk score. Risk scores are determined by the chronic conditions a beneficiary has, as diagnosed, documented, and treated by a qualifying healthcare provider. Each chronic condition is assigned an ICD-10-CM diagnosis code which correlates to a hierarchical condition category (HCC) code and risk score. The more chronic conditions a beneficiary is diagnosed with and treated for, coupled with the greater the severity of those conditions, the higher dollar amount the MA plan receives to care for that beneficiary.
The goal is to have the MA plan providers act as primary care providers to diagnose, treat, and promote lifestyle changes that will help to reduce severity or eliminate the chronic condition. By doing so, the risk scores are lowered and the additional dollar amount is lessened, allowing those funds to go towards beneficiaries who are at higher risk.
In addition to the funding provided to MA plans for beneficiary care, these plans are allowed to provide extra benefits to these beneficiaries, that are not otherwise available to those on the FFS Medicare plan. Routine examinations, dental coverage, vision, and hearing benefits as well as fitness and transportation are but a few of the additional health-promoting services offered by MA plans. These benefits are meant to promote healthier lifestyles in an effort to reduce the severity of, and sometimes even eliminate, certain chronic health conditions.
Although the traditional FFS Medicare program allows for patients to manage their own care, see any Medicare-contracted provider they would like, and has very limited preauthorization requirements, there are many downsides to this program. Aside from the goal of enrolling as many Medicare beneficiaries into an MA plan, CMS is hoping to also make changes to the FFS Medicare in ways that will help reduce costs and improve quality.
How Do MA Plans Benefit Medicare Beneficiaries?
Chronic conditions that are well-managed by a provider group that knows the patient and wants to see their health improve, will likely experience, over time, a reduction in healthcare costs associated with conditions that just keep getting better. This is the overall goal to improve the health of Medicare beneficiaries through chronic care management.
How Are MA Plans Doing Overall?
In 2020, there were over 4,0000 MA Plan options, across 185 payer organizations. These payer organizations managed over 24 million Medicare beneficiaries, approximately 43% of all Medicare beneficiaries. While overall, chronic conditions are being identified and steps taken to manage them put into place, instead of seeing a decrease in overall risk score payments, MA plans have systematically implemented programs to help identify chronic conditions that would not normally be used to do so, resulting in a risk rate increase of 9%, higher than traditional FFS Medicare in 2019, when the goal is to lower the costs as compared with FFS Medicare.
Arguably, it is necessary to know the chronic health conditions a patient has in order to treat them, but the Office of Inspector General (OIG), through the Risk Adjustment Data Validation (RADV) Audits program, has brought into question the methods used to identify and report these chronic conditions and the documentation validation for them.
While the MA payment may be 9% higher than traditional FFS Medicare, CMS has the ability to make a payment adjustment to bring the MA plans more in alignment with FFS Medicare. The minimal adjustment for coding intensity is 5.9%, which is applied across the board. It should be noted that CMS does have the authority to impose a larger reduction percentage, but to date they have not applied more than the minimal 5.9%.
What Does The Future of MA Plans Look Like?
The OIG will continue to conduct annual RADV audits to identify incorrect billing and fraudulent payer policies and while doing so, the Medicare Advisory Commission, who reports to Congress on the Medicare FFS payment systems, Medicare Advantage program, and Medicare prescription drug program (Part D), will continue to assess an alternative MA benchmark policy to further improve equity and efficiency within the ever-expanding MA program.
###
Questions, comments?
If you have questions or comments about this article please contact us. Comments that provide additional related information may be added here by our Editors.
Latest articles: (any category)
Billing and Documenting for Therapeutic Exercises versus Therapeutic Activities
July 13th, 2022 - Dr. Evan M. Gwilliam, DC, MBA, QCC, CPC, CCPC, CPMA, CPCO, AAPC Fellow, Clinical Director
Chiropractors treat, among other things, issues with the musculoskeletal system. Active therapeutic procedures are accepted as effective ways to treat many common conditions and therefore can be billed and generate revenue for a clinic. Two common CPT codes that might be used in a chiropractic setting include:
Medicare Advantage (MA) Benchmarking Policies Are Headed for Change
July 12th, 2022 - Aimee L. Wilcox, CPMA, CCS-P, CST, MA, MT
More than 43% of Medicare beneficiaries are not enrolled in Medicare Advantage plans, which were established to control costs and improve quality. However, as noted in the March MedPac Report Executive Summary of 2021, these plans average an estimated 104% of Medicare Fee-For-Service (FFS) spending. How does CMS plan to manage Medicare Advantage plans now?
How Extensions to the COVID-19 Public Health Emergency Affect Healthcare Reimbursement
June 28th, 2022 - Aimee L. Wilcox, CPMA, CCS-P, CST, MA, MT
Providers need to begin preparations for how to handle a return to pre-COVID-19 public health emergency (PHE) policies. As the saying goes, "you can't put the rabbit back in the hat." Some COVID-19 PHE policies are so well liked it will be very difficult for the government to return to pre-COVID-19 policies. For now, we have at least the promise of a 60-day notice to all governors precipitating the end of the PHE.
Why You Should Be Using The Two-Midnight Rule
June 23rd, 2022 - David M. Glaser, Esq.
Are you using something other than two-midnight? Here's why you shouldn't be. Is there the possibility that your utilization management team and physician advisors are applying InterQual, MCG, or any other utilization tool other than the two-midnight rule to your Medicare admissions? Over the last few months, it has...
Q/A: Service Period for 99490
June 6th, 2022 - Chris Woolstenhulme
Question: If CCM hours/work is to be billed monthly, and CCM tasks are done daily throughout the month, should it be saved until the end of the month to bill, and should each date be billed as DOS in one claim? Answer: According to CMS, "The service period for CPT 99490 ...
Reporting CCM and TCM Codes with E/M Codes
June 1st, 2022 - Chris Woolstenhulme
When reporting CCM or TCM codes, you will only get reimbursed for what is allowed. The E/M office visits can be coded in addition but are not interchangeable with CCM codes. You can bill an E/M visit during the time a patient is under Care Management, however, you can't count time ...
Q/A: Billing Over the Allowed Amount
June 1st, 2022 - Chris Woolstenhulme
Question: Is there a financial penalty for billing over the allowed amount? Answer: Yes, if you are submitting claims to a contracted provider, you cannot bill over the contracted amount of your fee schedule. This is called balanced billing. There is also the no-surprise rule that protects insured and non-insured or ...