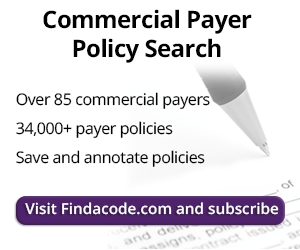 Special Needs Plans Help Beneficiaries and Risk Adjustment Reporting
October 22nd, 2020 - Aimee Wilcox, CPMA, CCS-P, CST, MA, MT, Director of Content
0 Votes -

Sign in

to vote or comment.
---
It is no secret that Medicare and Medicaid are steadily moving towards their goal of value-based health care. Medicare Part C (Medicare Advantage) identifies and rewards payers, and subsequently their providers, for increasing the efficiency and quality of care they provide to Medicare beneficiaries. This type of care has also been expanded to Medicaid and the HHS Affordable Care Act (ACA) plans. CMS reports that approximately one third of all Medicare beneficiaries are enrolled in a Medicare Advantage plan and the numbers continue to grow.
Funding for risk adjusted plans is determined from provider documentation of a beneficiary's health conditions, injuries, illnesses, or social determinants of health (SDoH) that increase the risk of more expensive and ongoing healthcare services as compared to a healthier beneficiary. By doing so, additional funds are provided to the health plan to care for that beneficiary and reduce their associated risk. The goal of risk adjustment is risk management and a reduction in avoidable, expensive healthcare utilization through the proper diagnosis and management of high-risk chronic conditions. Health plans receive funding based on documented risk-adjustable diagnoses and overall beneficiary risk score. The key to correct funding is proper and accurate documentation of these conditions by qualified healthcare providers who apply correct documentation and reporting principles.
"Proper reporting of conditions that risk adjust leads to proper funding, while inaccurate reporting leads to fraud investigations and costly penalties."
Although these plans are helping many beneficiaries, they have failed others who suffer from more complex, chronic conditions. To address the needs of this special subset of beneficiaries, in 2018, Congress passed, and President Trump signed, the Bipartisan Budget Act of 2018 which includes the Creating High-Quality Results and Outcomes Necessary to Improve Chronic (CHRONIC) Care Act. This CHRONIC Care Act was developed by the U.S. Senate Committee on Finance's Bipartisan Chronic Care Working Group, as noted in the Policy Options Document.
The CHRONIC Act was created to address the needs of the chronically ill, disabled, or institutionalized Medicare beneficiary or dual eligible Medicare-Medicaid beneficiary, suffering from complex conditions requiring benefits not offered through the regular risk adjusted plans. Now health plans can offer Special Needs Plans (SNPs) to qualifying beneficiaries to address their special needs. The following are a few of the issues these new plans address:
ISSUE: Prior to the CHRONIC Care Act, plans were not able to offer expanded supplemental benefits to meet the needs of the chronically ill or disabled patient without offering them to all plan participants.
BENEFITS: As of 2019, plans were authorized to extend supplemental benefits to beneficiaries with special needs through Special Needs Plans (SNPs), and were not required to offer the same supplemental benefits to all other plan participants. SNP benefits have been permanently reauthorized and permitted to target the enrollment of those who are either institutionalized (SNP-I), dual eligible Medicare/Medicaid (SNP-D), or suffering from severe or disabling chronic conditions (SNP-C).
ISSUE: There is a need for supplemental benefits that are both medical and non-medical that support those with chronic and complex chronic conditions.
BENEFITS: As of 2019, the supplemental benefits had to be primary health-related but as of 2020, plans can offer supplemental benefits that "have a reasonable expectation of improving or maintaining the health or overall function of the chronically ill enrollee." This meant there is now flexibility to identify and provide benefits of all kinds, such as benefits that:
Diagnose, prevent, or treat an illness or injury

Compensate for physical impairments or disabilities

Act to improve the functional/psychological impact of injuries or health conditions

Reduce avoidable emergency and healthcare utilization

Provide non-skilled, in-home support (e.g., home care aids, retrofitting stairs, bathrooms, and other rooms in the home) for better mobility

Improve access to healthy meals, grocery shopping, and transportation
ISSUE: Plans do not have enough funding to pay for Medicare Special Needs Plans (SNPs).
BENEFITS: As of 2019, plans offering SNPs receive an average of 3.4% in additional funding.
ISSUE: The appeals process for denied services and the process for communicating needs or filing grievances has been cumbersome.
BENEFITS: Plans will integrate care through unified plans that also include an easy process for submitting complaints and grievances, and an especially easy appeals process.
Due to the recent COVID-19 PHE, a nationwide effort to protect this vulnerable population of chronically ill and aging beneficiaries has been underway and these SNPs are providing coverage for the health and non-health related services they need access to, which helps them avoid unnecessary exposure during the PHE. As a matter of fact, Humana reported a 44% reduction in hospital admissions by beneficiaries after only six months in a chronic care program. To learn more about Special Needs Plans and the supplemental benefits offered through a few of the major plans, check out these links to Aetna, Cigna, Humana, and United Healthcare. Each will be a little different from the other, as they try to meet the needs of their specific beneficiary population.
It is interesting to see how a few of the major health plans are implementing the supplemental plans. For example, one plan identifies some of the chronic conditions eligible for their SNP-C (e.g., diabetes mellitus, cardiovascular disorders, heart failure), while another outlines the expanded supplemental benefits of their SNP-D, which include access to transportation for groceries, healthcare services, and reduced costs for dental and vision care among others.
And let us not forget how risk adjustment benefits from these new plans. Benefits like these are sure to keep patients engaged with their providers and their plan and they are likely to keep appointments and be more compliant to the care they need to reduce their individual risk scores. As always, as this is a relatively new, federally funded program, payers will want to create a clear compliance policy and provide training to their providers that identifies correct documentation and reporting practices as well as internal reviews to avoid any potentially painful RAD-V audit results. Plans will need to pay attention not only to the Risk Adjustment rules and guidelines, but also to the qualifying guidelines for these SNP plans to ensure the encounter notes usually eligible for risk adjustment, are.
###
Questions, comments?
If you have questions or comments about this article please contact us. Comments that provide additional related information may be added here by our Editors.
Latest articles: (any category)
HIPAA Penalty Changes
January 11th, 2021 - Wyn Staheli, Director of Research
On January 5, 2021, H.R. 7898 was signed into law by President Trump. This new law modifies the HITECH Act such that when an organization experiences a breach, fines and/or penalties may be reduced if (for at least a year) they have instituted "recognized security practices" as defined within the law.
CDT and CPT - The Same but Different!
December 8th, 2020 - Christine Woolstenhulme, QCC, QMCS, CPC, CMRS
Reporting a CPT code for an evaluation of a patient is based on time and if the patient is a new or established patient. Evaluation and Management codes are different than other codes, it is important to understand how they are used, prior to 2021 they were based on a ...
How to Search Find-A-Code for Medicare Policies and Guidelines — LCDs, NCDs and Articles —
November 18th, 2020 - Raquel Shumway
Help for Searching Find-A-Code when searching for Medicare Policies and Guidelines — LCDs, NCDs and/or Articles.
Cross-A-Code Instructions in Find-A-Code
November 18th, 2020 - Raquel Shumway
Cross-A-Codeis a toll found in Find-A-Code which helps you to locate codes in other code sets that help you when submitting a claim.
COVID Vaccine Codes Announced
November 11th, 2020 - Wyn Staheli, Director of Research
On November 10, 2020, the American Medical Association (AMA) announced the addition of two new codes which will be used for the new COVID-19 vaccines along with 4 new administration codes to be used when reporting the administration of these vaccines.
Are You Aware of the 2021 Star Rating System Updates?
November 5th, 2020 - Aimee Wilcox, CPMA, CCS-P, CST, MA, MT, Director of Content
Each year the Centers for Medicare & Medicaid Services (CMS) publishes the Star Ratings System Updates for Medicare Advantage (Part C) and Medicare Prescription (Part D). This rating system was developed to help beneficiaries identify and select the health plans that best meet their needs, specifically addressing main issues:  Quality of ...
Special Needs Plans Help Beneficiaries and Risk Adjustment Reporting
October 22nd, 2020 - Aimee Wilcox, CPMA, CCS-P, CST, MA, MT, Director of Content
It is no secret that Medicare and Medicaid are steadily moving towards their goal of value-based health care. Medicare Part C (Medicare Advantage) identifies and rewards payers, and subsequently their providers, for increasing the efficiency and quality of care they provide to Medicare...