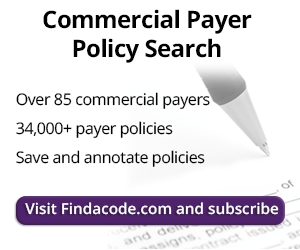 CMS: Medicare Diabetes Prevention Program Expanded Model
November 1st, 2018 - Find-A-Code
0 Votes -

Sign in

to vote or comment.
---
CMS announces the Medicare Diabetes prevention program is now a new covered service. Per a recent MLN news release. Medicare Beneficiaries will be notified in 2019 in a Medicare handout.
Diabetes affects more than 25 percent of Americans aged 65 or older, and its prevalence is projected to increase approximately two-fold for all U.S. adults (ages 18-79) by 2050 if current trends continue. We estimate that Medicare spent $42 billion more in the single year of 2016 on beneficiaries with diabetes than it would have spent if those beneficiaries did not have diabetes; per-beneficiary, Medicare spent an estimated $1,500 more on Part D prescription drugs, $3,100 more for hospital and facility services, and $2,700 more in physician and other clinical services for those with diabetes than those without diabetes (estimates based on fee-for-service, non-dual eligible, over age 65 beneficiaries).
Fortunately, type 2 diabetes can usually be delayed or prevented with health behavior changes. The Medicare Diabetes Prevention Program (MDPP) expanded model is a structured behavior change intervention that aims to prevent the onset of type 2 diabetes among Medicare beneficiaries with an indication of prediabetes. This model is an expansion of the Diabetes Prevention Program (DPP) model test, which was tested through the Center for Medicare and Medicaid Innovation's Health Care Innovation Awards.
The final rule establishing the expansion was finalized in the Calendar Year (CY) 2017 Medicare Physician Fee Schedule (PFS) final rule published in November 2016. On November 2, 2017, CMS issued the CY 2018 PFS final rule, which established policies related to the set of MDPP services, including beneficiary eligibility criteria, the MDPP payment structure, and supplier enrollment requirements and compliance standards aimed to enhance program integrity.
The MDPP Expanded Model
The Medicare Diabetes Prevention Program expanded model is a structured intervention with the goal of preventing type 2 diabetes in individuals with an indication of prediabetes. The clinical intervention consists of a minimum of 16 intensive "core" sessions of a Centers for Disease Control and Prevention (CDC) approved curriculum furnished over six months in a group-based, classroom-style setting that provides practical training in long-term dietary change, increased physical activity, and behavior change strategies for weight control. After the completing the core sessions, less intensive follow-up meetings furnished monthly help ensure that the participants maintain healthy behaviors. The primary goal of the expanded model is at least 5 percent weight loss by participants. The National DPP is based on the results of the Diabetes Prevention Program (DPP) study funded by the National Institutes of Health (NIH). The study found that lifestyle changes resulting in modest weight loss sharply reduced the development of type 2 diabetes in people at high risk for the disease.
The final rule appears in the November 2, 2017 Federal Register and can be downloaded from the Federal Register.
Refer to Medicare Diabetes Prevention Program (MDPP) Expanded Model for additional information.
###
Questions, comments?
If you have questions or comments about this article please contact us. Comments that provide additional related information may be added here by our Editors.
Latest articles: (any category)
Delving Into the 360 Assessment Fraud Complaint
November 17th, 2021 - Jessica Hocker, CPC, CPB
The Department of Justice is pursuing claims of healthcare fraud against Cigna Health-Spring Medicare Advantage plan based on how they used data from their 360 Program in 2012. A review of the allegations may help other payers avoid similar accusations.
Lessons Learned from a RADV Audit Report
November 16th, 2021 - Aimee Wilcox, CPMA, CCS-P, CST, MA, MT, Director of Content
If given an opportunity to know ahead of time the questions that would be asked of you in an upcoming interview or quiz, it is likely the outcome would be significantly better than if you were surprised by the questions. This same concept may be applied to audits of risk ...
Changes in RPM for 2021! Now, Wait for it... New RTM Codes for 2022
November 11th, 2021 - Christine Woolstenhulme, QCC, QMCS, CPC, CMRS
Remote physiologic monitoring and clinical data monitoring is a relatively new concept thriving and growing as an essential component for telehealth services. According to global consumer trends, a company called Dynata reported, "Among the 39% of people who consulted a healthcare professional, two-thirds used telemedicine, many of them for the first time ...
Reporting and Auditing Drug Testing Services
November 9th, 2021 - Aimee Wilcox CPMA, CCS-P, CST, MA, MT
Drug testing is a common medical service used to manage prescription medications, verify someone is not taking illegal substances or too much of a prescribed substance, and monitor for toxicity and therapeutic dosing. It is customary for patients in treatment programs for chronic pain management or substance use disorders (SUD) to undergo random urine drug testing (UDT) or urine drug screening (UDS) as part of their individual treatment plan. Drug testing is regulated by federal and state laws (e.g., OSHA, CLIA), which must be carefully adhered to.
Understanding ASCs and APCs: Indicators and Place of Service
October 28th, 2021 - Christine Woolstenhulme, QCC, QMCS, CPC, CMRS
The decision regarding the most appropriate care setting for a given surgical procedure is determined by the physician based on the patient's individual clinical needs and preferences. Of course, there is a difference in reimbursement, and the billing depends on where the procedure took place, such as an office setting, inpatient ...
Are You Keeping up with the Official ICD-10-CM Guideline Changes for COVID-19?
October 25th, 2021 - Wyn Staheli, Director of Research
The COVID-19 public health emergency (PHE) has made it interesting and challenging for organizations to keep an eye on the evolving changes to the ICD-10-CM Official Guidelines for Coding and Reporting. Have you been keeping up with these changes?
Is Your Organization Ready to Deal with Provider Relief Fund (PRF) Audit Contractors?
October 15th, 2021 - Aimee Wilcox, CPMA, CCS-P, CST, MA, MT, Director of Content
Audits are currently underway to verify the monies distributed through the CARES Act were warranted and properly used by those organizations that received them. The federal government has contracted with financial institutions such as KPMG and PricewaterhouseCoopers, among others, to perform these audits referred to as Provider Relief Fund (PRF) audit contractors, funded with monies from the very same program. There were four phases of funding disbursements with phase 1 audits beginning in September. How ready are you to be audited?