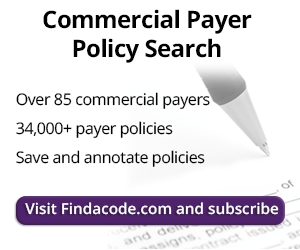 Medicare Improper Payment Report (2016)
September 1st, 2017 - Wyn Staheli
0 Votes -

Sign in

to vote or comment.
---
The Medicare Improper Payment Report for 2016 has been released by the OIG. Please note that the improper payment rate does not measure fraud. Rather, it estimates the payments that did not meet Medicare coverage, coding, and billing rules. The estimated Medicare FFS payment accuracy rate (claims paid correctly) from July 1, 2014 through June 30, 2015, was 89.0 percent. The estimated improper payment rate (claims paid incorrectly) was 11.0 percent which is a decrease from last years 12.1 percent rate.
As with most years, the biggest problem was the lack of documentation (64 percent of improper payments) to support the services or supplies billed. It should be noted that although those numbers have decreased from last year, there is still room for improvement. The following table from this report summarizes the problems by various categories and claim types.
Table A2: Comparison of 2015 and 2016 National Improper Payment Rates by Error Category (Adjusted for Impact of A/B Rebilling)
| | | | | | | |
| --- | --- | --- | --- | --- | --- | --- |
| | 2015 | 2016 | | | | |
| Error Category | Total | Total | Part A Excluding Hospital IPPS | Part A Hospital IPPS | Part B | DMEPOS |
| No Documentation | 0.2% | 0.1% | 0.0% | 0.0% | 0.1% | 0.0% |
| Insufficient Documentation | 8.1% | 7.2% | 4.2% | 0.1% | 2.0% | 0.8% |
| Medical Necessity | 2.1% | 2.2% | 1.4% | 0.7% | 0.1% | 0.0% |
| Incorrect Coding | 1.3% | 1.1% | 0.1% | 0.3% | 0.7% | 0.0% |
| Other | 0.4% | 0.4% | 0.1% | 0.1% | 0.0% | 0.2% |
| TOTAL | 12.1% | 11.0% | 5.9% | 1.2% | 2.9% | 1.0% |

To review information pertaining to your specialty, open the report found in the link in the "References" section below. It is a PDF file so you can search for information on your specialty by using [Ctrl]+[F] to look for key terms like DME or "Family Practice".
###
Questions, comments?
If you have questions or comments about this article please contact us. Comments that provide additional related information may be added here by our Editors.
Latest articles: (any category)
Patients Over Paperwork?! We have Great News!
July 18th, 2018 - Chris Woolstenhulme, QCC, CMCS, CPC, CMRS
Spend more time with patients and less time documenting? Great Concept! Document meaningful information? Sound good? CMS is proposing just that! CMS released a new proposal July 12, 2018, focused on streamlining clinician billing and expanding access to high-quality care. The goal is to improve and restore the doctor-patient relationship, modernize Medicare ...
Understanding the Level of Preventative Services (Grades and Suggestions)
July 17th, 2018 - Chris Woolstenhulme, QCC, CMCS, CPC, CMRS
It is essential for providers, clinicians, and other users to understand the importance of providing preventative services.  The U.S. Preventative Services Task Force (USPSTF) has recommendations and has applied Grade Definitions as a suggested resource to imply the significance and strength of preventative services.  The following definitions apply to recommendations ...
Attention Providers - Please Make Time to Read this Letter
July 17th, 2018 - Chris Woolstenhulme, QCC, CMCS, CPC, CMRS
In an effort to show CMS is committed to changing the rules to accommodate their providers CMS released a letter to Doctors of Medicare Beneficiaries. The letter offers encouragement and a promise to reduce the burden of unnecessary rules and requirements. The letter states "President Trump has made it clear that ...
CMS Proposed New E/M Codes for Podiatry
July 16th, 2018 - Chris Woolstenhulme, QCC, CMCS, CPC, CMRS
According to CMS changes are coming for E/M codes.  A recent proposal from CMS stated: "The E/M visit code set is outdated and needs to be revised and revalued." Since podiatry tends to furnish a lower level of E/M visits, CMS is proposing new G-codes to report E/M office/outpatient visits. The proposed ...
Dual Medicare-Medicaid Billing Problems
July 12th, 2018 - Wyn Staheli, Director of Research
It is important to keep in mind that Medicaid is run at a state level so there can be some differences when it comes to coverage. However, the rules regarding balance billing of covered services is set at the federal level. The law states (emphasis added): A state plan must provide ...
Small Practices are Affected by MIPS Increased Thresholds
June 25th, 2018 - Wyn Staheli, Director of Research
We recently heard about a small practice that had been faithfully submitting all the required "G" codes for the Quality Payment Program (QPP) only to discover that for 2018 they are excluded from MIPS because the low volume threshold increased from $30,000 in Part B allowed charges or 100 Part ...
How Does the Physician Compare Website Affect You?
June 25th, 2018 - Wyn Staheli, Director of Research
The physician compare website may not be working quite the way you think it is. Not all providers will have rankings showing up for them. Physician compare lists basic information, but quality measure information was not added until this year (2018) and not all quality measures are included in the ...