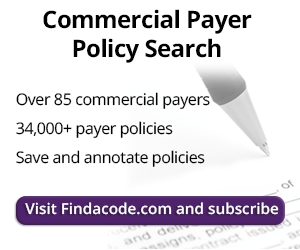 Medicare Reimburses for Discarded/Wasted Drugs
January 5th, 2018 - Aimee Wilcox, CPMA, CCS-P, CST, MA, MT
0 Votes -

Sign in

to vote or comment.
---
For years providers have lost money by discarding expensive drugs and biologicals for patient's whose dosing is sometimes significantly less than the smallest vial of medication that can be purchased for a single dose vial or single dose unit. Because of this some providers and organizations have tried to store and use the remaining amounts for additional doses to the same patient and even for others, thinking they are using sterile needles so it should be fine. Unfortunately, because these single dose vials and units don't have an antimicrobial preservative in them, microbes quickly grow within the vial, putting anyone at risk who may receive another dose. Sometimes there are limited quantities of drugs causing huge price increases, creating a desire to preserve what little drug remains in one of these single dose vials, but nevertheless, the risk of infection and even death is significant if a patient is exposed to these dangerous microbes.
To help alleviate the concern for the significant loss of money by discarding these expensive drugs, on January 1, 2017, Medicare implemented a new policy that will pay for discarded drugs from single dose or single unit drugs like these. The Medicare Claims Processing Manual, Chapter 17, Section 40, states,

"When a physician, hospital or other provider or supplier must discard the remainder of a
single use vial or other single use package after administering a dose/quantity of the drug
or biological to a Medicare patient, the program provides payment for the amount of drug
or biological discarded as well as the dose administered, up to the amount of the drug or
biological as indicated on the vial or package label."
What do providers have to do to get paid for the discarded drugs?

1. The patient must be administered the drug in an approved, Part B setting such as:
Physician's office

Hospital Outpatient Setting

Critical Access Hospitals (CAHs)

Pharmacies

*Rural Health Clinic (RHC)

*Federally Qualified Health Center (FQHC)
*influenza, pneumococcal, and Hepatitis B vaccines only
Locations not authorized to report modifier JW include:
Hospital inpatient admissions that bill under the Inpatient Prospective Payment System

RHCs and FQHCs for drugs other than those listed above with the asterisk (*)

Part B drug Competitive Acquisition Program (CAP)
2. The drug must be a separately payable Part B drug found on the FDA-approved list, which can be found at http://www.accessdata.fda.gov/scripts/cder/drugsatfda/.
3. Only single dose/unit drugs are eligible for payment with documentation of the wasted quantity are eligible. SINGLE in this instance means the drug is purchased for a SINGLE procedure or service, for a SINGLE patient, and used just once for that patient only. If, after the injection is administered, there is still some drug remaining in the vial, the quantity should be calculated, documented in the medical record, and discarded. It cannot be used again for another procedure or injection, even on the same patient; this is simply a safety issue. Because multi-use vials contain an antimicrobial preservative in them, they are safe for multiple uses and if drugs are wasted from those vials, they are NOT eligible for reimbursement using the JW modifier.

4. The medical record should contain documentation of the injection (name of drug, strength, quantity, injection site, and who administered it) and the amount discarded to support the charges.

5. Report the service codes as you normally would; but report the discarded amount on a separate line using the same HCPCS code but with modifier JW to identify the quantity and charge as the discarded portion.

Example: The patient was administered an injection of Ketorolac tromethamine 60mg from a single dose vial of 2ml Ketorolac tromethamine 60mg/ml. The remaining 60mg or 1 ml of the drug was wasted.
The vial label and documentation reveals a 2ml single dose vial of Ketorolac tromethamine 60mg/ml. This means the vial contains 120mg of the drug but the provider only used half of it for this patient. The number one audit finding for overpaid or underpaid drug coding is the number of units being reported. Because code J1885 is for 15mg of the drug, you must report four (4) units to equal the 60mg (15 x 4 = 60) administered.

Code Description

96372 Therapeutic injection
J1885 Injection, ketorolac tromethamine, per 15 mg (4 units)
J1885 JW Injection, ketorolac tromethamine, per 15 mg (4 units)
###
Questions, comments?
If you have questions or comments about this article please contact us. Comments that provide additional related information may be added here by our Editors.
Latest articles: (any category)
​​Polysomnography Services Under OIG Scrutiny
September 2nd, 2021 - Raquel Shumway
The OIG conducted a study dated June 2019 wherein they indicated that there were approximately $269 million in overpayments for polysomnography services for the period of 2014 through 2015. According to the OIG "These errors occurred because the CMS oversight of polysomnography services was insufficient to ensure that providers complied with Medicare requirements and to prevent payment of claims that didn't meet those requirements." So what are those requirements?
Medicare Advantage - The Fastest Growing Government-Funded Program Undergoing Multiple Fraud Investigations
August 16th, 2021 - Aimee Wilcox, CPMA, CCS-P, CST, MA, MT, Director of Content
Medicare Advantage is the fastest growing form of government-funded healthcare and the rate of fraud within this segment has come under increased scrutiny. Funding is determined by the health status of each beneficiary; therefore, accurate coding based on detailed documentation makes the medical record vital to the process because some ...
Billing Dental Implants under Medical Coverage
August 12th, 2021 - Christine Woolstenhulme, QCC, QMCS, CPC, CMRS
Implants can be costly to the patient and the provider, and it is crucial to understand how to bill a patient's medical insurance to ensure there is adequate coverage for the best treatment. Implants are commonly billed in a dental office under a patient's medical benefits.    Implants could be considered ...
New Codes for COVID Booster Vaccine & Monoclonal Antibody Products
August 10th, 2021 - Wyn Staheli, Director of Research
New codes have been announced for the COVID-19 booster vaccine, Novavax vaccine, and monoclonal antibody treatment.
Medicare's ABN Booklet Revised
July 29th, 2021 - Wyn Staheli, Director of Research
The "Medicare Advance Written Notices of Non-coverage" booklet, published by CMS's Medicare Learning Network, was updated. This article discusses the changes to this booklet regarding the use of the ABN.
Chronic Pain Coding Today & in the Future
July 19th, 2021 - Wyn Staheli, Director of Research
Properly documenting and coding chronic pain can be challenging. As is commonly the case with many conditions, over the years, there has been a shift in the identification of different types of pain, including chronic pain. Understanding where we are now and where we are going will help your organization prepare for the future by changing documentation patterns now.
How Does Global and Professional Direct Contracting (GPDC) Affect Risk Adjustment?
July 15th, 2021 - Aimee Wilcox, CPMA, CCS-P, CST, MA, MT, Director of Content
CMS recently announced the 53 Direct Contracting Entities (DCEs) that will be participating in the April 1, 2021 through December 31, 2021 Global and Professional Direct Contracting (GPDC) Model. Among those participating is Clover Health Partners, who runs an in-home primary care program that has the potential to help Medicare ...