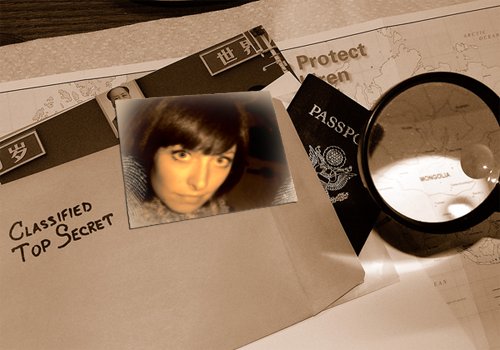 Jennifer Schmutz a.k.a. jschmutz
| | | |
| --- | --- | --- |
| Member since: | October 9th, 2009 | |
| Badges: | 323 | |
| Email: | | |
Work Experience
Coding, coding and more coding.
About Me
My beginning as a legally recognized individual occurred on a Tuesday, sometime in the 1970 decade, in an area of the great west known as Utah. My beginning as a legally recognized CPC occurred on February 30, 1997 in the same area of the great west. Many things were accomplishable in those days, without possibly even thinking of a factor to worry about. But this innocent lifestyle was to soon come to an end as UHC became impossible to deal with.
My Interests
I enjoy jumping out of airplanes for free (E843.7) and driving fast (E000.8). I panic during SCUBA dives (E002.4), but I continue to "SCUBA." Occasionally I'll venture to the mountains for some hiking with friends (E001.0) or just to watch the trees dance. A few times a year I like to throw myself down a snow covered mountain (E003.3) just to see what happens -- once my shoulder came out (831.03), that was cool. When I'm feeling exceptionally frisky I'll go to the ballet, and when I'm feeling productive I'll watch a good TV show.
My Articles
January 5th, 2011
Clear the Smoke on Debridement and Active Wound Care Codes

Confused about when to choose a debridement code and an active wound code? CPT® 2011 is here to your rescue with revised debridement code guidelines that clarify how to choose between the two code groups — and the key word that will tighten up your coding is depth. "Depth is the...
My Forum Questions/Replies
Dec 20th, 2013 - kat1940

Lumbar radiculopathy
Dec 6th, 2012 - slowe

1

fusion coding
Aug 23rd, 2012 1st - Dede

3

CPT® coding
Aug 23rd, 2012 1st -

3

Spinal Surgery Coding
Aug 10th, 2012 - billings123

74

ICD9
Jun 22nd, 2012 1st -

1

trigger point injection
Jun 21st, 2012 - jschmutz

323

Remote Diagnostic Radiology Coder - Work from home
Jun 6th, 2012 - jschmutz

323

Debridement with Surgical Procedures
Jun 1st, 2012 - jschmutz

323

61783 versus 20985 versus 0054T
May 11th, 2012 1st - gerber54

1

Modifier for 98943
May 11th, 2012 1st -

1

Laminectomy 63045-63047 and fluoroscopy
May 10th, 2012 - jschmutz

323

Need help coding this Spinal Cord Stimulator procedure
May 9th, 2012 1st -

2

struggling with MDM
May 9th, 2012 - jschmutz

323

Occipital Neurectomy during Chiari Decompression
May 9th, 2012 - ens5

3

CPT® 20605
May 8th, 2012 - jschmutz

323

WANTED: Orthopedic E/M Coder to work Remotely
May 8th, 2012 - jschmutz

323

WANTED: Remote E/M Orthopedic Coder
Nov 17th, 2011 1st -

2

VP shunt placement coding
Oct 19th, 2011 1st - ALIMAC

18

J1040/J1030/J1020 billing
Oct 6th, 2011 -

3

Office consult and admit on same date
Oct 6th, 2011 1st -

3

excision of sebaceous cysts on scalp
Oct 5th, 2011 1st - angela52

16

coding Omnipaque and Depo medrol
Oct 4th, 2011 -

5

Excision benign lesions from 3 sites_help needed for correct coding
Oct 3rd, 2011 1st -

3

Trimalleolar Fracture

Sep 29th, 2011 - dgillmd

excision
Sep 28th, 2011 - peds28490

5

Modifer Help!!! Please!!!!
Sep 27th, 2011 -

2

J1030 versus j1040 (depomedrol injection CPT)

Sep 23rd, 2011 - dgillmd

20552
Sep 23rd, 2011 1st -

4

What is the code for developmental delay
Sep 21st, 2011 - rhina

52

CPT® question
Sep 21st, 2011 1st - becka95

1

Foraminotomy without a facetectomy??
Sep 20th, 2011 - Shannan

28

Consult
Sep 19th, 2011 - harmijo

8

Diagnostic procedure
Sep 16th, 2011 1st - Lourd123

2

765.18
Sep 16th, 2011 - coder007

5

What modifier to use for inpatient services?
Sep 15th, 2011 -

4

Billing consultation code
Sep 15th, 2011 - rhina

52

What should be the best DX code to used?
Sep 15th, 2011 - susan5255

1

Injection procedure for identification of sentinel node with intradermal radioisotope injection for the staging of clinically negative axillae in a patient with primary malignant neoplasm of the central portion of the right breast. CPT® code(
Sep 14th, 2011 - TerryC

39

global period,,timing question

Sep 13th, 2011 - gloria.walker

Carpal tunnel screening test
Sep 13th, 2011 -

1

21930 versus 27047 excision mass down to subcutaneous tissue buttock
Sep 8th, 2011 1st - stomach1

3

Peg Tube Removal
Sep 7th, 2011 - harmijo

8

Multiple procedures
Sep 6th, 2011 - Shannan

28

11406 CPT® Denial
Sep 6th, 2011 1st -

5

96372
Sep 6th, 2011 1st - nelrabie
CPT® code 46040
Sep 5th, 2011 1st - badal106

1

Knee Xray Coding confusion
Sep 1st, 2011 - KJMills

7

HELP ! Anterior cervical arthrodesis 22551?
Aug 30th, 2011 1st - Nshdrmmr
CPT® Codes
Aug 30th, 2011

- harmijo

8

Incision pain
Aug 30th, 2011 1st - gbonner02

1

LCD for code 29877
Aug 30th, 2011 - drashish

17

observation code question

Aug 27th, 2011 - angemp26

radiology report
Aug 25th, 2011 -

1

Open for Ideas
Aug 24th, 2011 - CORTEZL

3

x-ray shoulder
Aug 24th, 2011 1st - jwest7
CPT® code for echo interpretation only
Aug 23rd, 2011 - harmijo

8

Podiatry visits--is E/M needed
Aug 23rd, 2011 - Shannan

28

suture removal
Aug 23rd, 2011 1st - ltingley

3

screening diagnosis code for 76770
Aug 23rd, 2011 1st -

1

-76 modifier use
Aug 22nd, 2011 1st - MedLadyTX

1

Coding CPT® 26111
Aug 17th, 2011 1st - dgarrett10
modifier 57
Aug 17th, 2011 - rphelps

615

1

Excision lesions and tags
Aug 17th, 2011 - precod

10

Promed Denial for CPT® J1040,S0020, J2001
Aug 16th, 2011 - harmijo

8

knee injection
Aug 16th, 2011 - rphelps

615

1

Prg Tube Change 43760
Aug 15th, 2011 - TerryC

39

I need help please Follow-up during global period
Aug 11th, 2011 -

2

Global Period with Cast
Aug 11th, 2011 1st - mrmorgan
j-tube adjustment
Aug 10th, 2011 1st -

2

Procedure not performed
Aug 9th, 2011 - michelle.advancedortho

2

Ultra Sound guided injections
Aug 9th, 2011 -

1

Facet injections
Aug 1st, 2011 - KJMills

7

Code Bone Marrow aspiration?
Jul 29th, 2011 1st - harmijo

8

post op followup
Jul 28th, 2011 1st -

1

bone grafting
Jul 27th, 2011 1st - Clemes
Coding for depo medrol injections
Jul 21st, 2011 1st - dcrenshaw

1

E&M Billed after ER Hospital Visit
Jul 21st, 2011 - padi1coder

10

Lumbar laminectomy including synovial cystectomy
Jul 20th, 2011 1st - Robin
Coding 63650 for Tricare

Jul 20th, 2011 - sarfy

dry skin icd9 code
Jul 20th, 2011 -

2

Free consultation for Medicare Patients
Jul 19th, 2011 - Shannan

28

office visit, wound care
Jul 19th, 2011 - wwheeler

2

repair csf leak
Jul 19th, 2011 - ravip3366

19

preoperative clearance consultation
Jul 19th, 2011 - ravip3366

19

E-mail communication of PHI with patient
Jul 18th, 2011 1st - Godswill4
CPT® Code 63042,59 denied inclusive to 63047
Jul 15th, 2011 - funequa

5

Proper Coding and billing for an Event recorder
Jul 14th, 2011 - deniseb2011

2

coding a procedure
Jul 13th, 2011 1st - Wdockat
CPT® Code
Jul 13th, 2011 - Shannan

28

Modifiers
Jul 11th, 2011 1st - PhyllisT15
Status of New Problem for E/M service
Jun 30th, 2011 - afzal.zee

19

May we bill more than one units for CPT® 82270?
Jun 30th, 2011 1st - jlg123
Technical and professional componenets
Jun 30th, 2011 -

3

Pre-operative guidlines
Jun 30th, 2011 - Shannan

28

adhesions secondary to circumcision
Jun 28th, 2011 - RTINNEY

23

Exc of Mass
Jun 27th, 2011 - drashish

17

abnormal findig during a annual
Jun 23rd, 2011 - funequa

5

Ortho coding question
Jun 22nd, 2011 1st - xprtcodefile
What is the most up to date code for CPT® 49201?
Jun 22nd, 2011 - pvang

4

36215-36218 Explanations PLEASEE!
Jun 22nd, 2011 1st -

1

TM 100 trabecular metal implant by Zimmer
Jun 22nd, 2011 1st -

1

Workman compensation Claim
Jun 21st, 2011 - cforsthoefel

10

bilateral joint injection, shoulders both injected

Jun 21st, 2011 - awells1

v codes
Jun 20th, 2011

-

10

need documentation requirements for operative note
Jun 19th, 2011 1st - missann01
enteropathic arthropathy left ankle and foot
Jun 16th, 2011 - milani

10

cross connector
Jun 16th, 2011 1st - dkmathis

1

Facet Injections
Jun 16th, 2011 -

1

guideline for timeframe on stroke to be considered history code V12.54
Jun 16th, 2011 - Bethpostoab

11

Bone Fragment excision code
Jun 16th, 2011 - CJ4ever

1

Trigger Point Injection
Jun 15th, 2011 1st - virginiaziegler
The doctor is using platelet rich plasma for injections to tendons if he does three injection at the same time do we only bill 20550 once?
Jun 15th, 2011 - rphelps

615

1

Referrals
Jun 13th, 2011 - TerryC

39

I&D follow up, please help
Jun 10th, 2011 - cbishop

3

Use modifier 52?
Jun 7th, 2011 1st - precod

10

Anterior Diskectomy L5-S1 with anterior Foraminotomy L4-S1
Jun 3rd, 2011

-

7

99212 With 99396
Jun 3rd, 2011 - shepherd101627

1

Professional and Techincal Component
Jun 3rd, 2011 -

2

Help! EXCISION CYST SUBCUTANEOUS EAR
Jun 2nd, 2011 1st - medicalcoder519
99215 and 99396
Jun 2nd, 2011 - Robin4867

1

medical billing
Jun 2nd, 2011 1st - Joey12
What is it considered when you list each vaccine separately when a combination vaccine is available?
Jun 1st, 2011 - shepherd101627

1

Patient transfer between facilities
Jun 1st, 2011 - marymurk

2

wound care clinic billing
May 31st, 2011 1st - pvang

4

Use of V58.6X codes
May 30th, 2011 - anil

6

Billng Rules For Surgery And ICU
May 27th, 2011 1st - laureenpel
modifier -53
May 26th, 2011 1st - vazquezy

2

HCPCS code G0364
May 26th, 2011 - Bethpostoab

11

Rotator Cuff Repair
May 26th, 2011 -

2

subsquent visit
May 26th, 2011 1st - codermichelle
"complete" bilateral extremity run-off angiography
May 26th, 2011 -

1

Labral Tear
May 25th, 2011 - Katieriley

1

CVA coded with benign HTN

May 25th, 2011 - rmeadors

PA billing
May 24th, 2011 1st - CLisica
Fluoroscopy 76000
May 24th, 2011 1st - breathe3
25 vs 57 modifier
May 24th, 2011 - TerryC

39

casting ?
May 23rd, 2011 -

3

L2114
May 22nd, 2011 - sreshta

45

Physical Therapy

May 20th, 2011 - dgillmd

routine drug screening
May 18th, 2011 -

1

icd-9 for roux-en-y stasis
May 17th, 2011 -

2

ICD-9 and CPT® coordinating codes
May 17th, 2011 -

4

coding excision and ED of multiple Neurofibromas
May 17th, 2011 - coder007

5

AAOS coding rules for Orthopedics
May 16th, 2011 1st -

1

error on top CPT® code page
May 16th, 2011 -

4

symptoms
May 14th, 2011 1st - ultimaparte
help coding the following!
May 13th, 2011 1st - Sandia66
PALONOSETRON (Aloxi) J2469
May 13th, 2011 1st -

1

Exam deferred per patient
May 12th, 2011 1st -

1

Modifier 25 with pft on office visit scheduled same day
May 12th, 2011 1st - Shannan

28

Billing Gamma Injections

May 12th, 2011 - jackie

Digital Blocks in office prior to taking patient to surgery
May 12th, 2011 1st - wb12m1984
Are Surgical Assistant claims payable?
May 12th, 2011 1st - akif
77370
May 12th, 2011 - bigdog40

27

HCFA form help?
May 11th, 2011 -

2

Billing for 93567
May 11th, 2011 -

3

pain management billing for iliac crest injection
May 11th, 2011 1st -

1

HCPCS 77075
May 10th, 2011 -

4

96372 w/ office E/M - Carol
May 10th, 2011 1st -

2

CPT® Charges for Hospital vs office
May 10th, 2011 1st -

1

procedure code 27447
May 4th, 2011 -

3

Billing a 99211 with a 85610
May 3rd, 2011 1st - tlucarelli
Electrical stimulation prior to medial branch block of the same nerve
May 3rd, 2011 -

1

Problems managed elsewhere & mdm
Apr 30th, 2011 1st - mdreview
epicondylitis 24359
Apr 7th, 2011 - Bethpostoab

11

How to code for failed Closed reduction of fracture followed by Surg
Apr 7th, 2011 -

2

Office staff coding E/M
Apr 6th, 2011 1st -

1

modifier 78

Apr 6th, 2011 - docnuzhat

ICD 9 code
Apr 5th, 2011 1st -

2

Aspen interspinous device
Apr 4th, 2011 1st - cornelia
Shoulder injection
Apr 4th, 2011 - jschmutz

323

Rule: Billing/Coding Based on Payer
Apr 4th, 2011 - DebraS

67

J0670 with 20610 Ortho office setting
Apr 4th, 2011 1st - KatieWashburn
Codebooks
Apr 4th, 2011 - MKD

1

Work RVU, malpractice RVU, transitioned RVU
Apr 1st, 2011 1st -

1

Sebaceous Cyst Removal
Mar 31st, 2011 1st - codergirl7
Billing Kenalog
Mar 30th, 2011 - TerryC

39

Help please,CPT® coding for cyst removal
Mar 9th, 2011 -

3

Evaluation and Management Modifier

Mar 9th, 2011 - nazanin

price of codes
Mar 2nd, 2011 1st -

2

Critical Care Time Codes
Mar 1st, 2011

-

8

actinic keratosis vs. actinic dermatitis
Mar 1st, 2011 1st - LindaS
Surgical procedure
Feb 28th, 2011 1st -

1

ICD-9 code for arthrodesis

Feb 26th, 2011 - nancyh1102

x-rays taken after surgical procedure
Feb 25th, 2011 -

4

Debridement denial for medical necessity
Feb 24th, 2011 - tjoossens

2

Cortical Mapping during Craniotomy
Feb 23rd, 2011 - kishorethakkar

1

Pqri
Feb 19th, 2011 - sreshta

45

Billing Procedure
Feb 16th, 2011

- jschmutz

323

Help with diagnosis
Feb 16th, 2011 -

2

location codes
Feb 10th, 2011 - mjadea2010

1

CPT® code
Feb 10th, 2011 1st -

2

EMG Coding
Feb 8th, 2011 - jschmutz

323

Remote Coding Position Available for Rad/Onc and IVR Coder
Feb 8th, 2011 - lockmand

3

11750 & 11765 bundled
Feb 8th, 2011 - tls131

19

Help with ICD9
Feb 2nd, 2011 - Bethpostoab

11

Orthopaedic Billing Question
Feb 1st, 2011 1st -

1

What type of service code should be used with 97597 and 97598
Jan 28th, 2011 - martins

2

Alternate
Jan 28th, 2011 - sreshta

45

Lab & Radiology Interpretations
Jan 27th, 2011 - sreshta

45

CPT® Code 35470
Jan 27th, 2011 - rphelps

615

1

Needle stick (accidental)
Jan 27th, 2011 -

1

Diagnostic Tests Modifier
Jan 26th, 2011 -

1

j7325
Jan 26th, 2011 - rphelps

615

1

Histology
Jan 25th, 2011 1st -

2

ultrasonic guidance for needle placement for injections
Jan 25th, 2011 1st -

2

Hyperbaric Oxygen Therapy
Jan 25th, 2011 - koatsj

160

admissions
Jan 25th, 2011 -

1

urethral stricture
Jan 25th, 2011 1st - katnap

1

Repair Quadriceps
Jan 24th, 2011 - kishorethakkar

1

CPT® 73030
Jan 18th, 2011 -

1

Modifier
Jan 18th, 2011 -

2

CPT® not allowed w/same date of service ( Physician Bill)
Jan 17th, 2011 1st -

3

What is correct in order to bill out correctly
Jan 13th, 2011 - daystarjj

4

2011 definitions for wound debridement codes
Jan 12th, 2011 - jattjee

2

J1100 decadron
Jan 11th, 2011 1st -

1

Codes with z in front
Jan 8th, 2011 1st - jurek
Physician Consult in the ED
Jan 7th, 2011 1st - bdunham
J0570 is deleted from HCPCS, what do we replace it with
Jan 6th, 2011 - jschmutz

323

Can you charge a Self-Pay patient for an assist when CMS doesn't allow an assist?
Jan 6th, 2011 - rphelps

615

1

Fee Schedule
Jan 5th, 2011 1st - diva3466

2

Debridement
Jan 5th, 2011 - rphelps

615

1

Ct's
Jan 4th, 2011 1st

- rohit252008

4

ICD-10 Sessions
Jan 4th, 2011 -

2

Help
Jan 4th, 2011 1st -

4

E/M same day different hospitals
Dec 30th, 2010 - bigdog40

27

Diagnosis code help
Dec 28th, 2010 1st - lena
Medical Billing & Coding
Dec 28th, 2010 - bigdog40

27

Diagnosis code help
Dec 9th, 2010 - ranawaheed321

4

new patient codes
Dec 6th, 2010 - sreshta

45

Websites
Dec 2nd, 2010 1st -

1

fracture care
Dec 2nd, 2010 - jschmutz

323

2011 CPT® Codes Effective for Use
Nov 29th, 2010 1st - MizMaire
E/M Code Bundled with Radiology Code
Nov 23rd, 2010 -

2

Wound Dressing Change
Nov 19th, 2010 - tls131

19

Infusion codes
Nov 19th, 2010 1st -

1

Middle Ear
Nov 19th, 2010 - sreshta

45

Implat Procedures
Nov 16th, 2010 1st - cscholtens
correctly code a 20610 with synvisc
Nov 15th, 2010 1st - rajesh
Rvu
Nov 12th, 2010 - Bethpostoab

11

Help with Code

Nov 4th, 2010 - kmiller

laparoscopy
Nov 3rd, 2010 1st - KJMills

7

Insertion Spinal cord stimulator T-8
Oct 22nd, 2010 -

3

Ceritified Coder
Oct 21st, 2010 - rphelps

615

1

82274 stool studies
Oct 20th, 2010 - kari

10

e/m coding
Oct 18th, 2010 1st - dsharma83
69200
Oct 15th, 2010 - ASTOUGH

15

Abdominal wall mass
Oct 15th, 2010

- mesalamb

26

history of polyps vs. screening colonoscopy
Oct 8th, 2010 1st -

3

H & P and Time frame question
Oct 7th, 2010 1st - afzal.zee

19

What is the appropriate ICD for heel pain?

Oct 6th, 2010 - DeniseCFK

Answer to my question?

Oct 6th, 2010 - vadeleye

information or a ruling on the 26 modifier for labs and pathology
Oct 5th, 2010 -

1

Multiple assistants
Oct 4th, 2010 - rphelps

615

1

Multiple endoscopies
Oct 2nd, 2010 -

1

724.03
Oct 1st, 2010 - mkimbrell

2

Burn Debridement
Sep 30th, 2010 - mesalamb

26

Coding for Family Consultation
Sep 13th, 2010 - rphelps

615

1

elevated liver functions
Sep 8th, 2010 1st - karenz29

1

Spinal Hardware Injection
Aug 27th, 2010 1st -

1

Radiology - Early detection screenings.
Aug 27th, 2010 1st -

2

11300 & 17110
Aug 27th, 2010 - lvbmj

8

Ortho MRI billing
Aug 26th, 2010 - paulapreston

8

Documentation for a 99243 visit
Aug 24th, 2010 1st - danielbbennettmd
menopause

Aug 24th, 2010 - sla696

PRP Injection
Aug 24th, 2010 1st -

1

95865
Aug 24th, 2010 - Bethpostoab

11

Ortho Coding Help
Aug 24th, 2010 -

2

injections
Aug 23rd, 2010 1st - drbielingsaipan
Dyspareunia
Aug 23rd, 2010 1st - sla696
PRP Injection
Aug 23rd, 2010 -

2

Insurance rule on paying multiple procedures
Aug 23rd, 2010 1st -

1

dysfunction
Aug 23rd, 2010 - jschmutz

323

Operative Report Documentation
Aug 23rd, 2010 1st - kmiller
billing for bandages
Aug 20th, 2010 -

1

Neoplasms - 238.2 vs 239.2
Aug 20th, 2010 - jschmutz

323

Audiology Procedure Coding/Documentation
Aug 20th, 2010 1st - marycpc
bilateral procedures
Aug 20th, 2010 1st - Jen1971
Modifier 25 and 59 Questions..

Aug 17th, 2010 - Krogers

Modifier -32
Aug 12th, 2010 - jen

4

Thoracic and Lumbar Spine Reconstructions
Aug 11th, 2010 - jschmutz

323

ICD9 for baseline testing prior to PE tube removal
Aug 11th, 2010 1st -

1

Colonoscopy and Medicare
Aug 11th, 2010 -

1

Cochlear device removal
Aug 10th, 2010 - Bethpostoab

11

Bone Stimulator Billing 20974 Rules
Aug 9th, 2010 1st - lburdick
V42.5 & v45.61 & v43.1
Aug 5th, 2010 1st - lmsmith
What CMS calls a new patient
Aug 5th, 2010 - cbishop

3

Excision external hemorrhoid
Aug 4th, 2010 - tgreathouse

2

Nonphysician telephone services
Aug 3rd, 2010 - LSCHWAN

1

What procedure code do I use when the doctor does a hospital admission note only?
Aug 2nd, 2010 1st - jdolan

2

Followup visits
Aug 2nd, 2010 1st - pambuskey
modifiers 77 and 59
Jul 30th, 2010 - Bethpostoab

11

Chondroplasty question
Jul 15th, 2010 1st -

3

coding guidelines
Jul 14th, 2010 - henry1234

13

documentation amendment

Jun 3rd, 2010 - anikad

Correct diagnosis coding for allergy injections
Feb 12th, 2010 - cbishop

3

Joint injection - major vs intermediate
Feb 12th, 2010 -

3

Emg
Oct 9th, 2009 1st - jschmutz

323

Test: Ask a Question
May 6th, 2009 1st - Alexand945
Plasma rich platelet injections
Apr 6th, 2009 1st -

3

minimally invasive lumbar decompression procedure