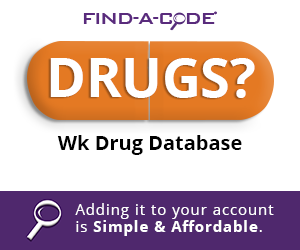 WHO Said ICD-11 is Coming Soon
June 26th, 2018 - Chris Woolstenhulme, QCC, CMCS, CPC, CMRS
0 Votes -

Sign in

to vote or comment.
---
Sooner or later ICD-11 will be released, and it sounds like it will be sooner than later. WHO released the news on June 18, 2018. The World Health Organization stated "ICD-11 will be presented at the World Health Assembly in May 2019 for adoption by Member States, and will come into effect on 1 January 2022. This release is an advance preview that will allow countries to plan how to use the new version, prepare translations, and train health professionals all over the country."
Dr Lubna Alansari, WHO's Assistant Director-General for Health Metrics and Measurement, says: "ICD is a cornerstone of health information and ICD-11 will deliver an up-to-date view of the patterns of disease."
There will be some changes such as there will be no alpha "I" like we are used to seeing in ICD-10 for cardiology and the letter "O" will no longer be used for obstetrics codes.
Take a look at a few examples of what we will see with ICD-11.
NC32.50

Fracture of lower end of radius, dorsal tilt

Colles fracture

NC32.51

Fracture of lower end of radius, volar tilt

Smith fracture
FB80.7 Malunion of fracture
All ancestors up to top
Postcoordination
Add detail to Malunion of fracture
Laterality (use additional code, if desired)
XK9J Bilateral
XK8G Left
XK9K Right
XK70 Unilateral, unspecified
XK6G Unspecified laterality
Specific anatomy (use additional code, if desired)
According to ICD-10 Monitor the code for Type 1 DM with diabetic retinopathy will look like this:
| | | |
| --- | --- | --- |
| 6A10 Type 1 diabetes mellitus | MG45 Diabetic retinopathy | Final code: 6A10/MG45 |
Chapters used with ICD-11 - Mortality and Morbidity Statistics will have several changes such as the addition of several new chapters. There will be a chapter for Supplemental Extension codes used to identify more detail, history, injury, staging.
01 Certain infectious or parasitic diseases

02 Neoplasms

03 Diseases of the blood or blood-forming organs

04 Diseases of the immune system

05 Endocrine, nutritional or metabolic diseases

06 Mental, behavioral or neurodevelopmental disorders

07 Sleep-wake disorders

08 Diseases of the nervous system

09 Diseases of the visual system

10 Diseases of the ear or mastoid process

11 Diseases of the circulatory system

12 Diseases of the respiratory system

13 Diseases of the digestive system

14 Diseases of the skin

15 Diseases of the musculoskeletal system or connective tissue

16 Diseases of the genitourinary system

17 Conditions related to sexual health

18 Pregnancy, childbirth or the puerperium

19 Certain conditions originating in the perinatal period

20 Developmental anomalies

21 Symptoms, signs or clinical findings, not elsewhere classified

22 Injury, poisoning or certain other consequences of external causes

23 External causes of morbidity or mortality

24 Factors influencing health status or contact with health services

25 Codes for special purposes

26 Traditional Medicine conditions - Module I

V Supplementary section for functioning assessment

X Extension Codes


###
Questions, comments?
If you have questions or comments about this article please contact us. Comments that provide additional related information may be added here by our Editors.
Latest articles: (any category)
Coding for a Performance of an X-ray Service vs. Counting the Work as a Part of MDM
March 21st, 2022 - Stephanie Allard , CPC, CEMA, RHIT
When x-rays are audited on the same date as an E/M encounter we have one of three decisions to make about the work that went into the radiological exam when the practice owns x-ray equipment and does their own interpretations internally. First, we must determine whether the x-ray was...
Continuous Glucose Monitoring (CGM) Systems: Leveraging Everyday Tech to Enhance Diabetes Management
March 16th, 2022 - Susan Gatehouse, RHIT, CCS,CPC, AHIMA-Approved ICD-10-CM/PCS Trainer
However, is the coding for the treatment and management of diabetes being adequately captured? Diabetes mellitus (DM) affects over 400 million people worldwide. It is a chronic disease of inadequate control of blood levels of glucose that affects the body's ability to turn food into energy. Essentially, the...
ESRD Hemodialysis Hits Home with the New ETC Model
March 16th, 2022 - Aimee L. Wilcox, CPMA, CCS-P, CST, MA, MT
In 2021, two major ESRD programs became effective, essentially preparing to transform not only risk adjusted services, but also at-home dialysis, health equity among beneficiaries needing transplant services, and improved access to donor kidneys.
Refresh Your IV Hydration Coding Knowledge
March 16th, 2022 - Aimee L. Wilcox, CPMA, CCS-P, CST, MA, MT
Reporting IV infusion services can be complicated, especially when multiple infusions are reported in a single encounter. Take a few minutes to freshen up your knowledge on IV hydration coding with a review of the guidelines and a few coding scenarios.
Medicare Auditors Caught Double-Dipping
March 14th, 2022 - Edward Roche, PhD, JD
Overlapping extrapolations require providers to pay twice. Some Medicare auditors have been caught "double-dipping," the practice of sampling and extrapolating against the same set of claims. This is like getting two traffic tickets for a single instance of running a red light. This seedy practice doubles the amount...
Cybersecurity & Ransomware Warnings
March 10th, 2022 - Wyn Staheli, Director of Content
Although HIPAA Security protocols have been in effect for some time, as technology advances, if we are not diligent, gaps can be left available for intruders. On top of that, on February 23, 2022, the American Hospital Association issued a cybersecurity advisory. They stated, "there is concern that Russia may retaliate against the U.S. and allied nations with disruptive cyberattacks."
The Case of the Missing Signature
March 10th, 2022 - David M. Glaser, Esq.
It's important to remember that Medicare manuals are not binding, and they can't "require" anything, including signatures. Regulatory framework is constantly changing. Never assume you know all of the rules, even if you carefully study them all the time. New things are constantly appearing....