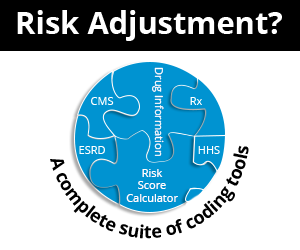 Pricing for ASC's and APC's
August 27th, 2018 - Chris Woolstenhulme, QCC, CMCS, CPC, CMRS
0 Votes -

Sign in

to vote or comment.
---
ASC's
For Medicare purposes, an Ambulatory Surgical Center Resources (ASC) is a distinct entity that operates exclusively to furnish surgical services to patients who do not require hospitalization and in which the expected duration of services does not exceed 24 hours following admission. ASC payment groups determine the amount that Medicare pays for facility services furnished in connection with a covered procedure. Payment under the ASC system is like the OPPS payment system suing a set of relative weights, a conversion factor and adjustments for location. For more detailed information about ASC Fee schedule information visit the Medicare Learning Network "Ambulatory Surgical Center Fee Schedule".
To bill for a service in an ASC setting the code must be an approved ASC Code, to avoid denials be sure to view covered and non-covered codes in Find-A-Code under "Code Sets"on the ASC Resource page.
Ambulatory Surgical Center Resources
Visit the resource center for ASC Ambulatory Surgical Centers for tools showing covered or non-covered procedures as well as The ASC Homepage offers tools for covered surgical procedures, covered ancillary services as well as excluded surgical procedures.
ASC Payment Calculator
There are several tools commonly used to project pricing and are available to Find-A-Code subscribers. Another tool to assist in projecting fees in the ASC setting use the ASC Calculator
Price a claim for ASC using the ASC Payment calculator. The calculator Is used to calculate payments from the Outpatient Prospective Payment System (OPPS) fee schedule for Ambulatory Surgical Centers, use modifiers and number of units to calculate ASC services according to geographic location.
Search for Codes with a payment indicator using List-A-Code download to a CSV file or view them online.
TIP: A common question often asked is "How do I know what is covered as an ancillary service?"
Using the information provided on the HAC home page you can quickly find a list of all covered ancillary services.
ASC Payment Indicator Codes (PI)
The payment indicator is often not considered yet is an important part of the code and will identify how a code should be used for processing payments. To view codes payment indicator, look under Additional Code information on the selected code.
ASC payment group determines the amount that Medicare pays for facility services furnished in connection with a covered procedure.
There are constant changes with payment indicators, these are usually changed quarterly, and some may be retroactive, Keep an eye on your codes to validate codes or changes.
Example:
L1- Influenza vaccine; pneumococcal vaccine. Packaged item/service; no separate payment made.

N1- Packaged service/item; no separate payment made
APC's
Ambulatory Payment Classifications (APCs) have no inherent hierarchy; however, they usually correspond similarly to CPT® or HCPCS codes. Thus, the APC codes are divided into a hierarchy corresponding to the CPT® or HCPCS codes that reference the APC.
For APC Payment calculation refer to the APC Payment Calculator on any APC Classification. Payment rates and Copayments are listed if there is a fee available, as well as the Status indicator associated with the APC and the relative weight.
Detailed information is available on the estimation of APC payment(s) by using the APC Payment Calculator on the code page.
APC Packager/Pricer
TOOLS>APC Packager/Pricer
One of the most popular tools used for APC is the APC Packager and Pricer, this tool comes with the hospital add-on tools. Enter all claim information to get payment details for date ranges, based on a specific hospital, patient information as well as diagnosis codes..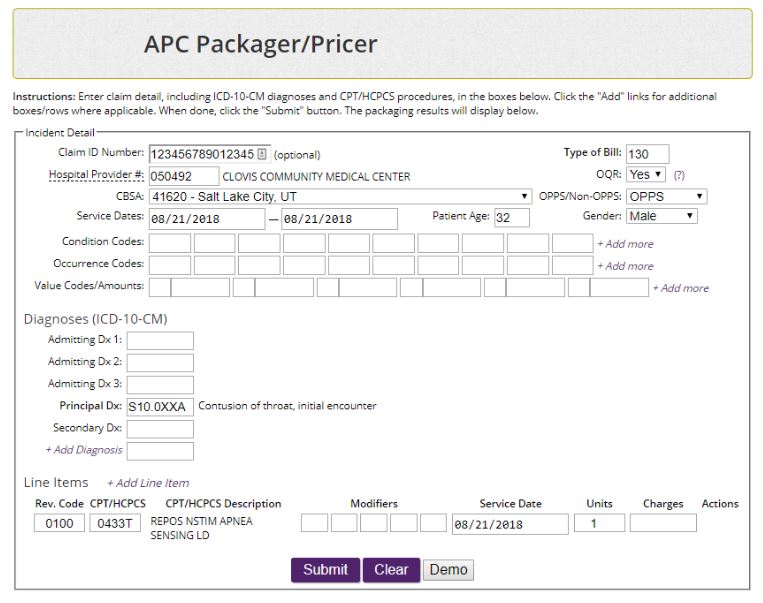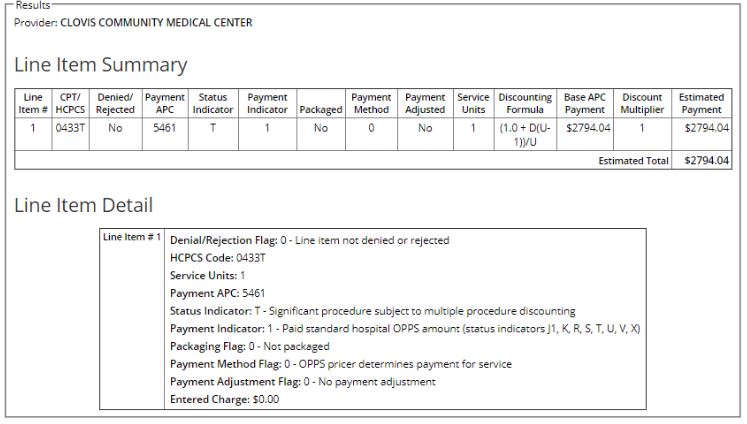 Medicare Physician Fee Schedule (MPFS) Indicators
Every procedure is assigned indicators indicating how a code can be used. Correctly using a code will avoid denials and support a consistent revenue cycle.
Look at the Medicare Physician Fee Schedule Indicators (MFPS) on CPT code for an application of a skin substitute reported with CPT 15271. The MFPS indicators will identify important information payment information pertaining to how Medicare's payment processing rules.
- 15271 Application of skin substitute graft…
APC Status Indicator: APC T Significant Procedure, Multiple Reduction Applies
ASC Payment Indicator: ASC G2 Non-office-based surgical procedure added in CY 2008 or later; payment based on OPPS relative payment weight.
Status Code: A - Active Code
Global Days: 000 - Endoscopic or Minor Procedure
PC/TC Indicator (26): 0 - Physician Service Code
Multiple Procedures (51): 2 - Standard payment adjustment rules for multiple procedures apply.
Bilateral Surgery (50): 0 - 150% payment adjustment for bilateral procedures does NOT apply.
Physician Supervisions: 09 - Concept does not apply.
Assistant Surgeon (80, 82): 1 - Statutory payment restriction for assistants at surgery applies to this procedure...
Co-Surgeons (62): 0 - Co-surgeons not permitted for this procedure.
Team Surgery (66): 0 - Team surgeons not permitted for this procedure.
Type of Service (TOS): 2 - Surgery
Berenson-Eggers TOS (BETOS): P5A - Ambulatory procedures - skin
Diagnostic Imaging Family: 99 - Concept Does Not Apply
Non-Facility MUEs: 1
Facility MUEs: 1
CCS Clinical Classification: 172 - Skin graft
List-A-Code
TOOLS>List-A-Code
For a list of codes specific to a group of criteria use the List-A-Code tool, great for a complete list of codes when looking for certain code types or specific criteria assigned to a code. Create a list from key words or from the Medicare Physician Fee Schedule Indicators (MFPS). For example, if you want to view a list of APC or ASC's with certain status or payment indicators, create a CSV or spreadsheet with only the criteria you specify. Create a list or view a list of codes based on payment adjustments for bilateral procedures or any other indicators assigned to the codes for pricing.
Be aware there are Inpatient only codes, these procedures can only be done in a hospital setting just as specific ASC procedures must be approved for the ASC setting. Using the indicator flags at the bottom of List-A-Code to get a complete list.
###
Questions, comments?
If you have questions or comments about this article please contact us. Comments that provide additional related information may be added here by our Editors.
Latest articles: (any category)
Coding for a Performance of an X-ray Service vs. Counting the Work as a Part of MDM
March 21st, 2022 - Stephanie Allard , CPC, CEMA, RHIT
When x-rays are audited on the same date as an E/M encounter we have one of three decisions to make about the work that went into the radiological exam when the practice owns x-ray equipment and does their own interpretations internally. First, we must determine whether the x-ray was...
Continuous Glucose Monitoring (CGM) Systems: Leveraging Everyday Tech to Enhance Diabetes Management
March 16th, 2022 - Susan Gatehouse, RHIT, CCS,CPC, AHIMA-Approved ICD-10-CM/PCS Trainer
However, is the coding for the treatment and management of diabetes being adequately captured? Diabetes mellitus (DM) affects over 400 million people worldwide. It is a chronic disease of inadequate control of blood levels of glucose that affects the body's ability to turn food into energy. Essentially, the...
ESRD Hemodialysis Hits Home with the New ETC Model
March 16th, 2022 - Aimee L. Wilcox, CPMA, CCS-P, CST, MA, MT
In 2021, two major ESRD programs became effective, essentially preparing to transform not only risk adjusted services, but also at-home dialysis, health equity among beneficiaries needing transplant services, and improved access to donor kidneys.
Refresh Your IV Hydration Coding Knowledge
March 16th, 2022 - Aimee L. Wilcox, CPMA, CCS-P, CST, MA, MT
Reporting IV infusion services can be complicated, especially when multiple infusions are reported in a single encounter. Take a few minutes to freshen up your knowledge on IV hydration coding with a review of the guidelines and a few coding scenarios.
Medicare Auditors Caught Double-Dipping
March 14th, 2022 - Edward Roche, PhD, JD
Overlapping extrapolations require providers to pay twice. Some Medicare auditors have been caught "double-dipping," the practice of sampling and extrapolating against the same set of claims. This is like getting two traffic tickets for a single instance of running a red light. This seedy practice doubles the amount...
Cybersecurity & Ransomware Warnings
March 10th, 2022 - Wyn Staheli, Director of Content
Although HIPAA Security protocols have been in effect for some time, as technology advances, if we are not diligent, gaps can be left available for intruders. On top of that, on February 23, 2022, the American Hospital Association issued a cybersecurity advisory. They stated, "there is concern that Russia may retaliate against the U.S. and allied nations with disruptive cyberattacks."
The Case of the Missing Signature
March 10th, 2022 - David M. Glaser, Esq.
It's important to remember that Medicare manuals are not binding, and they can't "require" anything, including signatures. Regulatory framework is constantly changing. Never assume you know all of the rules, even if you carefully study them all the time. New things are constantly appearing....