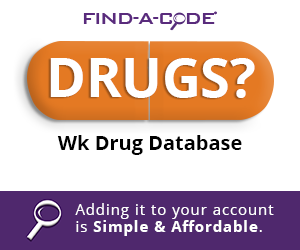 EMRs - Coding and Compliance Concerns
April 24th, 2013 - Allison Singer, CPC
---
Introduction
The past year has been an exciting time for healthcare professionals, bringing more changes, opportunities and challenges than ever before. The Health Information Technology for Economic and Clinical Health (HITECH) Act, which is a portion of the American Recovery and Reinvestment Act of 2009, designated over $19 billion towards incentive programs for healthcare professionals that adopt electronic medical records (EMRs) before 2015. Even though the law did not lead to the creation of EMRs, it certainly caught the attention of healthcare providers across the nation.
From improved patient care to higher reimbursement, physicians hold high expectations for EMRs and rightfully expect a return on investment. However, many investors forget that EMRs are tools, not solutions. In the February 2010 edition of the American Academy of Professional Coders (AAPC) Coding Edge magazine, the author states, "EMR vendors are saying, 'If you buy our EMR you can code higher and make more money!' but that is not necessarily true. The goal of the EMR is to improve the efficiency of the physician in documenting services and ensuring all work performed is capture in the record" (AAPC, p. 29). EMRs can help with reimbursement, but they will not prevent a physician from receiving denials in the future. They can improve coding and documentation, but physicians must still take the time to document services to meet medical necessity standards.
EMRs are more affordable than ever, and they certainly bring many positive outcomes to the table. Yet, physicians and coders should have a realistic expectation of what EMRs can and cannot do. Major culture change is coming to the healthcare industry, and EMRs are literally changing how healthcare professionals do business. Everyone, from the physician to the receptionist, must adapt to the challenges of EMRs and take on new roles in their professions.
Documentation Becomes Code Selection
One of the key features behind EMRs is that superbills are automatically generated with the appropriate code data as physicians document the patient visit. Structured documentation tools are embedded with procedure and diagnosis codes and are designed to incorporate the documentation and coding process into one single activity. In essence, the physician becomes the coder by default.
Templates provide the primary documentation tools and are designed with a particular clinical focus, such as chief complaints, chronic diseases, preventive exams, and vaccines. Within the templates are pre-defined notes or generic statements that frequently accompany a particular treatment plan. Other documentation tools may include pick lists, evaluation and management (E/M) tools, and pop-up messages that remind physicians of appropriate actions they should take, such as adding dosages for a drug.
On the upside, some aspects of the coding world can be automated without introducing much risk. For example, straightforward coding combinations, such as hard-coding V04.81 to a flu vaccine, are easy scenarios to automate. On the downside, very rarely is coding so simple. In the EMR world, a physician can document a patient visit perfectly, yet the claim still will not be ready to submit to an insurance company for payment.
In the past, physicians documented their work on a superbill or patient chart, and then a coder would clean up the claim to meet coding rules and payer guidelines. In the electronic world, most EMRs are designed with the intention of automating claims processing so thoroughly that when the physician completes the visit, claims will be sent directly to the payer, bypassing the coder. What many physicians (and software designers) fail to realize is that there is a technical side of coding that goes beyond mere code selection. Commercial payer rules, local coverage determinations, mitigating circumstances, government health programs and numerous other variables introduce rules, exceptions to the rules, and sometimes even exceptions to the exceptions. To date, no EMR on the market is intelligent enough to completely automate the coding portion of claims processing.
Coding Tools
Since no EMR can completely replace the need for front-end claims editing, many EMR vendors partner with a coding content provider to include a code scrubber with the EMR. Most code scrubbers on the market offer more or less the same features, including edits that review claims for the following:
Valid ICD-9, CPT® and HCPCS codes

Add-on codes missing parent codes

Invalid use of modifiers

Missing diagnosis

HCFA rules for reporting multiple procedures

Relative Value Units
As a general rule, most claims scrubbers warn about bad coding behavior, but they very rarely warn about revenue-producing behavior, such as adding administration codes to vaccines or injections. To a limited degree, you can incorporate some of these rules into the templates, particularly for static or unchanging coding scenarios.
Practically all code scrubbers fall short when it comes to validating claims based on the following:
Commercial payer guidelines

HCPCS rules (or DME requirements)

Patient demographics and age or gender-based code selection

Provider credentialing

Referring doctor

Accident dates

Multi-level code comparisons
These rules tend to be so variable and practice-specific that it is impossible to code for them on the front-end. Therefore, physicians and coders need a way to build practice-defined rules to fill in the gaps left by standard code-scrubbing engines.
Note: White Plume's products include the ability to perform both standard and user-defined code scrubbing. The products also interface with many EMRs vendors on the market.
Code scrubbing is a critical part of claims processing, and no on should purchase an EMR without having a code scrubbing solution. Furthermore, coders are often left out of the decision-making process when it comes to purchasing an EMR. Coders should make sure they are part of the process when it comes time to evaluate an EMR for their practice, or they risk losing out on benefiting from an EMR upgrade.
Key Question: Does the EMR provide any claims-scrubbing tools that allow you to set user-defined filters?
Ease-of-Use
When it comes to documentation tools, the critical factor in getting physicians to use the EMR is how easy the tools are to use. EMRs are specifically designed to help physicians document better. However, many physicians may be irritated at the level of documentation an EMR can impose before they can complete the patient visit. Physicians often under document, and it is almost guaranteed that any EMR you purchase will demand physicians document more than ever before.
One factor in determining the ease-of-use of an EMR is the number of clicks or key strokes required to capture all the pertinent data within a patient visit. (Note: The number of clicks is often directly proportionate to a physician's irritation level when it comes to using an EMR.). Clicks and key strokes should be kept to a minimum at all times. Other shortcuts can be implemented into templates to assist with proper code selection or documentation. Coders and physicians should always be on the lookout for ways to streamline templates and make them as efficient as possible.
Note: Most practices will be responsible for creating their own templates and any special programming within the EMR. Do not expect a lot of assistance from the EMR vendor. Conversely, White Plume customers are provided with trained forms designers and programmers that create any electronic encounter forms for the practice.
Key Question: Are templates too top heavy or cumbersome to be used by the physician?
Data Integrity with Notes
Within the EMR templates, as physicians enter procedure or diagnosis information, they are prompted (and sometimes forced) to select clinical information that provides supporting documentation for the services they provide. Documentation is usually organized into notes that provide standard comments typical to particular diseases or illnesses.
At first glance, pre-defined notes appear to be very convenient and a great time saver. On the down side, notes are often long, difficult to read, and do not emphasize pertinent data points. Furthermore, in the eyes of auditors, the routine, generic nature of pre-built notes can actually subvert the credibility of the medical record. In the past, the standard was, "If it isn't documented, it can't be coded." With EMRs, the standard is, "It's documented, but is it relevant and did the physician actually do it" (Taylor, p. 8).
In short, physicians can be stuck between a rock and a hard place when it comes to notes. On the one hand, notes are necessary for properly documenting a patient visit. On the other hand, the danger is most physicians are in a hurry, and risky or not, automated notes can appear to be "good enough" to busy physicians. For physicians that use pre-built notes exclusively, they may see an increase in denials by payers.
These problems can be solved in one of two ways. First, EMRs should provide physicians with a way to revise existing notes or offer a free text field in which physicians can enter their own comments. To be safe, physicians should always enter something unique to the medical record. The only downside to revised or free text notes is that EMRs cannot incorporate any clinical data that affects coding into the superbill that is automatically generated by the EMR. Therefore, someone will have to edit the claim accordingly before it is submitted to an insurance company.
Key Question: Does the documentation reflect medical necessity and support the medical record?
E/M Tools
Most EMRs provide an evaluation and management (E/M) tool that calculates data to pick the correct E/M level. In general, the history and exam portion of an E/M visit are easily formatted within the EMR. Some E/M tools pre-populate previous visit information or permit information to be copied and pasted into the current visit record. Physicians are still required to review any data that is pre-populated or copied, but this function can help speed along physician data entry.
However, it is very easy for physicians to skim over copied or pre-populated data when they get busy. When this occurs, conflicting data may be documented in a patient record. For example, an established patient is seen for a routine annual exam and is diagnosed with high blood pressure. In the previous visit, the patient's blood pressure was normal. If the EMR copies over the previous visit's HPI (where there was no indication of high blood pressure) and the physician documents high blood pressure in the medical record, then the claim will almost certainly be questioned by payers.
Where all E/M tools fall short is with the medical decision-making (MDM) portion of an E/M visit. One physician who has experience with EMRs states, "MDM reflects the doctor's interpretation of patient questions, observations during the encounter, thinking, and a summarized assessment and treatment plan. A template cannot reflect these components adequately." (Taylor, p. 12) The subjective nature of MDM does not lend itself to automation. Therefore, physicians must still rely on their own expertise when it comes to this portion of E/M code selection, rather than relying on any tool.
When evaluating EMRs, it is not a bad idea to have an auditor review the E/M tool for weaknesses. It is also advisable for coders and physicians go through a series of tests to determine if the level of visit assigned by the E/M tool matches expectations. If the E/M tool consistently upcodes the level of visit, do not get too excited. As a general rule, E/M tools are prone to over-coding.
In one case study by Medicare carriers, four practices were audited. In each case, their practices revealed non-compliant E/M claims that were submitted using an EMR. The government evaluated between 20 and 100 charts per physician, and 20 to 95 percent of the charts failed the audit. In the study, "For the practice with the lowest failure percentages, each physician owed $50,000 in repayments. For the other three practices, each physician owed between $150,000 and $175,000 in repayments" (Modern Medicine, p.3). Therefore, it is wise to always be a little cautious when using E/M tools.
Key Question: Does the E/M tool meet the practice's auditing and testing standards?
ICD-10
At first, talking about ICD-10 may seem like a strange topic to discuss with EMRs, but in many ways, it is the elephant in the room that no one is factoring into EMR decisions. Beginning October 1, 2013, all healthcare providers must submit ICD-10 data on claims. ICD-10 will introduce another major culture shift to the healthcare community, and physicians should know how this change will affect their EMR.
Major system upgrades will be involved with converting from ICD-9 to ICD-10, and it is extremely unlikely these upgrades will be provided at no cost to the physician. In addition, any custom-built templates or notes must be adjusted in order to accommodate the new coding structure. In one study, it was found that (Law and Porucznik):
The move to ICD-10-CM will increase documentation activities about 15 to 20 percent. This translates into a permanent increase of 3 percent to 4 percent of physician time spent on documentation for ICD-10-CM….This is a permanent increase, not just an implementation or learning curve increase. It is a physician workload increase with no expected increase in payment, due to the increased requirements for providing specific information for coding. Electronic health record systems will not be able to eliminate the extra time requirement.
There is no doubt EMRs can help store ICD-10 information much better than any paper environment. However, it is going to take time for EMR technology to adjust to the ICD-10 code set in ways that help relieve the documentation and coding burden.
Lastly, the costs involved with converting to ICD-10 may be just as expensive as implementing an EMR, particularly if the conversion requires a complete overhaul of the EMR system. No potential buyer should sign any contract until they are familiar with the EMR vendor's ICD-10 implementation plan and estimated upgrade costs.
Physicians may find that it is more financially feasible to roll EMR implementation and the ICD-10 conversion together into one comprehensive upgrade. From a business standpoint, the idea of simultaneously implementing an EMR and training physicians on ICD-10 may be overwhelming. Either way, physicians must decide on a plan of attack when it comes to meeting government expectations on EMR adoption and ICD-10 integration.

Conclusion
As EMRs continue to evolve, many of the conditions that create coding obstacles and compliance risks will be minimized, but it may take time. In today's world, risks can be mitigated if clinical personnel know what to look for and how to avoid major pitfalls. No matter how technologically advanced a system may be, the need for compliant claims still exists. Successful EMR implementations occur when physicians and clinical personnel learn how to reconcile workflow demands with claims adjudication demands. For better or worse, EMRs are the future, and users must learn how to make these advanced systems work for them.

Resources
Auto-Population Gone Wild: EMR documentation creates risky record keeping and frustration. Cheryl L. Toth, AAPC Coding Edge; February 2010, 26-29.

AAPC Workshop EMRs – What You Need to Know NOW! James Taylor, MD. March 2010, 1-19.
How to Successfully Navigate Your EMR Implementation. Found at: http://www.aafp.org/fpm/2007/0200/p33.html
The Problem with EMRS and Coding; April 3, 2009: Found at: http://www.modernmedicine.com/modernmedicine/article/articleDetail.jsp?id=590411
Switching to ICD-10: The impact on physicians. Lindsay Law and Mary Ann Porucznik. February 2009. Found at: http://aaos.org/news/aaosnow/feb09/reimbursement1.asp
###
Questions, comments?
If you have questions or comments about this article please contact us. Comments that provide additional related information may be added here by our Editors.
Latest articles: (any category)
COVID Vaccine Coding Changes as of November 1, 2023
October 26th, 2023 - Wyn Staheli
COVID vaccine changes due to the end of the PHE as of November 1, 2023 are addressed in this article.
Medicare Guidance Changes for E/M Services
October 11th, 2023 - Wyn Staheli
2023 brought quite a few changes to Evaluation and management (E/M) services. The significant revisions as noted in the CPT codebook were welcome changes to bring other E/M services more in line with the changes that took place with Office or Other Outpatient Services a few years ago. As part of CMS' Medicare Learning Network, the "Evaluation and Management Services Guide" publication was finally updated as of August 2023 to include the changes that took place in 2023. If you take a look at the new publication (see references below),....
Can We Score Interpretation of an EKG Towards E/M Medical Decision Making?
October 10th, 2023 - Aimee Wilcox
When EKGs are performed in the facility setting or even in the physician's office, what are the requirements for reporting the service and who gets credit for scoring data points for Evaluation and Management (E/M) medical decision making (MDM)? Let's take a look at a few coding scenarios related to EKG services to get a better understanding of why this can be problematic.
Accurately Reporting Signs and Symptoms with ICD-10-CM Codes
October 5th, 2023 - Aimee Wilcox
Coders often find themselves unsure of when to report a sign or symptom code documented in the medical record. Some coders find their organization has an EHR that requires a working diagnosis, which is usually a sign or symptom, be entered to order a test or diagnostic study or image. Understanding the guidelines surrounding when signs and symptoms should be reported is the first step in correct coding so let's take a look at some scenarios.
The 2024 ICD-10-CM Updates Include New Codes for Reporting Metabolic Disorders and Insulin Resistance
September 19th, 2023 - Aimee Wilcox
Diabetes is a chronic disease that just seems to consistently be increasing instead of improving resulting in a constant endeavor by medical researchers to identify causal effects and possible treatments. One underlying or precipitating condition that scientists have identified as a precipitating factor in the development of diabetes is insulin resistance, which is a known metabolic disorder. As data becomes available through claims reporting, additional code options become possible with ICD-10-CM.
Documenting and Reporting Postoperative Visits
September 12th, 2023 - Aimee Wilcox
Sometimes we receive questions regarding documentation requirements for specific codes or coding requirements and we respond with information and resources to support our answers. The following question was recently submitted: Are providers required to report postoperative services on claims using 99024, especially if there is no payment for that service? What documentation is required if you are reporting an unrelated Evaluation and Management (E/M) service by the same physician during the postoperative period? 
Understanding Gastroesophageal Reflux Disease and ICD-10-CM Coding
August 22nd, 2023 - Aimee Wilcox
Gastroesophageal reflux disease or GERD for short, is a disease that impacts millions of Americans on a weekly basis. Symptoms are uncomfortable, as are some of the tests used to diagnose it, but understanding the disease, tests, and treatments helps us better understand how to code the disease using ICD-10-CM codes.