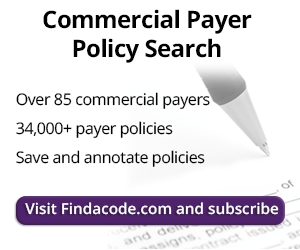 All About Screening and Diagnostic Mammograms
March 17th, 2015 - George Lawson
0 Votes -

Sign in

to vote or comment.
---
When billing for mammograms, documentation must include the purpose and the result of the procedure. Two major purposes of mammogram are diagnostic and screening. It can also be used mammography to guide other procedures.
Tip 1: Confirm the Purpose
Determine the purpose of the procedure; i.e. whether it was performed for diagnosis or screening.
Diagnostic: There are two codes for diagnostic mammography. Bill CPT® codes 77055 and 77056 depending on whether the procedure was perform on one or both sides.
Screening: Screening Mammography is done on asymptomatic woman for early detection of breast cancer. You should CPT® code 77057 for screening mammography.
Tip 2: Screening mammography is different from diagnostic mammography.
To perform screening mammography, there need not be signs, symptoms, or any history of breast disease. The screening exam will be covered even without a prescription or referral from another doctor. Medicare specifies age and frequency for patients for whom
screening mammography is covered
. However, when the radiologist performs a diagnostic mammogram; there should be a physician's order, some signs and symptoms, or a personal history for which the test is warranted.
Note: You should not use number of views as a criterion to distinguish screening vs. diagnostic. Screening mammography usually is has two views craniocaudal (CC) and mediolateral oblique (MLO). However, the number of views should not be considered a criteria to differentiate a screening mammogram from a diagnostic one because more than two views may be required for screening mammogram in certain situations. Typically diagnostic mammogram has latero-medial (LM) or medio-lateral (ML) views along with the CC and MLO views.
Tip 3: Report both services when performed on the same day.
If both screening as well as diagnostic mammograms are performed on the same day, report both and append modifier GG to the diagnostic mammogram code. If the patient visits the radiologist for a routine screening mammogram, and an abnormality is identified, they might perform unilateral or bilateral diagnostic mammogram. In such cases,
Medicare will cover both the exams
.
Age is an important criterion: Medicare will pay for screening mammograms under certain condition.
·
Screening mammography is not covered for patients under age of 35 years.
·

Age 35-39: One screening mammography is covered.
·

Over age 39: One Screening mammography is covered every year.
Tip 4: Talk to the payer before billing for screening in one breast.
Screening mammography is typically performed on both breasts and therefore, the description includes "2-view film study of each breast". In case a screening exam is done on a patient who had a mastectomy, screening is done unilaterally. In such case, use code 77055 (Mammography; unilateral), because, the criterion for personal history is satisfied. Also, ICD-9-CM codes V10.3 (Personal history of malignant neoplasm of breast)should be reported to justify. You can check with the payer in case they have any other specific rule for such scenarios.
###
Questions, comments?
If you have questions or comments about this article please contact us. Comments that provide additional related information may be added here by our Editors.
Latest articles: (any category)
HIPAA Penalty Changes
January 11th, 2021 - Wyn Staheli, Director of Research
On January 5, 2021, H.R. 7898 was signed into law by President Trump. This new law modifies the HITECH Act such that when an organization experiences a breach, fines and/or penalties may be reduced if (for at least a year) they have instituted "recognized security practices" as defined within the law.
CDT and CPT - The Same but Different!
December 8th, 2020 - Christine Woolstenhulme, QCC, QMCS, CPC, CMRS
Reporting a CPT code for an evaluation of a patient is based on time and if the patient is a new or established patient. Evaluation and Management codes are different than other codes, it is important to understand how they are used, prior to 2021 they were based on a ...
How to Search Find-A-Code for Medicare Policies and Guidelines — LCDs, NCDs and Articles —
November 18th, 2020 - Raquel Shumway
Help for Searching Find-A-Code when searching for Medicare Policies and Guidelines — LCDs, NCDs and/or Articles.
Cross-A-Code Instructions in Find-A-Code
November 18th, 2020 - Raquel Shumway
Cross-A-Codeis a toll found in Find-A-Code which helps you to locate codes in other code sets that help you when submitting a claim.
COVID Vaccine Codes Announced
November 11th, 2020 - Wyn Staheli, Director of Research
On November 10, 2020, the American Medical Association (AMA) announced the addition of two new codes which will be used for the new COVID-19 vaccines along with 4 new administration codes to be used when reporting the administration of these vaccines.
Are You Aware of the 2021 Star Rating System Updates?
November 5th, 2020 - Aimee Wilcox, CPMA, CCS-P, CST, MA, MT, Director of Content
Each year the Centers for Medicare & Medicaid Services (CMS) publishes the Star Ratings System Updates for Medicare Advantage (Part C) and Medicare Prescription (Part D). This rating system was developed to help beneficiaries identify and select the health plans that best meet their needs, specifically addressing main issues:  Quality of ...
Special Needs Plans Help Beneficiaries and Risk Adjustment Reporting
October 22nd, 2020 - Aimee Wilcox, CPMA, CCS-P, CST, MA, MT, Director of Content
It is no secret that Medicare and Medicaid are steadily moving towards their goal of value-based health care. Medicare Part C (Medicare Advantage) identifies and rewards payers, and subsequently their providers, for increasing the efficiency and quality of care they provide to Medicare...