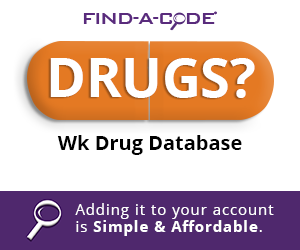 Preparing for ICD-10
February 25th, 2013 - Codapedia Editor
0 Votes -

Sign in

to vote or comment.
---
The CEO of a third party administrator said to me recently, "ICD-10 is giving even me a headache." Two years before implementation and he's getting a headache. Well, he has bits and bytes to worry about. On the physician side, all we have to worry about is selecting the correct code, and having a practice management system that can accept it and transmit it. By now, everyone has heard dire predictions about the impossible complexity of ICD-10. Commercial vendors and consultants are anticipating a full schedule of clients for 2013. But, before we all panic, let's a breath.
First, it is going to be much harder for facilities than for physicians. It's true that the number of possible diagnosis codes will increase from 14,315 to 69,101. But, each of those codes is listed in the ICD-10 book. The book has a familiar format, and many of the rules are the same as for ICD-9.
Here are a few easy steps to an almost painless ICD-10 transition for your practice.
Buy an ICD-10 book: Spent the money on the draft version of ICD-10 right now.
Try to code the most common conditions in your practice: This will be easier for single specialty practices than for multi-specialty groups, or for primary care and General Surgery, which tend to treat patients with many conditions. Print a list of the twenty most common diagnosis codes submitted on claims. Try to code them. You'll find one of these results:
· You can code the conditions and find the correct ICD-10 code. Hurray! Try the next twenty diagnosis codes next month.
· You are unable to select the correct code because you lack the clinical knowledge to do so. Unfortunately, it is true that ICD-10 requires coders to know more about clinical conditions. If you find this, sign up for an Anatomy and Physiology course, on line or in person. Take an ICD-9 coding course. You may ask how that will help when ICD-9 is going away. If you are proficient at ICD-9 coding you will find the transition to ICD-10 much easier.
· You have the coding ability and clinical knowledge to select the correct diagnosis code, but neither the encounter form nor the medical record provide enough specificity. (Which artery? Was the fracture at the distal or proximal end of the bone? Right foot? Stable?) Start now giving clinicians feedback about the level of specificity that is required for their own specialty. Use a "tip of the week" format to post or text a single suggestion a week.
Your practice management software will need to be upgraded to the most recent version. This may be a significant cost for some groups, who are one, two or more versions behind the current release. Practice management vendors are going to be swamped in 2013. Don't wait until the last minute.
There's no need to plan your retirement party for September of 2013. You can learn ICD-10, and as a bonus, learning those skills will improve your career.
###
Questions, comments?
If you have questions or comments about this article please contact us. Comments that provide additional related information may be added here by our Editors.
Latest articles: (any category)
​​Polysomnography Services Under OIG Scrutiny
September 2nd, 2021 - Raquel Shumway
The OIG conducted a study dated June 2019 wherein they indicated that there were approximately $269 million in overpayments for polysomnography services for the period of 2014 through 2015. According to the OIG "These errors occurred because the CMS oversight of polysomnography services was insufficient to ensure that providers complied with Medicare requirements and to prevent payment of claims that didn't meet those requirements." So what are those requirements?
Medicare Advantage - The Fastest Growing Government-Funded Program Undergoing Multiple Fraud Investigations
August 16th, 2021 - Aimee Wilcox, CPMA, CCS-P, CST, MA, MT, Director of Content
Medicare Advantage is the fastest growing form of government-funded healthcare and the rate of fraud within this segment has come under increased scrutiny. Funding is determined by the health status of each beneficiary; therefore, accurate coding based on detailed documentation makes the medical record vital to the process because some ...
Billing Dental Implants under Medical Coverage
August 12th, 2021 - Christine Woolstenhulme, QCC, QMCS, CPC, CMRS
Implants can be costly to the patient and the provider, and it is crucial to understand how to bill a patient's medical insurance to ensure there is adequate coverage for the best treatment. Implants are commonly billed in a dental office under a patient's medical benefits.    Implants could be considered ...
New Codes for COVID Booster Vaccine & Monoclonal Antibody Products
August 10th, 2021 - Wyn Staheli, Director of Research
New codes have been announced for the COVID-19 booster vaccine, Novavax vaccine, and monoclonal antibody treatment.
Medicare's ABN Booklet Revised
July 29th, 2021 - Wyn Staheli, Director of Research
The "Medicare Advance Written Notices of Non-coverage" booklet, published by CMS's Medicare Learning Network, was updated. This article discusses the changes to this booklet regarding the use of the ABN.
Chronic Pain Coding Today & in the Future
July 19th, 2021 - Wyn Staheli, Director of Research
Properly documenting and coding chronic pain can be challenging. As is commonly the case with many conditions, over the years, there has been a shift in the identification of different types of pain, including chronic pain. Understanding where we are now and where we are going will help your organization prepare for the future by changing documentation patterns now.
How Does Global and Professional Direct Contracting (GPDC) Affect Risk Adjustment?
July 15th, 2021 - Aimee Wilcox, CPMA, CCS-P, CST, MA, MT, Director of Content
CMS recently announced the 53 Direct Contracting Entities (DCEs) that will be participating in the April 1, 2021 through December 31, 2021 Global and Professional Direct Contracting (GPDC) Model. Among those participating is Clover Health Partners, who runs an in-home primary care program that has the potential to help Medicare ...