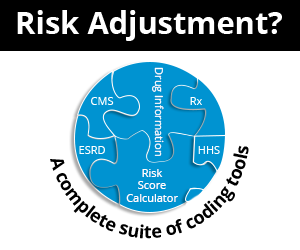 How Social Determinants of Health (SDOH) Data Enhances Risk Adjustment
March 31st, 2021 - Aimee Wilcox, CPMA, CCS-P, CST, MA, MT, Director of Content
0 Votes -

Sign in

to vote or comment.
---
Over the last several years, there has been an increased interest in understanding how social factors affect health outcomes. A recent CMS Data Highlight discussing the use of social determinants of health (SDOH) ICD-10-CM codes in the Medicare FFS population described SDOH as:
"...the conditions of an individual's living, learning and working environments that affect one's health risks and outcomes."
The role of SDOH in overall patient care and outcomes has become a more common topic of discussion among healthcare providers, payers, and policymakers alike. All are attempting to identify and collect SDOH and correlate the data to patient management which is increasingly seen as necessary to address certain health disparities and identify exactly how SDOH affects patient health outcomes.
Will the 2021 E/M Changes Help or Impede Collection of Social Determinants of Health (SDOH)?
As part of the 2021 E/M changes to 99202-99215 (office/other outpatient services), providers may determine what is considered a medically appropriate history and examination instead of following a template that may or may not be appropriate for the patient's individual situation. While the history and examination are no longer part of the scoring process of these specific E/M codes, they contain important information, including SDOH, that may lead to better patient care and management, especially for identifying at-risk patients and those with chronic conditions that may lead to greater needs for medical services.
Additional changes to the 2021 E/M guidelines allows for ancillary staff to assist in the gathering and documentation of a patient's history. Of course, historical information documented by ancillary staff must be reviewed by the service provider prior to signing the encounter note; however, this provides an option for providers to use ancillary staff to obtain a rich patient history as long as it is done appropriately. Patient questionnaires can be more fully developed in order to identify situations that may interfere with positive patient outcomes or lead to exacerbated chronic conditions which could place the patient at greater risk.
Identifying SDOH in Your Organizations
How is your organization identifying SDOH? Are questionnaires updated annually or even midyear? Is clinical staff actively engaged in the process of patient interviews? Are patients hesitant to provide such sensitive information? Do staff have enough time to establish a connection with the patient or are they simply going through the motions to quickly prepare the patient for the provider? Connections are critical because they help to establish trust, and once trust is present, patients may be more willing to share the SDOH issues they are dealing with.
Reporting SDOH codes may be done using ICD-10-CM codes found in categories Z55-Z65 as shown in the following table:
| | |
| --- | --- |
| Category | Description |
| Z56- | Problems related to employment and unemployment |
| Z57- | Occupational exposure to risk factors |
| Z59- | Problems related to housing and economic circumstances |
| Z60- | Problems related to social environment |
| Z62- | Problems related to upbringing |
| Z63- | Other problems related to primary support group, including family circumstances |
| Z64- | Problems related to certain psychosocial circumstances |
| Z65- | Problems related to other psychosocial circumstances |
Note: Additional SDOH codes are currently being considered for implementation on October 1, 2021. Watch for further announcements about ICD-10-CM code changes regarding SDOH.
Social Determinants of Health Example
The following is an example of a finding noted in the CMS Data Highlight:
"Of the 467,136 Medicare FFS beneficiaries with Z code claims, 334,373 individuals (72%) had hypertension and 248,726 individuals (53%) had depression."
Using this information can help providers identify SDOH issues among their own patient populations. Consider running billing reports to identify the most commonly reported ICD-10-CM codes. Look through the CMS Data Highlight information (see References) to identify the top 10 chronic conditions among Medicare's FFS Beneficiaries with Z codes in 2017, which include depression and hypertension among the Medicare-aged patient population. Once identified, assemble a team to determine how to best address these patients' needs and identify whether SDOH issues are making it difficult for them to remain compliant with treatment plans. Clinical staff and providers can review the current method of history gathering and determine if there is a way to enhance patient questionnaires, identify additional opportunities to connect and gain patient trust, and establish documentation practices that can increase SDOH data collection for those patients.
Coding staff should be included in the planning and training as well. While most of the heavy lifting is done in the patient room and during provider interaction, if coding personnel are not made aware of the goal to increase recognition and reporting of SDOH, they may not specifically look for those SDOH statements to code and report them, as they are specifically looking to match the procedure with a documented and supported diagnosis code that will facilitate payment.
This is a great example of using data collected during the E/M encounter to identify at-risk patients in provider organizations. If your patient demographics include Medicare FFS beneficiaries with hypertension or depression, you might consider beginning there to employ some of the suggestions of collecting more detailed patient questionnaires, ensuring they are completely filled out, involving ancillary staff in reviewing these questionnaires, and asking key questions while documenting a patient's history on the medical record.
Working as a team with the goal of improved patient outcomes and quality of care will help patients feel supported and secure in the care they are receiving, which is the overall goal of all providers and payers alike.
###
Questions, comments?
If you have questions or comments about this article please contact us. Comments that provide additional related information may be added here by our Editors.
Latest articles: (any category)
Coding for a Performance of an X-ray Service vs. Counting the Work as a Part of MDM
March 21st, 2022 - Stephanie Allard , CPC, CEMA, RHIT
When x-rays are audited on the same date as an E/M encounter we have one of three decisions to make about the work that went into the radiological exam when the practice owns x-ray equipment and does their own interpretations internally. First, we must determine whether the x-ray was...
Continuous Glucose Monitoring (CGM) Systems: Leveraging Everyday Tech to Enhance Diabetes Management
March 16th, 2022 - Susan Gatehouse, RHIT, CCS,CPC, AHIMA-Approved ICD-10-CM/PCS Trainer
However, is the coding for the treatment and management of diabetes being adequately captured? Diabetes mellitus (DM) affects over 400 million people worldwide. It is a chronic disease of inadequate control of blood levels of glucose that affects the body's ability to turn food into energy. Essentially, the...
ESRD Hemodialysis Hits Home with the New ETC Model
March 16th, 2022 - Aimee L. Wilcox, CPMA, CCS-P, CST, MA, MT
In 2021, two major ESRD programs became effective, essentially preparing to transform not only risk adjusted services, but also at-home dialysis, health equity among beneficiaries needing transplant services, and improved access to donor kidneys.
Refresh Your IV Hydration Coding Knowledge
March 16th, 2022 - Aimee L. Wilcox, CPMA, CCS-P, CST, MA, MT
Reporting IV infusion services can be complicated, especially when multiple infusions are reported in a single encounter. Take a few minutes to freshen up your knowledge on IV hydration coding with a review of the guidelines and a few coding scenarios.
Medicare Auditors Caught Double-Dipping
March 14th, 2022 - Edward Roche, PhD, JD
Overlapping extrapolations require providers to pay twice. Some Medicare auditors have been caught "double-dipping," the practice of sampling and extrapolating against the same set of claims. This is like getting two traffic tickets for a single instance of running a red light. This seedy practice doubles the amount...
Cybersecurity & Ransomware Warnings
March 10th, 2022 - Wyn Staheli, Director of Content
Although HIPAA Security protocols have been in effect for some time, as technology advances, if we are not diligent, gaps can be left available for intruders. On top of that, on February 23, 2022, the American Hospital Association issued a cybersecurity advisory. They stated, "there is concern that Russia may retaliate against the U.S. and allied nations with disruptive cyberattacks."
The Case of the Missing Signature
March 10th, 2022 - David M. Glaser, Esq.
It's important to remember that Medicare manuals are not binding, and they can't "require" anything, including signatures. Regulatory framework is constantly changing. Never assume you know all of the rules, even if you carefully study them all the time. New things are constantly appearing....