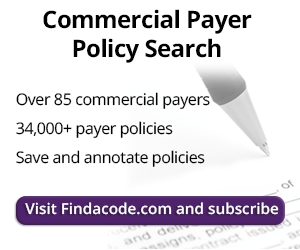 HCPCS Codes Were NOT all Created for the Same Purpose
June 29th, 2020 - Christine Woolstenhulme, QCC, QMCS, CPC, CMRS
0 Votes -

Sign in

to vote or comment.
---
Having problems finding a particular product/code with our DMEPOS search? When looking for HCPCS Level II codes, there are several kinds of codes, and not all HCPCS codes were created for the same purpose. If you are searching for a certain HCPCS product using our DMEPOS search, you may think the tool is incorrect or missing results. This is not the case - the DMEPOS tool is looking for products that are sold by a supplier to be used in the home, not in a hospital or facility setting. The DMEPOS search will assist with items such as durable medical, some medical supplies, and prosthetics and orthotics.

For example, if you are looking for C-Codes, you will need to search with our comprehensive search. We have had a lot of questions on the DMEPOS search missing catheters being billed with C-Codes. You will find catheters but these are only for home use, such as urinary catheters. Products that are assigned with a C-Code are a different type of product, such as graphs, stents, and pacemakers, used with procedures only done in the hospital or outpatient setting.
C-Codes are temporary codes used to report device categories, new technology procedures, and drugs, biologicals, and radiopharmaceuticals that do not have other HCPCS code assignments. C-Codes are also known as pass-through and are only payable on claims for hospital outpatient department services and procedures. C-Codes are unique to items that can be used either inpatient or outpatient but are only reported on outpatient claims.
NOTE: Effective October 1, 2006, the following Non-OPPS providers may elect to bill using C- codes (or appropriate CPT codes) on Type of Bills (TOBs) 12X, 13X, or 85X:
• Critical access hospitals (CAHs)
• Indian Health Service Hospitals (IHS)
• Hospitals located in American Samoa, Guam, Saipan, or the Virgin Islands
• Maryland waiver hospitals.
For more information on this refer to Billing of Temporary "C" HCPCS Codes by Non-Outpatient Prospective Payment System (Non-OPPS) Providers, MLN Matters Number: MM5027.
https://www.cms.gov/Outreach-and-Education/Medicare-Learning-Network-MLN/MLNMattersArticles/downloads/MM5027.pdf
Pass-through
We briefly mentioned above C-codes are pass-through codes. These are codes that were created by CMS when there is not enough information about the technology to determine the use and pricing. Therefore, a pass-through code allows CMS to gather the information then adjust the rates to reflect the resources used for the new technology.

Here is a list of HCPCS codes and the sections they are assigned to.
###
Questions, comments?
If you have questions or comments about this article please contact us. Comments that provide additional related information may be added here by our Editors.
Latest articles: (any category)
How to Search Find-A-Code for Medicare Policies and Guidelines — LCDs, NCDs and Articles —
November 18th, 2020 - Raquel Shumway
Help for Searching Find-A-Code when searching for Medicare Policies and Guidelines — LCDs, NCDs and/or Articles.
Cross-A-Code Instructions in Find-A-Code
November 18th, 2020 - Raquel Shumway
Cross-A-Codeis a toll found in Find-A-Code which helps you to locate codes in other code sets that help you when submitting a claim.
COVID Vaccine Codes Announced
November 11th, 2020 - Wyn Staheli, Director of Research
On November 10, 2020, the American Medical Association (AMA) announced the addition of two new codes which will be used for the new COVID-19 vaccines along with 4 new administration codes to be used when reporting the administration of these vaccines.
Are You Aware of the 2021 Star Rating System Updates?
November 5th, 2020 - Aimee Wilcox, CPMA, CCS-P, CST, MA, MT, Director of Content
Each year the Centers for Medicare & Medicaid Services (CMS) publishes the Star Ratings System Updates for Medicare Advantage (Part C) and Medicare Prescription (Part D). This rating system was developed to help beneficiaries identify and select the health plans that best meet their needs, specifically addressing main issues:  Quality of ...
Special Needs Plans Help Beneficiaries and Risk Adjustment Reporting
October 22nd, 2020 - Aimee Wilcox, CPMA, CCS-P, CST, MA, MT, Director of Content
It is no secret that Medicare and Medicaid are steadily moving towards their goal of value-based health care. Medicare Part C (Medicare Advantage) identifies and rewards payers, and subsequently their providers, for increasing the efficiency and quality of care they provide to Medicare...
CMS Expands Telehealth Again
October 20th, 2020 - Wyn Staheli, Director of Research
On October 14, 2020, CMS announced further changes to expand telehealth coverage. Eleven (11) new codes have been added to their list of covered services bringing the current total to 144 services. The new services include some neurostimulator analysis and programming services as well as some cardiac and pulmonary rehabilitation services.
Significant COVID-19 Code Changes as of October 6
October 8th, 2020 - Wyn Staheli, Director of Research
Significan COVID-19 Code Changes as of October 6