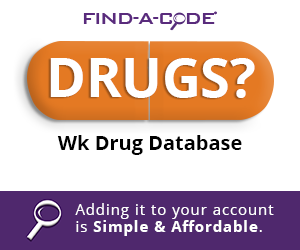 Reporting the Health Effects of Vaping Now and in April 2020
December 19th, 2019 - Wyn Staheli, Director of Research
0 Votes -

Sign in

to vote or comment.
---
The World Health Organization (WHO) announced the emergency creation of a new ICD-10 code for vaping related disorders which became effective on September 29, 2019. However, the new code should not be used in the United States until April 1, 2020 at which time the new code (U07.0 "Vaping-related disorder") should be used.
The emergency meeting of the WHO and other organizations took place in response to the reported increase of adverse health effects of vaping. This rare, mid-year addition of a new code enables health departments and government agencies to more accurately track the impact of vaping on health.
From October 1, 2019 until April 1, 2020, the following CDC coding guidelines (wording is all by the CDC) for reporting e-cigarette / vaping related disorders / conditions should be used. To enable stakeholders to better answer the question "what are the health risks of vaping", healthcare providers should report the various health issues from vaping in the following manner.
E-cigarette / Vaping Associated Lung Injury (EVALI)
For patients documented with electronic cigarette (e-cigarette), or vaping, product use associated lung injury (EVALI), assign the code for the specific condition, such as:
For patients with acute lung injury but without further documentation identifying a specific condition (pneumonitis, bronchitis), assign code:
J68.9, Unspecified respiratory condition due to chemicals, gases, fumes, and vapors
Poisoning and Toxicity Associated with E-cigarette / Vaping
Acute nicotine exposure can be toxic. Children and adults have been poisoned by swallowing, breathing, or absorbing e-cigarette liquid through their skin or eyes. For these patients assign code:
T65.291- Toxic effect of other nicotine and tobacco, accidental (unintentional); includes Toxic effect of other tobacco and nicotine NOS
For a patient with acute tetrahydrocannabinol (THC) toxicity, assign code:
T40.7X1- Poisoning by cannabis (derivatives), accidental (unintentional)
Substance Use, Abuse, and Dependence Associated with E-cigarette / Vaping
For patients with documented substance use/abuse/dependence, additional codes identifying the substance(s) used should be assigned.
When the provider documentation refers to use, abuse and dependence of the same substance (e.g. nicotine, cannabis, etc.), only one code should be assigned to identify the pattern of use based on the following hierarchy:
If both use and abuse are documented, assign only the code for abuse
If both abuse and dependence are documented, assign only the code for dependence
If use, abuse and dependence are all documented, assign only the code for dependence
If both use and dependence are documented, assign only the code for dependence.
Assign as many codes, as appropriate. Examples:
Cannabis related disorders: F12.---
Nicotine related disorders: F17.----
Specifically, for vaping of nicotine, assign code: F17.29-, Nicotine dependence, other tobacco products. Electronic nicotine delivery systems (ENDS) are non-combustible tobacco products.
Diagnosis Codes for Signs and Symptoms Associated with E-cigarette / Vaping
For patients presenting with any signs/symptoms (such as fever, etc.) and where a definitive diagnosis has not been established, assign the appropriate code(s) for each of the presenting signs and symptoms such as:
M79.10 Myalgia, unspecified site
R06.00 Dyspnea, unspecified
R06.02 Shortness of breath
R06.2 Wheezing
R06.82 Tachypnea, not elsewhere classified
R07.9 Chest pain, unspecified
R09.02 Hypoxemia
R09.89 Other specified symptoms and signs involving the circulatory and respiratory systems (includes chest congestion)
R10.84 Generalized abdominal pain
R10.9 Unspecified abdominal pain
R11.10 Vomiting, unspecified
R11.11 Vomiting without nausea
R11.2 Nausea with vomiting, unspecified
R19.7 Diarrhea, unspecified
R50.- Fever of other and unknown origin
R53.83 Other fatigue
R61 Generalized hyperhidrosis (night sweats)
R63.4 Abnormal weight loss
R68.83 Chills (without fever)
###
Questions, comments?
If you have questions or comments about this article please contact us. Comments that provide additional related information may be added here by our Editors.
Latest articles: (any category)
​​Polysomnography Services Under OIG Scrutiny
September 2nd, 2021 - Raquel Shumway
The OIG conducted a study dated June 2019 wherein they indicated that there were approximately $269 million in overpayments for polysomnography services for the period of 2014 through 2015. According to the OIG "These errors occurred because the CMS oversight of polysomnography services was insufficient to ensure that providers complied with Medicare requirements and to prevent payment of claims that didn't meet those requirements." So what are those requirements?
Medicare Advantage - The Fastest Growing Government-Funded Program Undergoing Multiple Fraud Investigations
August 16th, 2021 - Aimee Wilcox, CPMA, CCS-P, CST, MA, MT, Director of Content
Medicare Advantage is the fastest growing form of government-funded healthcare and the rate of fraud within this segment has come under increased scrutiny. Funding is determined by the health status of each beneficiary; therefore, accurate coding based on detailed documentation makes the medical record vital to the process because some ...
Billing Dental Implants under Medical Coverage
August 12th, 2021 - Christine Woolstenhulme, QCC, QMCS, CPC, CMRS
Implants can be costly to the patient and the provider, and it is crucial to understand how to bill a patient's medical insurance to ensure there is adequate coverage for the best treatment. Implants are commonly billed in a dental office under a patient's medical benefits.    Implants could be considered ...
New Codes for COVID Booster Vaccine & Monoclonal Antibody Products
August 10th, 2021 - Wyn Staheli, Director of Research
New codes have been announced for the COVID-19 booster vaccine, Novavax vaccine, and monoclonal antibody treatment.
Medicare's ABN Booklet Revised
July 29th, 2021 - Wyn Staheli, Director of Research
The "Medicare Advance Written Notices of Non-coverage" booklet, published by CMS's Medicare Learning Network, was updated. This article discusses the changes to this booklet regarding the use of the ABN.
Chronic Pain Coding Today & in the Future
July 19th, 2021 - Wyn Staheli, Director of Research
Properly documenting and coding chronic pain can be challenging. As is commonly the case with many conditions, over the years, there has been a shift in the identification of different types of pain, including chronic pain. Understanding where we are now and where we are going will help your organization prepare for the future by changing documentation patterns now.
How Does Global and Professional Direct Contracting (GPDC) Affect Risk Adjustment?
July 15th, 2021 - Aimee Wilcox, CPMA, CCS-P, CST, MA, MT, Director of Content
CMS recently announced the 53 Direct Contracting Entities (DCEs) that will be participating in the April 1, 2021 through December 31, 2021 Global and Professional Direct Contracting (GPDC) Model. Among those participating is Clover Health Partners, who runs an in-home primary care program that has the potential to help Medicare ...