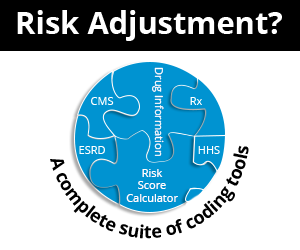 The Importance of Medical Necessity
July 9th, 2019 - Marge McQuade, CMSCS, CHCI, CPOM
---
ICD-10-CM codes represent the first line of defense when it comes to medical necessity. Correctly chosen diagnosis codes support the reason for the visit as well as the level of the E/M services provided. The issue of medical necessity is one of definitions and communication. What is obvious to the physician may not be obvious to the coder or those reviewing for medical necessity. It is how they get applied in the claims process, particularly where evaluation and management (E/M) services are concerned.
The Medicare Claims Process Manual says that medical necessity is the "overarching criterion for payment in addition to the individual requirement of a CPT code. It would not be medically necessary or appropriate to bill a higher level of evaluation and management service when a lower level of service is warranted. The volume of documentation should not be the primary influence upon which a specific level of service is billed. Documentation should support the level of service reported."
When it comes to selecting the appropriate level of care for any encounter, medical necessity trumps everything else in the documentation. Even if you documentation contains all the elements for a higher level code, it will not ensure that it withstand an audit if the medical necessity is not there.
The following are some strategies to help make your coding for medical necessity easier.
Link each ICD-10 code to the appropriate CPT code. On your claim forms, make sure it's clear which diagnosis codes correspond with which services. This will show health plans why it was medically necessary for you to perform the services you did.
Include a fourth or fifth digit to more accurately describe your patient's condition. Consider a patient with chronic obstructive pulmonary disease (COPD) that is not controlled on current inhalers. The physician decides to add a steroid inhaler to current therapy. You could report the encounter using only the code for COPD ("chronic airway obstruction, not elsewhere classified,") but a more descriptive approach would be, "obstructive chronic bronchitis with acute exacerbation." This specifically identifies the patient as having some elements of chronic bronchitis, COPD and emphysema, and indicates that these clinical problems are not controlled.
List ICD-10 codes, beginning with the primary diagnosis. The standard billing format for Medicare has room for twelve ICD-10 codes to describe the encounter. When appropriate and applicable, you should fill all slots. The code that describes the primary diagnosis or reason for the visit should appear first, followed by codes for other diagnoses listed in descending order of importance. Choose the codes that best describe the context and severity of the clinical problems addressed at that visit, keeping in mind that "suspected" or "probable" diagnoses should always be omitted. For example, let's say you are submitting a claim for a level-5 office visit (99215) and the only ICD-10 code you report is for congestive heart failure. You can guarantee that this encounter will be scrutinized in terms of medical necessity. However, if in the progress note orthopnea, hyponatremia and edema are also indicated then consider reporting the same CPT code with the codes for the four following diagnosis:
acute or chronic
othopnea
hyponatremia
edema
These codes would convey the information that the encounter took place to treat orthopnea due to an acute exacerbation of chronic systolic congestive heart failure and that the patient also had hyponatremia and edema.
Learn which codes you use together most frequently. There are certain codes that convey information in clusters. These code sets are often used to describe common clinical problems that frequently occur together. For instance, the following code set might be used for diabetics with kidney disease:
diabetes with renal manifestations; type 2 or unspecified type, uncontrolled;
chronic kidney disease, stage IV (severe);
proteinuria;
anemia in chronic kidney disease.
The first code is a "power code" that signifies that the patient has type-2 diabetes mellitus that is poorly controlled and has led to renal insufficiency. The other codes explain that this has led to severe renal compromise. They also show that the patient has proteinuria and renal anemia. You can be more comfortable submitting a level-IV or level-V office visit for these codes than for the single code, "unspecified disorder of kidney and ureter." For another example, consider a patient with diabetes, open wounds of the toes and no pedal pulses. You might code the following:
diabetes with other specified manifestations;
diabetes with peripheral circulatory disorders;
ulcer of toes;
peripheral angiopathy.
In addition to implementing diagnosis coding strategies, you also need to be aware of Medicare's National Coverage Determinations (NCDs) and Local Coverage Determinations (LCDs). These rules specify the services that are allowed for certain diagnoses. NCDs are Medicare's standard national policies. LCDs are local carriers' versions of NCDs. LCD's can change frequently, causing frustration, so to keep up-to-date check you local Medicare web site often. Private payers can create their own rules when it comes to allowing certain services with certain diagnoses. You can check the payer websites for their determinations.
If there are multiple clinical issues during an encounter, make sure this is reflected in your ICD-10 coding. This will help ensure fewer claim denials. One important thing to remember is DO NOT use a diagnoses code that is not listed in the medical record just because the insurance determines it is appropriate for the procedure code you are billing for in order to get the claim paid.
###
Questions, comments?
If you have questions or comments about this article please contact us. Comments that provide additional related information may be added here by our Editors.
Latest articles: (any category)
COVID Vaccine Coding Changes as of November 1, 2023
October 26th, 2023 - Wyn Staheli
COVID vaccine changes due to the end of the PHE as of November 1, 2023 are addressed in this article.
Medicare Guidance Changes for E/M Services
October 11th, 2023 - Wyn Staheli
2023 brought quite a few changes to Evaluation and management (E/M) services. The significant revisions as noted in the CPT codebook were welcome changes to bring other E/M services more in line with the changes that took place with Office or Other Outpatient Services a few years ago. As part of CMS' Medicare Learning Network, the "Evaluation and Management Services Guide" publication was finally updated as of August 2023 to include the changes that took place in 2023. If you take a look at the new publication (see references below),....
Can We Score Interpretation of an EKG Towards E/M Medical Decision Making?
October 10th, 2023 - Aimee Wilcox
When EKGs are performed in the facility setting or even in the physician's office, what are the requirements for reporting the service and who gets credit for scoring data points for Evaluation and Management (E/M) medical decision making (MDM)? Let's take a look at a few coding scenarios related to EKG services to get a better understanding of why this can be problematic.
Accurately Reporting Signs and Symptoms with ICD-10-CM Codes
October 5th, 2023 - Aimee Wilcox
Coders often find themselves unsure of when to report a sign or symptom code documented in the medical record. Some coders find their organization has an EHR that requires a working diagnosis, which is usually a sign or symptom, be entered to order a test or diagnostic study or image. Understanding the guidelines surrounding when signs and symptoms should be reported is the first step in correct coding so let's take a look at some scenarios.
The 2024 ICD-10-CM Updates Include New Codes for Reporting Metabolic Disorders and Insulin Resistance
September 19th, 2023 - Aimee Wilcox
Diabetes is a chronic disease that just seems to consistently be increasing instead of improving resulting in a constant endeavor by medical researchers to identify causal effects and possible treatments. One underlying or precipitating condition that scientists have identified as a precipitating factor in the development of diabetes is insulin resistance, which is a known metabolic disorder. As data becomes available through claims reporting, additional code options become possible with ICD-10-CM.
Documenting and Reporting Postoperative Visits
September 12th, 2023 - Aimee Wilcox
Sometimes we receive questions regarding documentation requirements for specific codes or coding requirements and we respond with information and resources to support our answers. The following question was recently submitted: Are providers required to report postoperative services on claims using 99024, especially if there is no payment for that service? What documentation is required if you are reporting an unrelated Evaluation and Management (E/M) service by the same physician during the postoperative period? 
Understanding Gastroesophageal Reflux Disease and ICD-10-CM Coding
August 22nd, 2023 - Aimee Wilcox
Gastroesophageal reflux disease or GERD for short, is a disease that impacts millions of Americans on a weekly basis. Symptoms are uncomfortable, as are some of the tests used to diagnose it, but understanding the disease, tests, and treatments helps us better understand how to code the disease using ICD-10-CM codes.