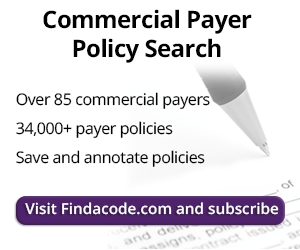 Q/A: How Do I Respond to a Patient's Request to Not Submit the Claim to Their Insurance?
May 7th, 2018 - Wyn Staheli, Director of Research
---
Question
A number of patients now have high deductible plans. Sometimes, deductibles can be $5000 or $10,000. My payer contract states that I must submit all claims to insurance for covered services. However, sometimes patients with these high deductibles come to my office and state that they would prefer to receive a modest discount for paying cash and in turn, not have their services submitted to insurance. As a doctor, this places me in a tough situation. Do I follow the patient's wishes or the payer contract?
Answer
HIPAA's "Out of Pocket" provision allows a way for you to honor your patient's wishes. However, ALL of the following criteria must be met:
The patient completes a "Request to Restrict" disclosure form
The disclosure is to a health plan for payment or health care operations
The disclosure is not required by law (e.g., court ordered)
The protected health information pertains solely to healthcare for which the patient (or someone on behalf of the patient) has paid for in full out of pocket (partial payments do NOT count)
As a provider, you must ensure that you have that patient encounter information flagged or tagged differently than other patient encounters to avoid an inadvertent disclosure to their insurance which would be a HIPAA violation.
Be sure that the patient understands that they CANNOT come back and ask you to submit the claim to the insurance AFTER the fact.
Note: Be sure your HIPAA Notice of Privacy Practices specifies that they have this option.
The appropriate disclosure form (Patient Request(s) Regarding Healthcare Records) is part of the HIPAA Compliance product and can be downloaded after purchase.
ALERT: For more information about high deductibles, cash plans, fee schedules and more, there's a webinar tomorrow. CLICK HERE to register.
###
Questions, comments?
If you have questions or comments about this article please contact us. Comments that provide additional related information may be added here by our Editors.
Latest articles: (any category)
Finding Patterns of Complexity in the Medical Decision Making (MDM) Table
August 8th, 2023 - Aimee Wilcox
Changes to the Medical Decision Making (MDM) Table in 2023 reflect the work performed in the facility setting in addition to the work involved in Evaluation and Management (E/M) scoring in other places of service. Taking the time to really look closely at the MDM Table and identify patterns in wording and scoring helps coders to understand scoring in an easier way.
Seven Reasons to Standardize Medical Records
July 18th, 2023 - Aimee Wilcox
The standardization of medical records offers numerous benefits for healthcare systems, providers, and patients. By ensuring interoperability, improved workflows, better patient safety, supporting research endeavors, and optimizing resource allocation, standardized records contribute to improved efficiency, quality of care and especially patient outcomes. Here are seven reasons to standardize medical records.
Advancements in Coding Hospital Observation Care Services in 2023
July 4th, 2023 - Aimee Wilcox
Hospitals are increasingly adopting innovative solutions to improve patient care and optimize processes and many of these solutions follow immediately the recent CPT and Medicare coding changes.  In 2023 coding of hospital observation care services underwent significant changes enabling healthcare providers to accurately document and bill for the sick or injured patient that requires a higher level of medical services between the emergency room care and hospital admission. This article explores the key changes in coding hospital observation care services and their impact on healthcare delivery.
Be Aware — Emergency Department Visits Under OIG Scrutiny
June 20th, 2023 - Wyn Staheli
Every year the Department of Health & Human Services Office of Inspector General (OIG) creates an official work plan giving everyone a heads up as to what they are going to be reviewing. The 2022 Work Plan stated that they would be reviewing claims for Evaluation & Management services provided in an emergency department (ED) setting.
OIG Audit Reveals Diagnosis Reporting Problems Affecting Risk Adjustment Scoring
June 15th, 2023 - Wyn Staheli
The Office of the Inspector General (OIG) recently published their Spring 2023 Semiannual Report to Congress. This report contained some diagnoses reporting issues that all providers need to be aware of. They focused on several groups of diagnoses that they considered "High-Risk" for being miscoded. Several states were included in the report and the types of errors for all can be generally grouped into several categories.
Documenting for Suture and Staple Removal E/M Add-On Codes
May 30th, 2023 - Aimee Wilcox
Historically, the 10-day and 90-day global periods would include the patient's follow-up Evaluation and Management (E/M) services and any dressing changes or staple/suture removal related to the surgery; however, following a closer analysis of these and other surgery codes, the decision was made to make significant revisions to these codes to ensure proper reporting.
Are you Properly Reporting Radiology Services?
May 23rd, 2023 - Wyn Staheli
It's probably not surprising that the most commonly billed imaging services are radiologic examinations of the humerus, spine, fingers, and abdomen (codes 72070, 73140, 73060, 74019). However, there are currently 653 CPT codes in the main imaging section (70000-79999). Therefore, it's worth it to take a few moments to review some important information about these services to ensure that proper coding (including the correct use of modifiers) takes place. This can help your organization ensure correct coding and reimbursement and thus minimize the chances for claim denials and payer take-backs (post-payment denials).