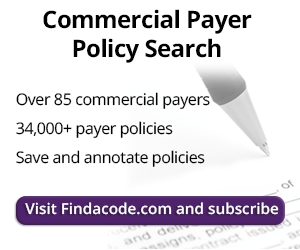 Present on Admission POA Indicator
November 26th, 2018 - BC Advantage
0 Votes -

Sign in

to vote or comment.
---
This article will focus on the Present on Admission (POA) indicator which is used as a method of reporting whether a patient's diagnoses are present at the time they are admitted to a facility. We'll look at a few scenarios to determine the correct reporting of POA and the impact reporting can have on reimbursement. But first, let's review the background of POA reporting.
It was the Deficit Reduction Act of 2005 that required POA reporting as a method of reducing cost and improving the quality of care. Hospitals reimbursed under the Inpatient Prospective Payment System (IPPS) have been mandated to report POA indicators for principal and secondary diagnoses since October 1, 2007. When a POA indicator of "N" (no) is reported for any condition on the Hospital-Acquired Condition (HAC) list, reimbursement will not be impacted by that diagnosis.
The Hospital-Acquired Condition list was created using the following criteria:
Conditions are high cost, high volume, or both
Conditions result in higher payment because they are assigned to MS-DRGs due to presence as secondary diagnosis
Use of evidence-based guidelines might reasonably have prevented the conditions from occurring
Today, there are fourteen categories of conditions on the HAC list which are as follows:
Foreign Object Retained After Surgery
Air Embolism
Blood Incompatibility
Stage III and IV Pressure Ulcers
Falls and Trauma

Fractures
Dislocations
Intracranial Injuries
Crushing Injuries
Burn
Other Injuries

Manifestations of Poor Glycemic Control

Diabetic Ketoacidosis
Nonketotic Hyperosmolar Coma
Hypoglycemic Coma
Secondary Diabetes with Ketoacidosis
Secondary Diabetes with Hyperosmolarity

Catheter-Associated Urinary Tract Infection (UTI)
Vascular Catheter-Associated Infection
Surgical Site Infection, Mediastinitis, Following Coronary Artery Bypass Graft (CABG)
Surgical Site InfectionFollowingBariatric Surgery for Obesity

Laparoscopic Gastric Bypass
Gastroenterostomy
Laparoscopic Gastric Restrictive Surgery

Surgical Site Infection Following Certain Orthopedic Procedures

Spine
Neck
Shoulder
Elbow

Surgical Site Infection Following Cardiac Implantable Electronic Device (CIED)
Deep Vein Thrombosis (DVT)/Pulmonary Embolism (PE) Following Certain Orthopedic Procedures:

Total Knee Replacement
Hip Replacement

Iatrogenic Pneumothorax with Venous Catheterization
The definition of present on admission is that the condition is present at the time the order for inpatient admission is given. Conditions originating in an outpatient encounter, for example the emergency room prior to admission, will be considered as POA. When a coder cannot determine if a condition is POA or not, a query should be initiated requesting clarification from the provider.
The POA indicators are:
Y- present at the time of inpatient admission
N- not present at the time of inpatient admission
U- documentation is insufficient to determine if condition is present on admission
W- provider is unable to clinically determine whether condition was present on admission or not
Let's take a look at how assignment of the POA indicator can impact reimbursement. In this example, we have a patient with hypertensive CKD stage 3 as the principal diagnosis. With no further diagnoses reported, this will result in MS-DRG 684 Renal Failure w/o CC/MCC. Now if the patient also had a stage 3 pressure ulcer of the left heel, you should get an Ungroupable DRG since this is a HAC and must have a POA designation in order for the MS-DRG to be correctly calculated. Let's look at the comparison when the various POA indicators are used.
POA Indicator MS-DRG Relative Wgt Reimbursement
Y or W MS-DRG 682: Renal Failure w/MCC 1.4843 $8,214.72
N or U MS-DRG 684: Renal Failure w/o CC/MCC 0.6284 $3,539.92
As seen above, there is a $4,674.80 difference in reimbursement based on whether the pressure ulcer was present on admission and can be used an MCC (Y or W) versus the same code not qualifying as an MCC because the POA indicator shows that the condition originated after admission (N or U).
There is a list of conditions that are exempt from POA reporting that can be found at https://www.cms.gov/Medicare/Coding/ICD10/2018-ICD-10-CM-and-GEMs.html. All other conditions are required to be identified by one of the POA indicators above. Let's examine POA assignment for a few examples.
A patient has choanal atresia Q30.0. This condition is exempt from reporting as it is a congenital condition. This may be signified as "E" in the encoder, but reported with a "1" on UB-04 billing form.
A patient is diagnosed with chronic pancreatitis five days after admission. The POA assignment is "Y" as chronic conditions are considered POA, even though the diagnosis does not happen until post-admission.
A patient with epilepsy is admitted and develops status epilepticus on day 3. The POA assignment for the combination code identifying the epilepsy with status epilepticus is "N" since not all components of the condition specified in the code were present at the time of admission. In this case, the status epilepticus didn't occur until after admission.
Further examples and explanations can be found in Appendix I. Present on Admission Reporting Guidelines in the ICD-10-CM code book or on-line.
Now you are in the kNOW!!
---
Dianna Foley, RHIA, CHPS, CCS is OHIMA's Coding Education Coordinator. Dianna has been an HIM professional for 20 years. She progressed through the ranks of coder, department supervisor, and department director, to her current role as a coding consultant.
She recently served as the program director for Medical Coding and HIT at Eastern Gateway Community College. Dianna earned her Bachelor's degree from the University of Cincinnati subsequently achieving her RHIA, CHPS, and CCS certifications. She is an AHIMA Approved ICD-10-CM/PCS Trainer and a presenter at regional HIM meetings and the OHIMA Annual Meeting.
This article is part of the "In the kNOW" series written for OHIMA.
###
Questions, comments?
If you have questions or comments about this article please contact us. Comments that provide additional related information may be added here by our Editors.
Latest articles: (any category)
Coding for a Performance of an X-ray Service vs. Counting the Work as a Part of MDM
March 21st, 2022 - Stephanie Allard , CPC, CEMA, RHIT
When x-rays are audited on the same date as an E/M encounter we have one of three decisions to make about the work that went into the radiological exam when the practice owns x-ray equipment and does their own interpretations internally. First, we must determine whether the x-ray was...
Continuous Glucose Monitoring (CGM) Systems: Leveraging Everyday Tech to Enhance Diabetes Management
March 16th, 2022 - Susan Gatehouse, RHIT, CCS,CPC, AHIMA-Approved ICD-10-CM/PCS Trainer
However, is the coding for the treatment and management of diabetes being adequately captured? Diabetes mellitus (DM) affects over 400 million people worldwide. It is a chronic disease of inadequate control of blood levels of glucose that affects the body's ability to turn food into energy. Essentially, the...
ESRD Hemodialysis Hits Home with the New ETC Model
March 16th, 2022 - Aimee L. Wilcox, CPMA, CCS-P, CST, MA, MT
In 2021, two major ESRD programs became effective, essentially preparing to transform not only risk adjusted services, but also at-home dialysis, health equity among beneficiaries needing transplant services, and improved access to donor kidneys.
Refresh Your IV Hydration Coding Knowledge
March 16th, 2022 - Aimee L. Wilcox, CPMA, CCS-P, CST, MA, MT
Reporting IV infusion services can be complicated, especially when multiple infusions are reported in a single encounter. Take a few minutes to freshen up your knowledge on IV hydration coding with a review of the guidelines and a few coding scenarios.
Medicare Auditors Caught Double-Dipping
March 14th, 2022 - Edward Roche, PhD, JD
Overlapping extrapolations require providers to pay twice. Some Medicare auditors have been caught "double-dipping," the practice of sampling and extrapolating against the same set of claims. This is like getting two traffic tickets for a single instance of running a red light. This seedy practice doubles the amount...
Cybersecurity & Ransomware Warnings
March 10th, 2022 - Wyn Staheli, Director of Content
Although HIPAA Security protocols have been in effect for some time, as technology advances, if we are not diligent, gaps can be left available for intruders. On top of that, on February 23, 2022, the American Hospital Association issued a cybersecurity advisory. They stated, "there is concern that Russia may retaliate against the U.S. and allied nations with disruptive cyberattacks."
The Case of the Missing Signature
March 10th, 2022 - David M. Glaser, Esq.
It's important to remember that Medicare manuals are not binding, and they can't "require" anything, including signatures. Regulatory framework is constantly changing. Never assume you know all of the rules, even if you carefully study them all the time. New things are constantly appearing....