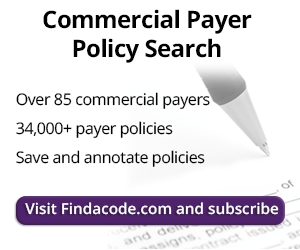 PFSH Documentation: Q and A
October 20th, 2017 - Shannon DeConda, CPC, CPC-I, CEMC, CEMA, CPMA, CRTT
0 Votes -

Sign in

to vote or comment.
---
Included with a NAMAS membership is the ability for members to submit their auditing questions to our auditing team for input. Occasionally, we spotlight some questions we feel pertains to the majority of our membership as an educational tool. This week, we will spotlight a question received related to personal family social history (PFSH).
Question: When coding an E/M visit in the emergency department, would you count all PFSH listed even if they don't pertain to the indication as to why the patient arrived?
Example: If a patient comes in because they were a passenger in an auto accident and were injured (i.e. arm laceration), do we really need to count the family history? I cannot seem to find any documentation supporting this.
Answer: That is a great question! According to Documentation Guidelines, the only category that "requires" one of the PFSH areas to be applicable is the pertinent level which supports the detailed level of history. My humble opinion is that in most instances, family history would be the least impactful in the emergency department setting, but it could certainly have relevance. The statement addressing this in documentation Guidelines reads:
A pertinent PFSH is a review of the history area(s) directly related to the problem(s) identified in the HPI.
For the complete category of PFSH, there is no such requirement as indicated in the statement below:
A complete PFSH is of a review of two or all three of the PFSH history areas, depending on the category of the E/M service.
Often, as auditors, we are unclear of requirements for various services, are hit with really puzzling situations, or just need reassurance that we are interpreting things the same way others do. Because auditing is so subjective, it's nice to hear that someone "has your back" or can provide insight to a topic you may be struggling with. Because of this, NAMAS has provided two ways for you to feel more confident in your auditing:
1. NAMAS Forum
The NAMAS forum is a discussion board to encourage interaction among members. Within the forum, you can post your questions and in turn, answer other members' questions related to various auditing topics. If you haven't visited our forum, you can find many good resources there. Click here to visit the NAMAS forum.
2. Ask An Auditor
As previously mentioned, as a NAMAS member, you may pose your auditing questions directly to our team for their input. We will distribute your question to our auditing team, and provide their opinion(s) to your question. We attempt to answer all questions as quickly as possible, but due to schedules of our team members and the number of questions we receive, we do outline that questions will be answered within five business days.
If you are currently a NAMAS member, we invite you to participate in our online forum and utilize this tool to help obtain information regarding auditing and compliance topics. In addition, the Ask an Auditor feature is available for your use within the members only area of our website.
If you are not currently a member, we invite you to sample the value a NAMAS membership can provide with a 30 day free trial membership. During your free trial, among other benefits, you will receive access to 4 of our educational webinar sessions, and receive 4 AAPC CEUs. Additionally, you will have the opportunity to pose your questions to our team as well for their input. Click here to register for your free 30 day trial membership. There is no credit card required to receive your trial membership, and if you determine that a membership fits your needs you will have the opportunity to become a member of NAMAS.
###
Questions, comments?
If you have questions or comments about this article please contact us. Comments that provide additional related information may be added here by our Editors.
Latest articles: (any category)
​​Polysomnography Services Under OIG Scrutiny
September 2nd, 2021 - Raquel Shumway
The OIG conducted a study dated June 2019 wherein they indicated that there were approximately $269 million in overpayments for polysomnography services for the period of 2014 through 2015. According to the OIG "These errors occurred because the CMS oversight of polysomnography services was insufficient to ensure that providers complied with Medicare requirements and to prevent payment of claims that didn't meet those requirements." So what are those requirements?
Medicare Advantage - The Fastest Growing Government-Funded Program Undergoing Multiple Fraud Investigations
August 16th, 2021 - Aimee Wilcox, CPMA, CCS-P, CST, MA, MT, Director of Content
Medicare Advantage is the fastest growing form of government-funded healthcare and the rate of fraud within this segment has come under increased scrutiny. Funding is determined by the health status of each beneficiary; therefore, accurate coding based on detailed documentation makes the medical record vital to the process because some ...
Billing Dental Implants under Medical Coverage
August 12th, 2021 - Christine Woolstenhulme, QCC, QMCS, CPC, CMRS
Implants can be costly to the patient and the provider, and it is crucial to understand how to bill a patient's medical insurance to ensure there is adequate coverage for the best treatment. Implants are commonly billed in a dental office under a patient's medical benefits.    Implants could be considered ...
New Codes for COVID Booster Vaccine & Monoclonal Antibody Products
August 10th, 2021 - Wyn Staheli, Director of Research
New codes have been announced for the COVID-19 booster vaccine, Novavax vaccine, and monoclonal antibody treatment.
Medicare's ABN Booklet Revised
July 29th, 2021 - Wyn Staheli, Director of Research
The "Medicare Advance Written Notices of Non-coverage" booklet, published by CMS's Medicare Learning Network, was updated. This article discusses the changes to this booklet regarding the use of the ABN.
Chronic Pain Coding Today & in the Future
July 19th, 2021 - Wyn Staheli, Director of Research
Properly documenting and coding chronic pain can be challenging. As is commonly the case with many conditions, over the years, there has been a shift in the identification of different types of pain, including chronic pain. Understanding where we are now and where we are going will help your organization prepare for the future by changing documentation patterns now.
How Does Global and Professional Direct Contracting (GPDC) Affect Risk Adjustment?
July 15th, 2021 - Aimee Wilcox, CPMA, CCS-P, CST, MA, MT, Director of Content
CMS recently announced the 53 Direct Contracting Entities (DCEs) that will be participating in the April 1, 2021 through December 31, 2021 Global and Professional Direct Contracting (GPDC) Model. Among those participating is Clover Health Partners, who runs an in-home primary care program that has the potential to help Medicare ...