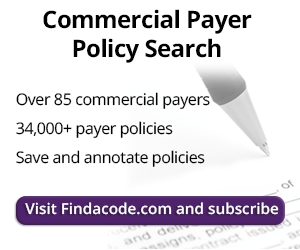 Modifier 25
July 27th, 2015 - Codapedia Editor
0 Votes -

Sign in

to vote or comment.
---
Modifier 25: Significant, separately identifiable E/M service by the same physician on the same day of the procedure or other service. Refer to the CPT® book for the complete definition. Modifier 25 is appended to the E/M service, never to a procedure.
The decision about whether to bill for both an E/M service (with a 25 modifier ) and a procedure seems straightforward at first. However, upon closer inspection, there is plenty of room for confusion. It is important to get it right: it is both a compliance and a revenue issue. "Always" billing for both an E/M service and a procedure is wrong, and will certainly increase your risk of an audit, requiring you to return money. "Never" billing for both has the potential to cost the practice legitimate revenue.
Why do we use modifier 25?
• Use to indicate that on the same day as a procedure, the physician performs an E/M service that is a significant, separate, identifiable service from the procedure.
• Append modifier 25 to the E/M on the same day as a minor (0 or 10 day global per Medicare).
• Link diagnosis code(s) appropriately to E/M and procedure.
Here's what Medicare says:
Per CCI (chapter 11, Letter R.): "The decision to perform a minor surgical procedure is included in the payment for the minor surgical procedure and should not be reported separately as an E/M service. However, a significant and separately identifiable E/M service unrelated to the decision to perform the minor surgical procedure is separately reportable with modifier -25."
Per CCI Manual (Chapter 3, Letter B.): "Medicare Global Surgery rules prevent the reporting of a separate E/M service for the work associated with the decision to perform a minor surgical procedure whether the patient is a new or established patient."
Per Medicare Claims Processing Manual (100-04) Section 40.1 (B) Services not included in the global surgical package: "These services may be paid for separately: The initial consultation or evaluation of the problem by the surgeon to determine the need for surgery. Please note that this policy only applies to major surgical procedures. The initial evaluation is always included in the allowance for a minor surgical procedure…"
Bill for both, when you need to evaluate the patient's symptom, condition problem prior to doing the procedure—and both are documented.
• Patient is sent from her primary care physician for a breast lump. An E/M service and a biopsy may be billed on the same day.
• Patient reports an episode of dizziness, falls and needs a laceration repair. Both an E/M service and the repair are billable.
• Patient presents at the office with a one year history of bleeding hemorrhoids with pain. Physician evaluates medical problems and performs an anoscopy. Bill for both.
• Patient is referred to vascular surgeon for evaluation of peripheral vascular disease and non-healing wounds. Surgeon bills an E/M service, debridement and for Doppler exam.
• Patient is sent to pulmonogist for evaluation of blood in sputum. Physician evaluates patient and performs a bronchoscopy.
• Patient is sent for evaluation of an unknown problem (abnormal bleeding) and physician evaluates patient before doing a endometrial biopsy
• Patient is seen for two problems: arthritis and lesion removal.
• Laceration repair in a patient who lost consciousness and feel, and needs an neuro evaluation as well as a laceration repair.
Bill only the procedure only when: (The payment for the minor procedure includes pre work of examining the site, consent and explanation to the patient and, local anesthesia and closing or dressing site.)
• Scheduled procedure for a known problem. (Patient calls: I have skin tags. I have a wart.)
• Laceration repair with no other trauma
• Patient is evaluated at a previous visit and is scheduled to return to office for a procedure
• Planned, repeat procedure (such as wound debridement) when the medical decision making occurred at a previous visit
• Excision/destruction of small lesions
• Breast or endometrial biopsy scheduled at a previous visit
• Bronchoscopy scheduled at a previous visit
A Podiatrist sees patients monthly in a nursing home for nail care. The procedures are documented on a form, and all of the E/M portion is checked. There are no changes from month to month. The procedures are planned ahead of time. Bill only for the nail care.
Before you bill for both, ask these questions:
Did the physician perform and document both an E/M procedure and a procedure on the same day? You should answer yes to this question to bill for both.
Was this procedure planned at a previous, recent visit, and is the E/M portion a restatement of the patient's history, exam and MDM from that previous visit? If so, do not bill for both.
Is only the procedure documented, perhaps with drawings on a form? If only the procedure is documented, do not bill an E/M.
###
Questions, comments?
If you have questions or comments about this article please contact us. Comments that provide additional related information may be added here by our Editors.
Latest articles: (any category)
HIPAA Penalty Changes
January 11th, 2021 - Wyn Staheli, Director of Research
On January 5, 2021, H.R. 7898 was signed into law by President Trump. This new law modifies the HITECH Act such that when an organization experiences a breach, fines and/or penalties may be reduced if (for at least a year) they have instituted "recognized security practices" as defined within the law.
CDT and CPT - The Same but Different!
December 8th, 2020 - Christine Woolstenhulme, QCC, QMCS, CPC, CMRS
Reporting a CPT code for an evaluation of a patient is based on time and if the patient is a new or established patient. Evaluation and Management codes are different than other codes, it is important to understand how they are used, prior to 2021 they were based on a ...
How to Search Find-A-Code for Medicare Policies and Guidelines — LCDs, NCDs and Articles —
November 18th, 2020 - Raquel Shumway
Help for Searching Find-A-Code when searching for Medicare Policies and Guidelines — LCDs, NCDs and/or Articles.
Cross-A-Code Instructions in Find-A-Code
November 18th, 2020 - Raquel Shumway
Cross-A-Codeis a toll found in Find-A-Code which helps you to locate codes in other code sets that help you when submitting a claim.
COVID Vaccine Codes Announced
November 11th, 2020 - Wyn Staheli, Director of Research
On November 10, 2020, the American Medical Association (AMA) announced the addition of two new codes which will be used for the new COVID-19 vaccines along with 4 new administration codes to be used when reporting the administration of these vaccines.
Are You Aware of the 2021 Star Rating System Updates?
November 5th, 2020 - Aimee Wilcox, CPMA, CCS-P, CST, MA, MT, Director of Content
Each year the Centers for Medicare & Medicaid Services (CMS) publishes the Star Ratings System Updates for Medicare Advantage (Part C) and Medicare Prescription (Part D). This rating system was developed to help beneficiaries identify and select the health plans that best meet their needs, specifically addressing main issues:  Quality of ...
Special Needs Plans Help Beneficiaries and Risk Adjustment Reporting
October 22nd, 2020 - Aimee Wilcox, CPMA, CCS-P, CST, MA, MT, Director of Content
It is no secret that Medicare and Medicaid are steadily moving towards their goal of value-based health care. Medicare Part C (Medicare Advantage) identifies and rewards payers, and subsequently their providers, for increasing the efficiency and quality of care they provide to Medicare...