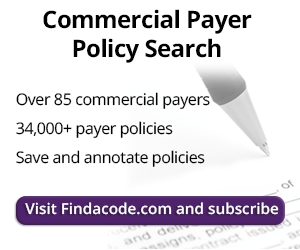 Past medical, family and social history
March 17th, 2015 - Codapedia Editor
0 Votes -

Sign in

to vote or comment.
---
When an Evaluation and Management service requires past medical, family and social history, (or one or two of those) here is what needs to be documented, and the rules around using one that is previously documented.
Past medical history includes the patient's chronic illnesses, previous illnesses, injuries and surgeries, medications and past treatment.
Social history includes smoking, drug, and alcohol use, employment, and living situation.
Family history includes a review of illness/health status of family members, including any that may be hereditary or genetic or place the patient at risk.
In order to count these three components of a history, document something from each one. How much is documented in each of the areas will be driven by medical necessity. For an office visit, the patient's medications and problem list alone will probably be sufficient for the physician to note. For an initial hospital service, the physician may find it necessary to document a more extensive past medical history. A patient who is young and healthy may have a short past medical history documented, while a patient being treated for recurrent cancer will have an extensive history documented, describing the course of the illness and past treatments for the disease.
This doesn't count: Social history: none. Everyone has social history. Many auditors and payers do not allow, "Family history non-contributory." CMS has not stated whether it considers that adequate, when admitting an elderly patient to the hospital. Some payers have specifically stated they do not cound "Family history non-contributory," while some are silent. The conservative advice is to always document something in family history.
The past medical, family and social history may be documented by a staff member or on a form completed by the patient, as long as there is evidence that the biling clinician reviewed those. For a new patient or consult, the clinician might say, "The past medical history shows that she has longstanding hyperllipidemia. She had successful carpal tunnel release in 2006. The remainder of the past medical, family and social history is documented on the health history form with today's date." This indicates that the physician has reviewed that form. Some physicians and NPPs also sign and date the form, making notations to supplement what is written. That is good, however, in the body of today's note, indicate that there is an additional form that is part of today's record and note that it was reviewed.
The guidelines do allow a clinician to use a history previously obtained for today's note, as long as the date and location of the previous note is mentioned, and the clinician indicates that the history was reviewed and their are no changes. "The remainder of the past medical, family and social history is unchanged from their previous admission of June 1, 2008. I reviewed this with the patient and there are no changes."
In an electronic medical record, the past medical, family and social history is brought forward from previous visits. This counts as long as the billing provider reviews this information with the patient, and indicates that. There may be a prompt that says, "Past medical history--reviewed and unchanged."
###
Questions, comments?
If you have questions or comments about this article please contact us. Comments that provide additional related information may be added here by our Editors.
Latest articles: (any category)
Chronic Pain Coding Today & in the Future
July 19th, 2021 - Wyn Staheli, Director of Research
Properly documenting and coding chronic pain can be challenging. As is commonly the case with many conditions, over the years, there has been a shift in the identification of different types of pain, including chronic pain. Understanding where we are now and where we are going will help your organization prepare for the future by changing documentation patterns now.
How Does Global and Professional Direct Contracting (GPDC) Affect Risk Adjustment?
July 15th, 2021 - Aimee Wilcox, CPMA, CCS-P, CST, MA, MT, Director of Content
CMS recently announced the 53 Direct Contracting Entities (DCEs) that will be participating in the April 1, 2021 through December 31, 2021 Global and Professional Direct Contracting (GPDC) Model. Among those participating is Clover Health Partners, who runs an in-home primary care program that has the potential to help Medicare ...
How to Properly Assign ICD-10-CM Codes for Pain
July 14th, 2021 - Aimee Wilcox, CPMA, CCS-P, CST, MA, MT, Director of Content
Pain is a common diagnosis among all specialties so it should not be surprising to find there are 162 ICD-10-CM codes for reporting it and over 80 mentions in the ICD-10-CM Official Guidelines for Coding and Reporting which describe when certain types of pain should be reported and how the codes should be sequenced.
Will CMS Allow Medicare Advantage Organizations to Risk Adjust from Audio-Only Encounters? 
July 13th, 2021 - Aimee Wilcox, CPMA, CCS-P, CST, MA, MT, Director of Content
While audio-only telehealth services became a covered benefit during the PHE, CMS put limitations on using the data from those encounters for risk adjustment scoring. Medicare Advantage (MA) plans cannot use the information from these encounters to be scored for risk adjustment; however, it can be used for risk adjustment scoring of ACA plans.
Compliance in the Dental Office or Small Practice
June 29th, 2021 - Christine Woolstenhulme, QCC, QMCS, CPC, CMRS
If your practice does not already have a compliance program in place, you will want to get started after reading this article. We have uncovered some important findings with the Office of Inspector General (OIG) in dental practices you need to be aware of. A compliance program offers standard procedures to follow, ...
Important Changes to Shared/Split Services
June 16th, 2021 - Aimee Wilcox CPMA, CCS-P, CST, MA, MT and Wyn Staheli, Director of Content Research
Reporting of split (or shared) services has always been wrought with the potential for incorrect reporting when the fundamental principles of the service are not understood. A recent CMS publication about these services further complicates the matter.
Understanding Non-face-to-face Prolonged Services (99358-99359) in 2021
June 3rd, 2021 - Aimee Wilcox CPMA, CCS-P, CST, MA, MT and Wyn Staheli, Director of Content Research
Due to the extensive changes in office or other outpatient services (99202-99215), there are many questions which still need to be answered, one of which is related to the prolonged services without face-to-face contact. This article explores the question regarding the appropriate use of codes 99358/99359 and how to report it.